We're one week in to the new fall TV season, and I'm already behind. My DVR is full of new shows, and I really only made an effort to watch the shows I'm already invested in (like South Park and Parks and Rec and a few others that don't have "park" in the name.)
The only new show that I took the time to watch was Marvel's Agents of S.H.I.E.L.D. (I'm just going to call it "Agents" from here forward, for brevity's sake, k?) But it actually fits in the category of "shows I'm already invested in" because I've seen the movies from the Marvelverse, which spawned the show, and I'm a big fan of Joss Whedon's other shows, like Buffy and Firefly and Dollhouse.
It's hard to compare Agents to Whedon's previous shows because we've already met the main character, Agent Phil Coulson, in Iron Man and The Avengers movies. He's a great character, and I'm glad he's been revived (or something – his resurrection is being purposefully teased in the pilot episode) but since the viewers are expected to already know him, he's largely absent from the action so we can get acquainted with the new faces.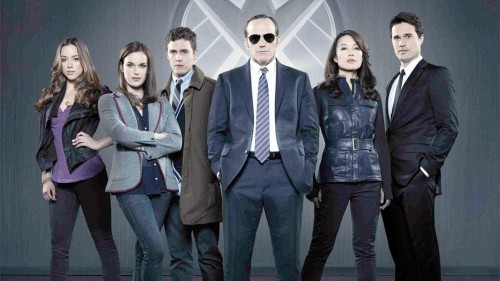 source
And here's the thing that bothers me about those new faces – while I love that Whedon reliably uses a diverse cast, it's a little boring that every actor is super fit and thin with a beautifully symmetrical face. Look at those people. Those are supposed to be the office workers and scientists behind the superheroes. Even though this is TV, wouldn't it be nice if one of the regular cast members wasn't a size tiny?
Even Dollhouse, which was (on the surface, at least) a high end prostitution ring, featured Miracle Laurie, who's an average sized woman in a sea of size zeroes. Here's a nice blog post I found about Miracle Laurie, and making the case for more average and larger sized actors on popular shows.
I don't want to be too negative about Agents because I did enjoy watching the first episode. It's very cheesy and comic-book-esque, but it has potential. I am not convinced that Agent Coulson is interesting enough to have a multi-episode, possibly multi-season show centered around him. But we're only one episode in, so everything could change.
Actually, honestly, I didn't get really invested in Dollhouse until the final episode of the first season, called "Epitaph 1" – it validates the existence of the show, and it isn't until this episode that us viewers at home understand what's at stake. The previous twelve episodes were about beautiful women and a sketchy organization – "Epitaph 1" is about how that organization changed humanity, and identity in a post-apocalyptic world. It's those issues that hit close to home that give the show meaning.
Likewise, Buffy the Vampire Slayer is a story about a girl who slays vampires, but more importantly, it's about being a teenage girl and dealing with peer pressure and crushes and parents. And Firefly is on it's surface about a man making a living any way he can (which often means resorting to criminal measures) but really it's about being an outcast, and how people become like family when they're in close quarters.
Marvel's Agents of S.H.I.E.L.D. has the potential to hit those deeper notes, and to be a more widespread hit than the other shows in the Whedonverse. I'm rooting for him and the show in general … so far, anyway.