I'm concocting a post that you'll get to read next week about the movies I saw in 2013, but before I can write anything coherent, I need to lay a little groundwork.
The content of this post started brewing in my head in the summer of 2008 when I saw Iron Man for the third time. That I saw it three times is noteworthy – previous to that, I'd not been to see a movie multiple times in a theater since the days of Titanic, because ticket prices were rising and I did not think the quality of movies was doing the same. (To be fair, I paid full ticket price to see Iron Man only once: I also saw it at the drive ins, which cost $6 for two movies, and then at the second run theater for $3.) Of course, in the years since, ticket prices have continued to rise, and now we pay even more for 3-D and/or IMAX movies, but I'm going down a tangent that might just need its own separate post.
The thing about the first Iron Man movie that so impressed me and got me out to the theater multiple times was the movie's arc: five years ago, I had limited experience reading comic books or seeing superhero movies, but I recognized that Iron Man was following a well-tread plot arc and using it to tell a good story.
The plot arc is important: there's a reason that pretty much every superhero movie uses this same formula. To stray from the formula is confusing. The audience comes to the theater expecting this, and when the movie follows it, we can relax and appreciate the story.
Act I – The Opening Battle, The Stakes Are Set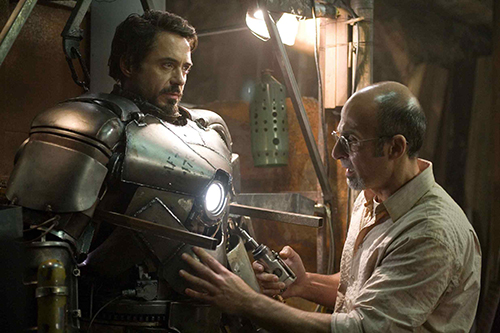 source
The opening battle is always a hard one to watch, because the bad guys have to get ahead. Otherwise there wouldn't be much of a movie, right? The opening battle in Iron Man (or any origin story, really) also has to explain how a regular dude became a super hero, so in this case, how the suit was built.
But that isn't the most important thing that happens in the opening battle – the most important thing is that we learn what's at stake. Usually, the fate of the world and whether our hero lives or dies. But since that's such a commonplace plot device, there has to be something that makes us care. In Iron Man it's twofold, and the movie makers borrowed from real life, which kind of forced everyone watching to care. First was that the opening battle is set in Afghanistan, and in 2008, that hit close to home. Two, Robert Downey, Jr. was still making his post-rehab comeback, and billionaire-playboy-philanthropist Tony Stark was close enough to his real life story that we rooted for the guy in the iron suit the way we rooted for the actor in the Tony Stark suit.
Act II – The Plot Thickens, Characters Developed
source
What Iron Man did (and few movies are brave enough to do) was stick Tony Stark in his workshop for most of the second act. As someone who, in 2008 when I saw Iron Man, was not super into superheroes (or action movies at that) I really appreciated that act two brought the intensity way down and focused on character building.
The movie makers recognized that what's important at this point in the movie, especially if it's the first movie in what's expected to be a three movie arc, is not to keep the action coming, but to focus on the characters. They want the audience to be rooting for the hero in the movie's final act, and in order to do that, we have to like him (or her, but let's be honest – usually him.) If there is an action sequence, its intention must be to keep the plot moving and set up the final battle (see Iron Man's 2008 summer superhero movie rival The Dark Knight.)
This is the moment when the stakes have been established, and we feel the plot building toward the Battle Royale – once we get there, we have to understand what the hero is up against and have a shred of doubt that our hero isn't up to it. Iron Man establishes this in act two, when the intensity is lower, so that it isn't lost in the action.
(That's the part that I really wanted to say as set up for my next post, but it didn't really make sense out of context. Just keep it in mind for next week, okay?)
Act III – The Epic Battle, Resolution, and (usually) Kiss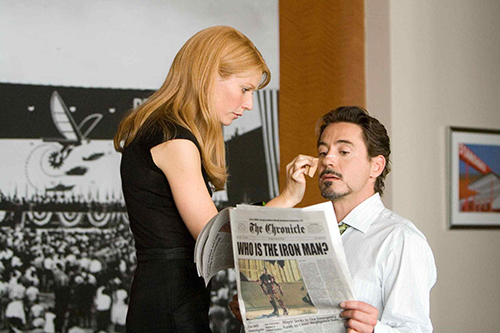 source
Obviously, a superhero movie or action movie of any kind has to end with our hero bringing down the bad guy. If the movie makers did their job establishing the stakes and creating a sympathetic but fallible hero, this part doesn't need much explanation. If there's a love interest (which, let's face it, there usually is) she's probably going to end up in harm's way, and the hero swoops in at the last possible moment and saves her. In more recent movies, the lady love gets to have a more important role in the movie's resolution, but in 2008, that wasn't the case.
And while we usually get resolution of the movie's individual storyline, superhero movies pretty much always end with a teaser for the sequel.
Which is exactly what I'm doing to end this post … be sure to come back next week because there's more to tell.