I'm still pregnant, but hopefully not for much longer … My due date is next week and as of Monday, I'm officially on maternity leave! I was really torn about starting my leave before my due date or working until her birth so I could have as much time off work with her as possible, but around Christmas I started to get more uncomfortable sitting in my desk chair, so it was a no-brainer. Also, I knew I'd be in for some comments from my coworkers, however well-intentioned, like "you're still here!" or "no baby yet, huh?!" So far, I've been doing some deep cleaning projects around the house, prepping food for the freezer, and spending the rest of my time lounging on the couch watching The Great British Bake Off or reading.
Since I have a bit of free time, I figured it would be the opportune moment to share some updates!
Baby Showers
I had 2 – my mom threw a baby shower for the family, then my sister organized a shower for my coworkers. Both were lovely!
Mom ordered gluten free carrot cupcakes from Dukes (in the weeks leading up to the shower, we taste tested several gf carrot cakes – it's a tough life) and thought of all the little details, like repurposing the vases from our wedding.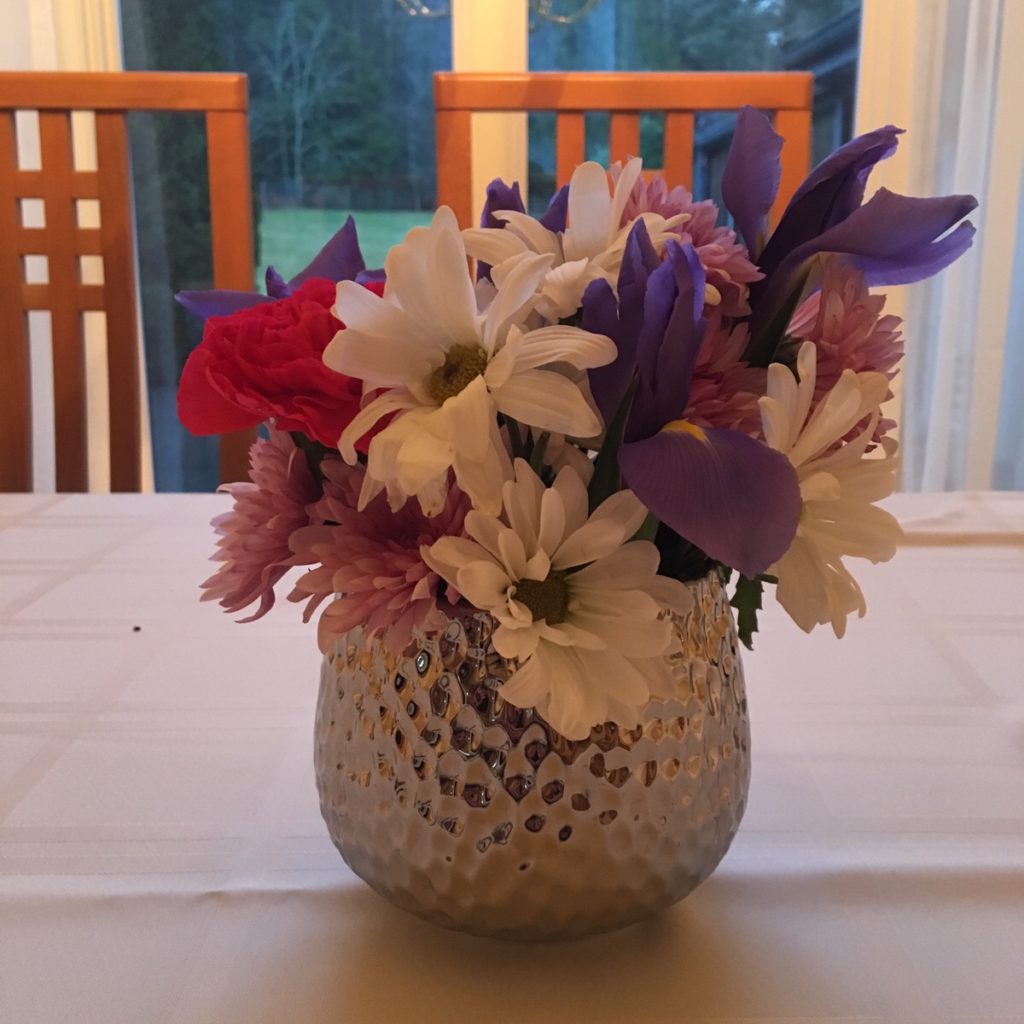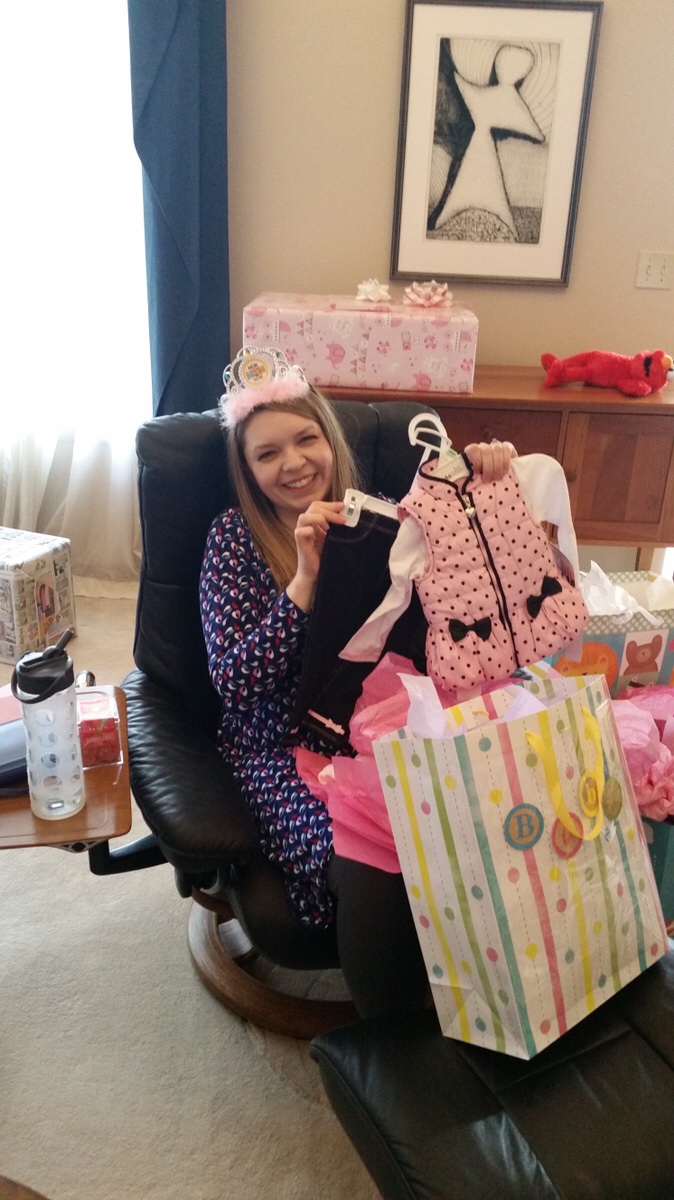 Thank you, Auntie Barb, for sharing your photos 🙂
My sister organized dinner at Moctezuma's, where I've eaten quite often this pregnancy because I can't get enough enchiladas. Hilariously, at the end of the night, our waiter brought me a dish of ice cream and sang "happy baby to you," but about half the table sang "happy birthday."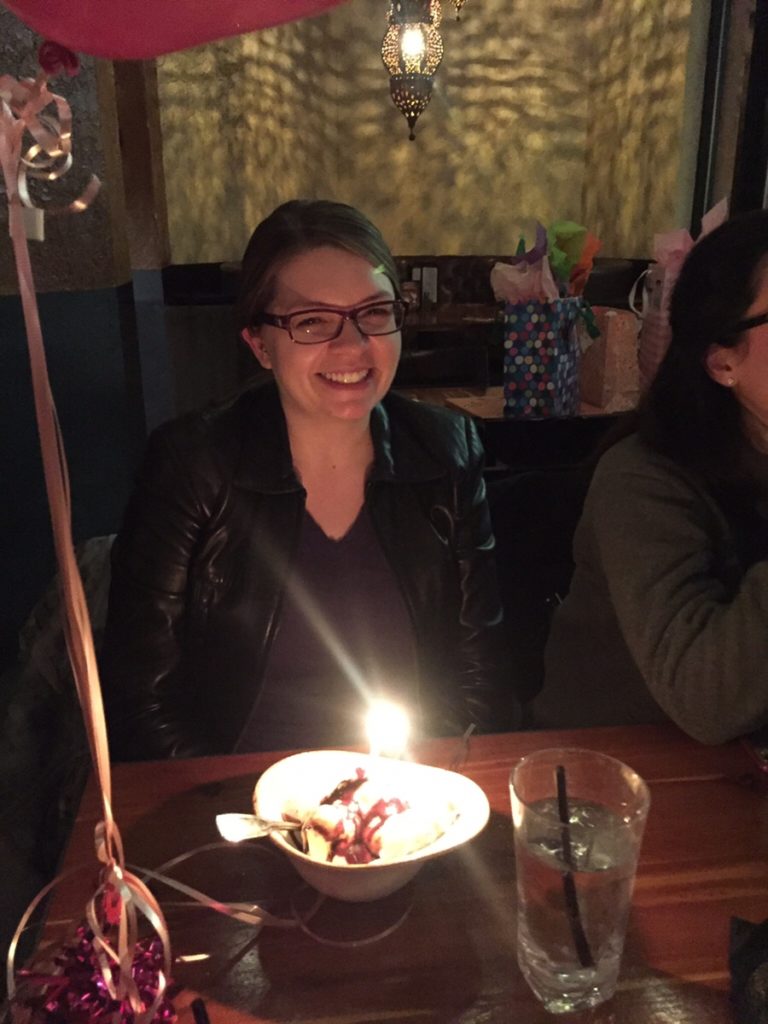 Thank you to all of you who celebrated baby Ramona and for your generosity – we are both so lucky to have so many people who care about us!
Nursery
I think Joel nested more intensely than I did in this last trimester 🙂 Well, that's not entirely true, we just had very different priorities about getting ready for baby's arrival. I wanted to deep clean every square inch of the condo (not that I actually had the energy to do so), and Joel wanted to make sure we had the nursery ready to go. I LOVE how it turned out, and wanted to share a few pictures.
When I moved into my condo in 2009, I picked what I thought was a light lavender for the spare bedroom … but no, it's purple. I've always liked it, and I think it's a great color for a nursery, so we left one wall lavender and picked a tan for the remaining three walls.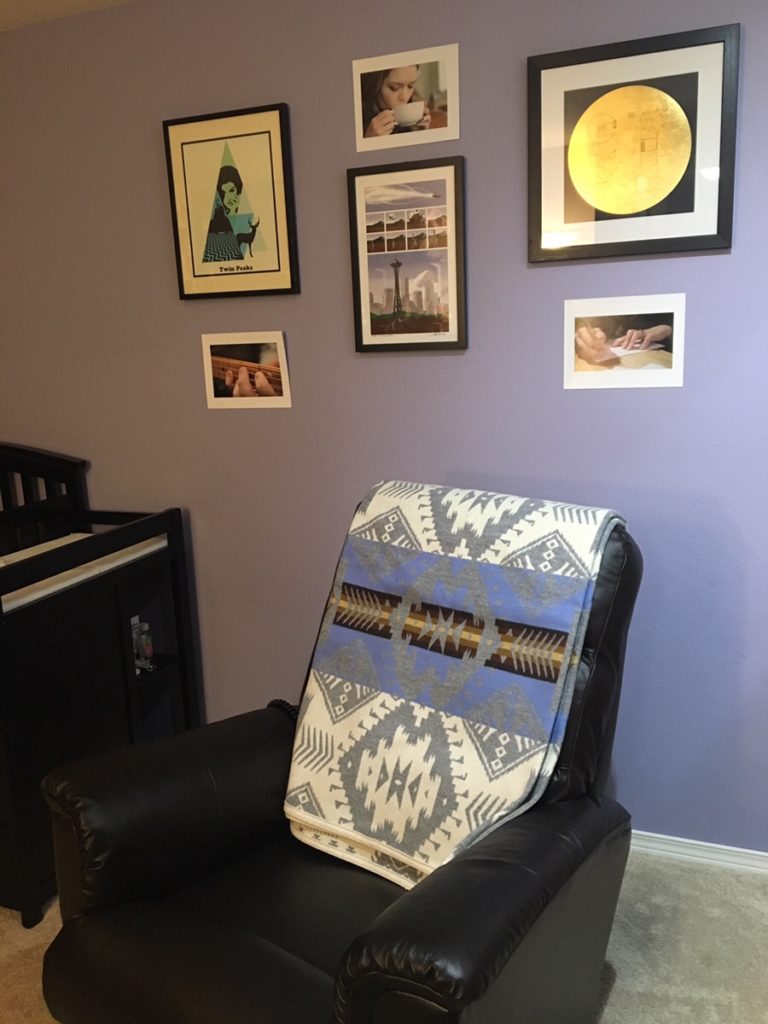 The La-Z-Boy recliner was our first baby related purchase – so glad we'll have a comfortable chair and hopefully it will last long past the baby years.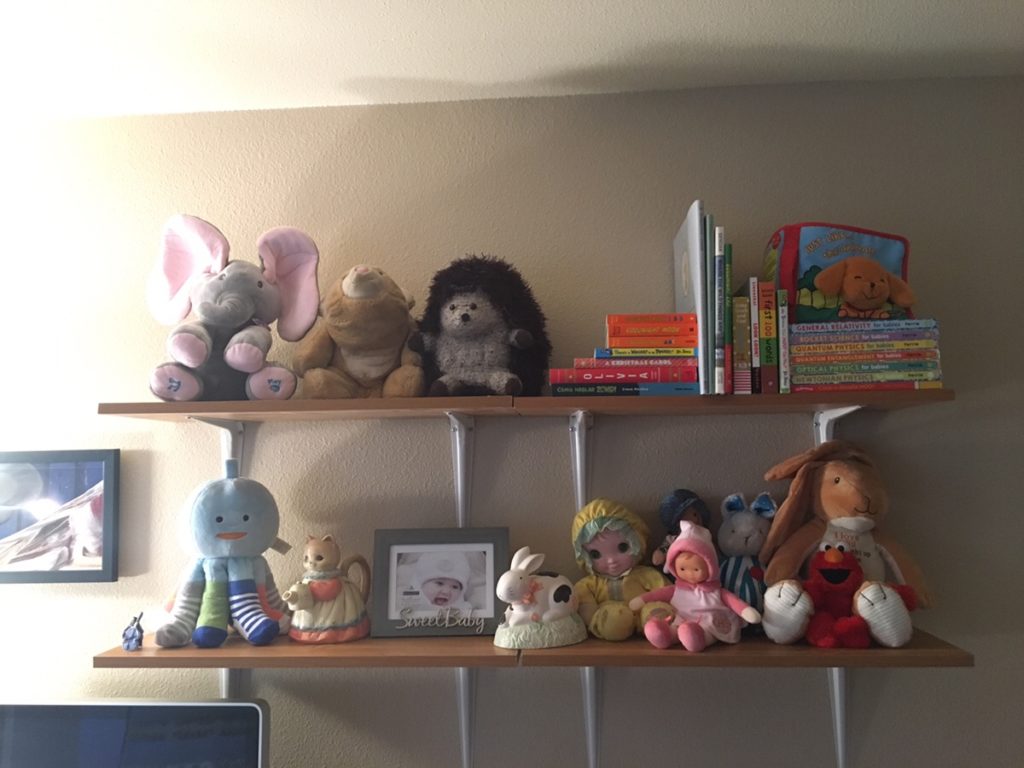 And no, we didn't really pick a theme for the nursery … just baby things. We chose our favorite prints and photos that we already had, and the black cat curtains were an impulse buy from IKEA, because how could we pass those up?!
Third Trimester Update
Picking up from where I left off after my last update … pretty much the day my pregnancy app popped up the notification that I'd reached the third trimester, I started feeling progressively more uncomfortable. I don't want to complain much – after what I've been through in the last year, I feel very fortunate to be pregnant and that I've had an utterly uneventful pregnancy (so far, anyway! Don't want to jinx anything right before her birth.)
Between getting up 3+ times to use the bathroom, getting hungry in the middle of the night, and the hip pain, it's been months since I got a good night's sleep. And yes, I am well aware that I'm in for many more sleepless nights — but I'm looking forward to at least being able to lie comfortably on my back. Oh, and just when I was starting to think I was lucky enough to avoid the swollen feet and ankles, it set in and I'm down to two pairs of shoes that fit.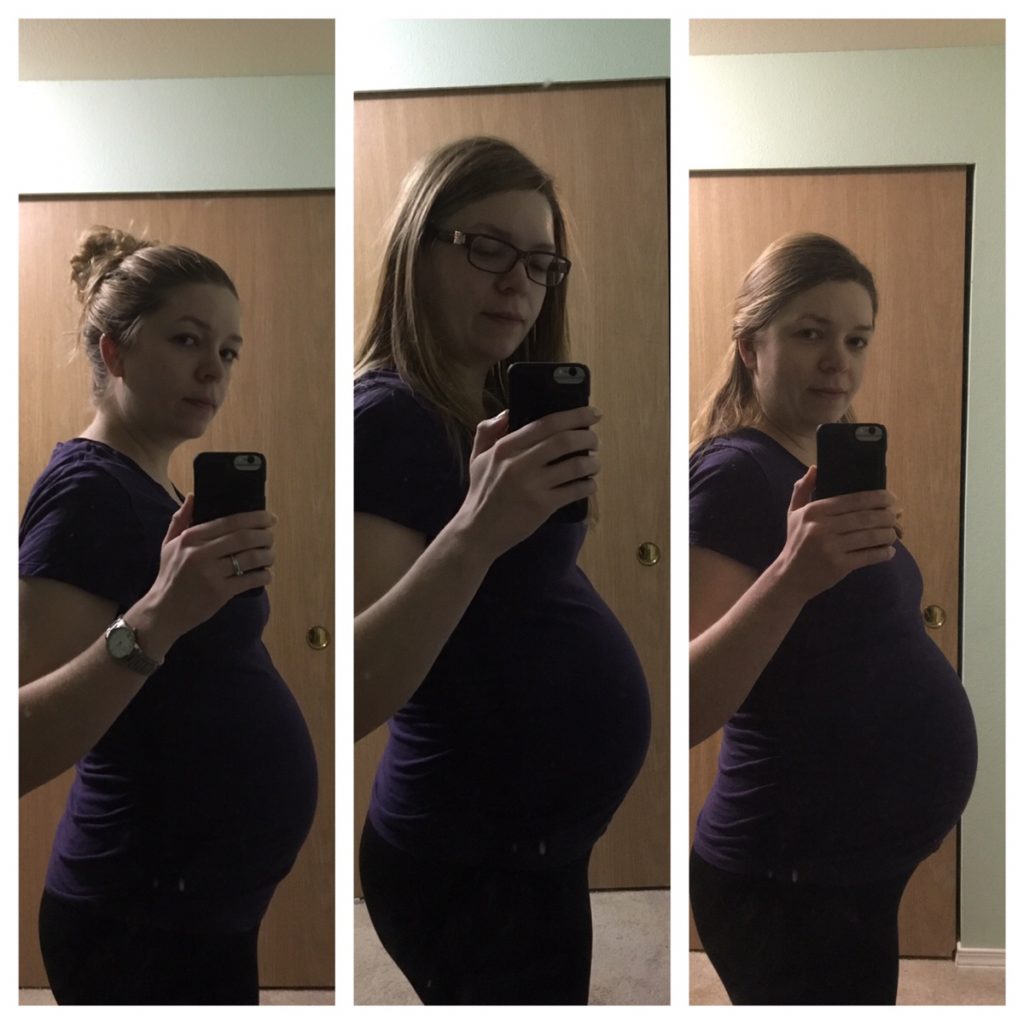 The last round of progress pics: 31 weeks, 34 weeks, 39 weeks. You'll notice that I had to stop wearing my rings and watch because of the swelling. And I think I've pretty well maxed out my favorite purple tee.
I've definitely had more cravings in this trimester, and only sweet things. I woke up a few weeks ago and said to Joel, "we need to get strawberry milkshakes today." I think it was the second or third strawberry milkshake I've had in my life – usually I like vanilla! We went to Dick's Drive-In, where I can have not only the milkshakes but also French fries because nothing goes in their fryers except potatoes. I've also sent Joel to Trophy Cupcakes for a gluten free cherries jubilee cupcake, and I'm currently on the hunt for a caramel and chocolate covered apple.
***
I don't expect to be blogging much in the next few weeks – I hope to post an announcement when she arrives, and maybe a birth story. But you will be hearing from me because I've finally finished my Belize recaps! Until then …