On our second day in South Africa, we boarded a tour bus bound for Houpt Bay, Simon's Town, and the Cape Point Reserve. The tour was arranged though Joel's work, and there was hiking and biking and lunch planned, but only one thing that we cared about – penguins. We saw lots. Our first stop, though, was a boat ride out to Seal Island.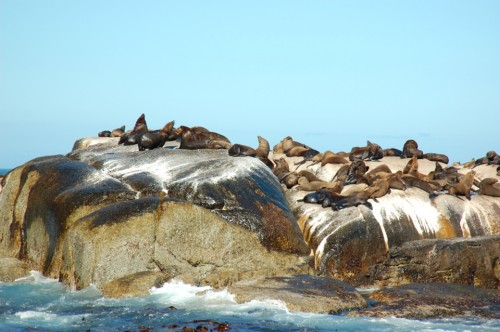 "Island is rather generous," our tour guide told us before we went out there. "It's really more of a rock."
This group was waiting for us when we pulled back in to the dock. I had one rand in my pocket, and I still feel a little guilty for not dropping it in his hat.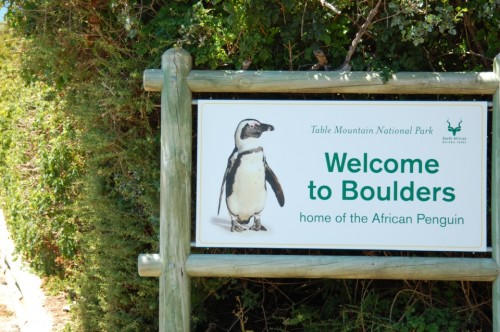 The entrance to Boulder's Beach.
A penguin being rereleased into the wild.
Out of all the photos I took on my trip (just shy of 1000) this is among my favorites, if not my favorite. While we were waiting in line to buy our tickets, two women walked by with a cardboard box in between them, and we could just barely make out some black and white feathers through the holes in the box. By the time we made it down to the beach (there was a long boardwalk from the entrance), they were just climbing through the fence to set the penguin free, and I ran to the edge to take a photo. But I promise you, when that penguin saw the ocean, he ran faster on his little penguin legs than I ever have to get back in the water. He was a very happy penguin.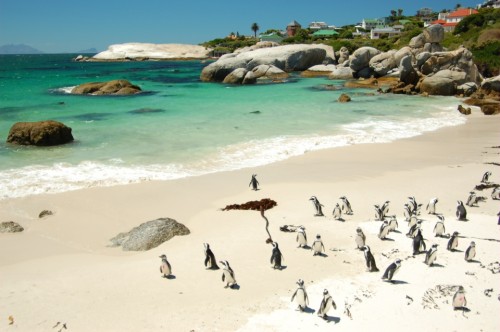 Penguins at Boulder's Beach.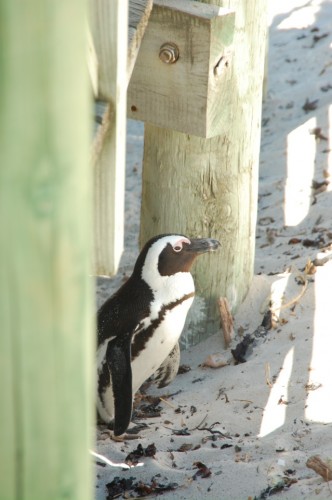 Such a beautiful place. If I were a penguin, this is definitely where I'd want to live.
500 Rands is about $40 US.
A normal sight in South Africa – a baboon hanging out on the side of the road. (Note the red butt!)
Later in the afternoon, just before we entered the Cape Point Reserve, our guide gave us a very clear warning: "if we see any baboons, close every window. Don't leave them open even a crack." Baboons in South Africa are apparently clever and pretty aggressive – when tourists stop and roll their windows down to take pictures, they'll climb in looking for food. We saw plenty of tourists doing just that, and were very glad we knew to keep the windows closed because at one point, a couple of baboons climbed on top of the tour bus and pounded on the moon roof!
And here we are, at the southwestern-most point of Africa. The southernmost point, which is where the Indian and Atlantic Oceans meet, is quite a ways further from Cape Town, and we didn't have time to make it out there. Maybe on our next trip 🙂
I think maybe one of these is the southernmost point of Africa. If not, I think it's still a gorgeous picture.
And I'll leave you today with what became a running joke on our trip. We had a few minutes downtime at the Cape Point Reserve to hang out and watch for animals. We saw some ostriches, antelopes, a couple of lizards. And I got extremely close to what I thought was a lizard sitting on a concrete stair. I snapped a few photos of it with my zoom lens, and when I looked at the pictures later on a bigger screen, I discovered what I'm sure you've already guessed. That's not a lizard. That is definitely poop. So for pretty much the rest of our time in Africa, whenever someone came across a pile of poop, they'd point it out for me, just in case I wanted to take some pictures.