I've gotten to the recap of our third day in South Africa, and realized I haven't said outright what we were doing halfway around the world. Joel's company was putting on an event in Cape Town and took a group of about 20, of which Joel was lucky enough to be one. And I couldn't exactly let him go without me, right?!
I was invited to the actual event (I was even given an official T-shirt) but I opted instead to spend my evening getting a pedicure in the hotel spa and then eating dinner with another of "The S.O.s" (as we were officially referred to) in the hotel's restaurant. But we had a few hours to kill the morning of, so a small group of us headed over to the waterfront to check out the Two Oceans Aquarium.
A word on the aquarium – several places on the internet called it the highlight of Cape Town, so we had very high expectations, and for a few in our group, those expectations were not met. Personally, I enjoyed it, but what made the experience for me was that we got to see penguins again. Admittedly, the coral and fish and sharks weren't too different from what I've seen at aquariums here in my hemisphere.
The display of clown fish was the first thing we saw when we walked in the door, and the tank is labeled "NEMOS." And can you see that line in the photo? The tank was cylindrical, so small children could climb underneath and pop their faces up to be photographed with the Nemo fish. Cute, huh?
A giant eel. This is probably 1/10th of his body.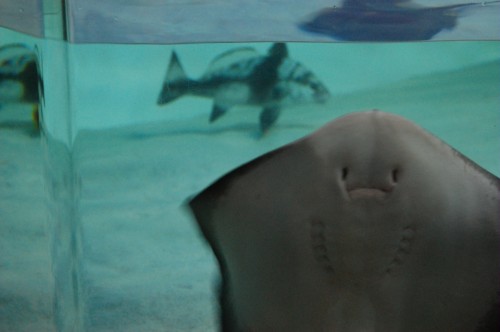 Stingrays.
I believe my exact words when I found this penguin cut out were "someone needs to come put their face in this penguin." Erica was happy to oblige.
Joel feeling a sea urchin in the touch pool.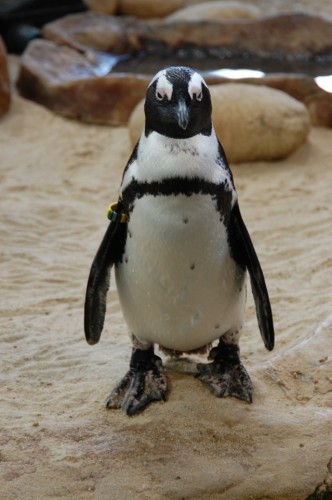 And then we came to my favorite exhibit – the African Penguins (the same type that we'd seen at Boulder's Beach the day before.)
The Rockhopper penguins ready for lunch.
We happened to be there at exactly the right time – we walked through the entire aquarium, then doubled back for the penguin feeding! The Rockhopper penguins were fed first, and they ate squids. That's the penguin trainer sitting with them, and the minute she walked out there, all the penguins held their little wings out. I couldn't figure out whether they were trained to do so, or if that was just what they did when they were excited.
After they'd had their fill of squids, the penguins jumped, one by one, back into the water to swim. But they weren't just swimming, they kept jumping out of the water like fish. The trainer explained this is called "porpoising" becuase it's how porpoises swim, and that it's actually a rare thing to see a penguin do. I was squealing and delighted, but sadly, none of my pictures turned out.
(We watched this feeding through a glass tank, hence the reflection in the picture. Oh, well.)
And then we raced upstairs to see the African penguins be fed. These penguins ate sardines. The trainer had a lot to say about these penguins, including that most of them have been rescued from the wild, or were born in captivity and lack the penguin skills necessary to live with the penguins on Boulder's Beach. I won't lie, it was a little sad to see the penguins in a cage after seeing them on a beach the day before, but they lead very happy penguin lives, and it was fun to see them interact with the trainer. They each have very distinctive personalities.
This guy was very social and came right up to us. Also, can you see how his beak is a little blurry in this photo? He was snapping at Joel's camera!