Jeffery Eugenides' second novel, Middlesex, is the story of Calliope Stephanides, later Cal, who is born a hermaphrodite. Callie is raised a girl, until at age fourteen in the throes of puberty, he starts living as a boy.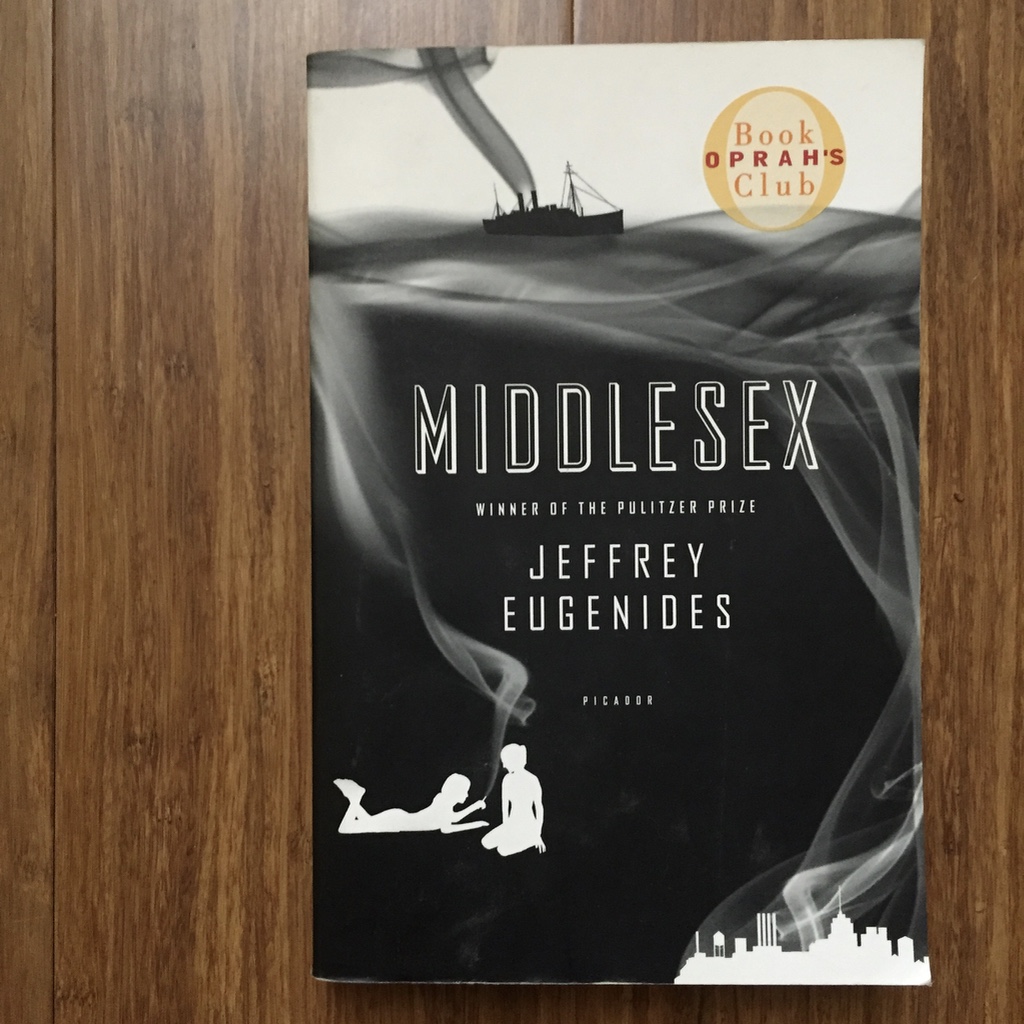 Though the book is about Cal and his gender identity, the transitional scene doesn't happen until about 80% into the story. This is a multi-generational epic, devoted to the story of how the recessive mutation on the 5th chromosome, which caused Cal's hermaphroditism, came to exist and be passed down through his family.
Why I Liked It Then
Actually … let me clarify. The first time I read Middlesex in early 2008, I listened to the audiobook, and I wasn't sure whether or not I liked it. But I'd just finished and fallen in love with Eugenides' first novel, The Virgin Suicides, so I decided the obvious next move was to pick up a physical copy of the book and read it again. It was on that second read that I decided that I unabashedly loved the book.
In this 2002 interview with Powell's Books, Eugenides said of his narrator: "I used a hermaphrodite not to tell the story of a freak or someone unlike the rest of us but as a correlative for the sexual confusion and confusion of identity that everyone goes through in adolescence." I was 21 when I first read the book, so … right in the thick of that confusion, and Cal's story resonated with me.
Interestingly, he is an omniscient first person narrator, making sense of his family story. It's an investigation (as is The Virgin Suicides) and though it's thorough and meticulous in wrapping up three generations' worth of loose ends, there's an emotional center. Cal feels the emotion of each scene in his grandparents' and parents' lives, and the reader feels it, too.
Why It Still Speaks to Me Now
In that same Powell's Books interview, Eugenides explains that Cal "is perhaps inventing his past as much as recalling it. He might make claims that he has a genetic memory … but there are a lot of tip-offs to the reader that he's making it up. He needed to tell the whole story to explain his incredible life to himself."
I don't think I caught that on my first reading, but as I've reread it (and reread it, and reread it again) there are deeper layers to be discovered.
Prime example: there's an interesting shift that happens after Cal's birth, when he becomes the main character of the story – he actually becomes less confident in his narration. It's said outright in the text, but it didn't register with me until subsequent readings. It's very subtle and clever.
***
Publisher's Weekly, in the starred review that was given to Middlesex, notes that the novel is ahead of its time for the detailed history of Cal's genetic makeup. Maybe it was on the subject of gender identity, too – I don't really think it's my place to say – but in the thirteen years since its original publication, that conversation has changed. If Eugenides were to rewrite it today, the novel would probably be a little different – part of me wonders if the novel would be as well received today with the vitriol that sometimes accompanies material on the subject – but I think it is very sensitive to the issue.
Eugenides was awarded the Pulitzer Prize in 2003 for Middlesex.