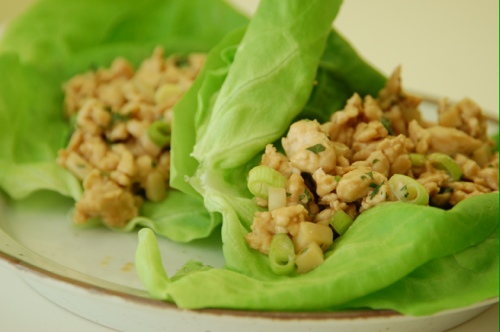 Chicken Lettuce Wraps
Here's what you'll need:
2 Tbsp tamari (wheat-free soy sauce)
1 Tbsp peanut butter (or other nut butter – tahini would probably be fantastic in this recipe)
1 tsp ginger, minced
1/2 tsp molasses
1/2 tsp sesame oil
1 lb ground chicken
Cooking oil of choice (I used coconut oil)
1 tsp arrowroot, tapioca, or corn starch
A lime
Scallions
Cilantro
Optional: 1/2 of an 8 oz can water chestnuts, diced
Optional:Sesame seeds, for garnish
Leafy lettuce (Pictured above is butter lettuce)
Here's what you'll do:
Whisk together tamari, peanut (or other nut) butter, ginger, molasses, sesame oil. Set aside.
Heat oil over medium-high heat. Brown ground chicken in the oil, breaking it up as you go. When chicken is fully cooked, stir in soy sauce mixture, juice from half a lime, and the starch you're using. Continue cooking until sauce is very thick.
Remove from heat, stir in chopped cilantro (I used about 2 tablespoons) and 2 sliced scallions, and water chestnuts, if using. Garnish with sesame seeds if you like.
Makes 4 servings.