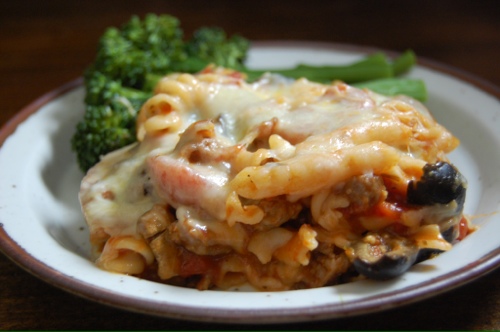 Joel's Lazy Lasagna
Here's what you'll need:
1 16 oz box brown rice pasta
1 lb ground sausage (we used pork)
1 16 oz jar tomato sauce
1 15 oz can stewed tomatoes
1 15 oz can large black olives
1 2 cup pkg shredded mozzarella
8 oz sliced mushrooms*
Here's what you'll do:
Preheat oven to 375 degrees.
Boil water. Cook pasta according to package directions.
Brown sausage in a large skillet.
In a saucepan, combine tomato sauce and stewed tomatoes over low heat.
Drain olives, chop or tear in half lengthwise.
In a large bowl (or the empty pasta pot, if you don't want to get another dish dirty – this is lazy lasagna, after all), combine cooked pasta, sausage, olives, tomato mixture, and mushrooms (if using).
Spread pasta mixture in a 9″x13″ Pyrex dish. Top with shredded cheese.
Bake uncovered for 15 minutes, until cheese bubbles. Allow to rest for 10 minutes before serving.
Makes 8 servings.
*Mushrooms optional.