I'm ba-ack!
So to recap, we got married, then went on our honeymoon to New York and Washington, D.C.
All the posts that went up in the past, well, pretty much for the past three weeks, I wrote back in July and auto pilot's been flying the blog for a while.
I'm organizing my thoughts about the wedding and honeymoon and plan to start blogging about that in the next week or two. In the meantime, here are a few snapshots from the past few weeks …
Mom, Auntie Barb, and Allegra doing some assembly line work on the escort cards.
Joel taking a pizza break before the ceremony. I told him to wear a bib, this is what happened.
Welcome to New York City!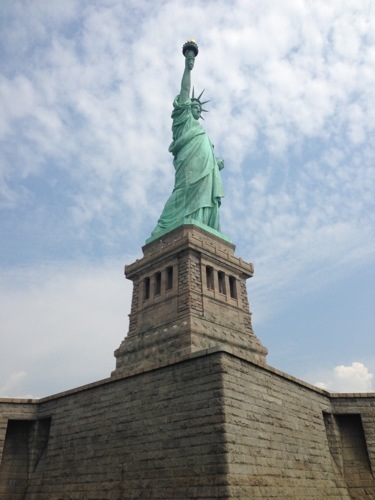 Lady Liberty. About 30 minutes after I took this picture, it started dumping rain. Thanks, New York, for raining all over my honeymoon.
Black walking shoes = packing essential for NYC. Morgana, Joel, and me.
After New York, we took a train down the coast and spent Labor Day in "The Other Washington." This is the Marine Corps Memorial (Iwo Jima) just across the river in Rossalyn, Virginia.
***
Still settling back in to real life and sifting through the piles of wedding debris scattered around the condo. More later!