Ghee is clarified, or drawn butter. I first heard about the stuff six years ago, in the first yoga class I ever took, when my teacher raved about its healing properties. I've been scouring the aisles of grocery stores and Asian markets since, to no avail. I made ghee for the first time tonight, and if I'd known how easy it was, I'd have just sucked it up and have been eating it for the past six years.
All you do is boil butter until the water evaporates and the milk solids fall away, leaving just the golden butterfat*.
Seriously, it's so easy. All you need is a pound of butter, a saucepan, and patience.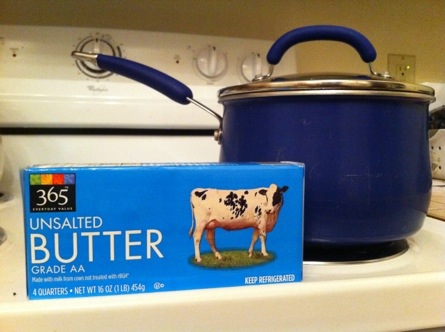 Chop up your butter, turn on the heat, and bring it to a boil.
Then sit back and watch it. After a while, it will stop boiling. This took about 20 minutes in my kitchen.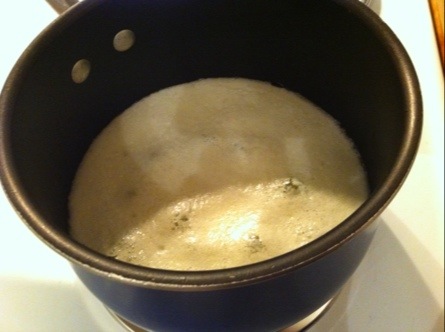 At this point, remove from heat and let it cool for a few minutes. After it's cooled, pour the liquid through cheesecloth into whatever container you choose to store it in. I used an empty (and very clean) nut butter jar.
You can use this in place of oil or butter in pretty much any recipe, over steamed veggies, and if you've ever been served lobster tails in a fancy restaurant and wondered how the butter to dip it in got to be so yellow (!) this is it.
EDIT: When I first posted this recipe, I had read that ghee will keep at room temperature for up to a year, but that has not been my experience. A jar went bad on me after about six months.
*A word on butterfat – in researching ghee and how to make it, there seemed to be two opinions on it: either it's a healthy and healing fat, or the worst kind of artery-clogging fat. I side with the former.