After my so-called makeup explosion, I became obsessed with nail polish.
I'd been hearing a lot about Julep, a Seattle company who was having great success with monthly subscription boxes of nail polish. I was totally disinterested at first, because my obsession hadn't yet hit in full, and also because I'm pretty burned out on monthly subscription boxes. But then one of my friends posted something about Julep on Facebook, and I decided to give it a shot (also, I found a promo code to receive the first box for free. That was good incentive.)
I kept it quiet on the blog because I gifted some Julep polish this Christmas, but now that the holidays have come and gone, I have a few months worth of Julep's boxes to tell you about. There's a lot, so I'm just going to go over the highlights.
First was the welcome box – I filled out the style profile, and they suggested the "Classic with a Twist," which included Padma (purple) and Florence (nude) as well as the Luxe Skin Repair. They also offer a limited number of steeply discounted products with every box – for the first, I bought the acetone-free conditioning polish remover and oxygen nail treatment. They threw in a sample and a little package of candy corns, which I thought was a super adorable touch.
My favorite and most-used Julep purchase so far is their polish remover. I love the pump top and it doesn't dry out my nails and skin, but I think the price of it is a little outrageous. I'd buy it again (I'd even pay more than the $4.99 super-discounted price) but $14 for 4 oz. seems too steep to me.
***
One of Julep's marketing schemes is a monthly mystery box, which I fell for in November. It was themed the "Diamond Collection," and guaranteed two glitter top coats with diamond shaped sparkles. I also received the pink grapefruit body "frosting," an eyelash curler, an exfoliating mitt, a foot moisturizer, and some nail polish. I added some polish and the mystery add-on, which included hand, foot, and nail treatments, and more polish. All in all, I got twelve polishes in this box!
I ended up liking all the skin products and I would be happy to see any of them turn up in a future box, but I won't go out of my way to buy any of them again – except for the double step foot moisturizer. It's shea butter but in a dispenser like a stick of deodorant, so it's super easy to roll on and I'm using it constantly.
Since I received so many polishes, I decided to gift two of the sets for Christmas and "only" kept six for myself. (I say "only" with quotations because I'm trying to convey sarcasm.)
***
The next box I received was from January's "boudoir collection." I decided this month to get the Modern Beauty (beauty products only), because the products were all about the perfect home manicure.
"Vanish" cuticle softener/remover, "Ta-da!" quick dry polish drops, and cuticle oil.
I've used these only once so far, but I'm very happy with them. I needed a cuticle remover (yes, needed!) and I'd been waffling on whether or not to buy a popular drugstore brand. I'm glad I didn't because just days later Julep announced theirs and, let's be honest – I would have bought it either way 😉
***
I should probably talk about the polish, since that's what Julep is known for. I have so much new polish now!
Let me start by saying that I am not a fan of the shape of Julep's bottles – they're tall and skinny, so the brushes are long and difficult to wield. I'm getting used to it, but they're more difficult to use than other polishes.
The saving grace is that the formulas are very thick and opaque – I've not needed more than two coats of any of the colors I've gotten, and a few of the colors can get away with just a single coat. And the colors are gorgeous! I haven't gotten any that I don't like (even in the mystery box) … although I've discovered that I don't really like glitter top coats anymore. My 12 year old self would be so disappointed.
My favorite colors so far are this frost pink called Lois.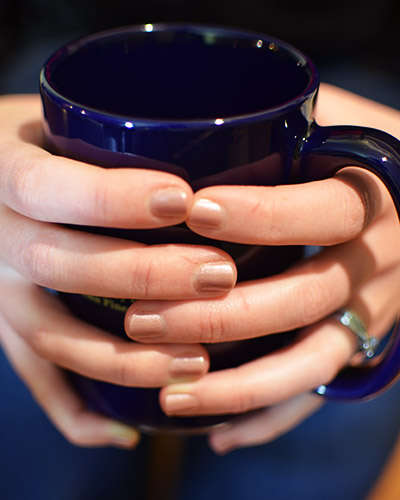 Or the medium purple called Charlotte.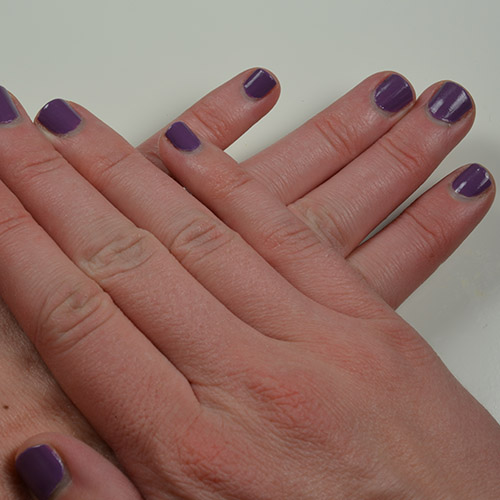 Also of note, their polish wears really well – I took this picture of Charlotte after 4 days of wear.
***
This post is getting a little long, so I'll wrap it up, but I want to talk briefly about the subscription boxes. Like I said, I'm a little burned out on monthly subscription services, but I think Julep's is one of the better ones.
Each month, they send out an email with the month's selections. My answers to the online style profile put me in their "Classic with a Twist" category, but I can choose a different box so I know I'm getting colors I want. They offer a nail polish only option and a beauty product only option, or the option to buy the entire collection of polish colors and products. They've made it incredibly easy to skip a month, or ship the box to a friend as a gift.
I also really appreciate that their nail polish is "4-free" (made without four common toxins, including formaldehyde) and their skincare products without harsh chemicals. That's not easy to find.
My criticism of Julep is that they boast about sending full sized products in the boxes, but their full size is smaller than other brands. A bottle of Julep polish is .27 fl oz, while most other brands' bottles are .5 fl oz. A Maven Box is $19.99, and I think that's perfectly reasonable for two half size bottles of polish, a beauty product, plus samples and shipping; but I think their regular pricing is too high, especially because they routinely mark items down as much as 75%.
If you're interested in signing up, you are welcome to use my referral link to help support my nail polish addiction. Use the code "FREEBOX" to receive your first box free.
This post was linked up with Unpack the Box and Mommy Splurge.