I know I have been talking about myself more than usual lately. But I'm not quite done yet.
I don't blog much about my daily comings and goings because they aren't generally interesting or blog worthy, and I get a little embarrassed posting too many pictures of myself. But look at all the cute pictures of the fun things we did this month!
source
And in case you're wondering, yes, we did go see Anchorman 2 on Christmas Day.
First, we piled into the photobooth at Joel's company's Christmas party with Phil and Meredith.
A week later, another photobooth at our friend Erica's Star Trek themed birthday party.
Then there was my brother-and-sister-in-law's annual ugly sweater party. We've gone every year, but this was the first time we dressed up. I'd like to point out that Joel's Cosby sweater and my corduroy dress would have been very stylish in the early 90s.
Joel's band played their CD release show (you can listen to the CD on their website.) I took pictures, and some of them were actually good(!), despite the dim bar lighting and the guys being constantly in motion.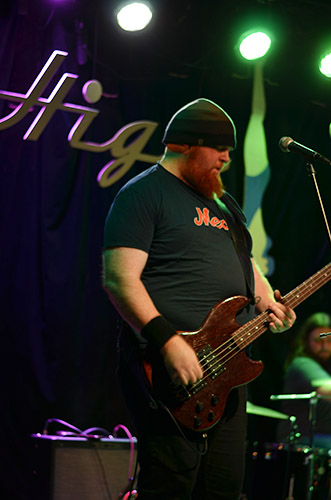 And then it was Christmas Eve!
I am getting *so good* at making gluten free gravy! I may go pro.
Everyone got a paper crown in their party popper. I love this photo! Thanks, Auntie, for sharing 🙂
I call this one "Selfie with pie."
And before we could open presents on Christmas morning, I made a path underneath our tree for the kitties so they could hide underneath without climbing on all the presents.
That's all!