Hello there! A couple of you asked lately if I was having trouble with my email subscriptions because you hadn't seen a post from me for a while … yeah, that's not something wrong with the emails, I just haven't been posting anything. I'm hoping to change that, this month.
In the meantime, here's what I was up to last month …
My sister and I had a playdate. First, we ate tacos (and stopped to pose for this cute picture …)
Then, we sang karaoke! It was my first time doing karaoke – my friends have been hounding me to give it a try for well over a year and I refused. As it turned out, I had a blast. Go figure.
The next week, Joel convinced me to go to a show on Capital Hill. I hate going to the hill, and I didn't really enjoy the show. But it wasn't a total bust because we went to Blue Moon Burgers (my fave!), and I was entertained by Joel doing the rumba.
edit: I didn't have pictures so I totally forgot to include a concert that was decidedly not a bust! My sister took me to see Jason Mraz and Raining Jane at Benaroya Hall! I'm not a huge Jason Mraz fan – he's one of those who I'm happy to listen to if a song comes on the radio but I haven't ever gone out of my way to listen to his music. I had zero expectations for the show, but it was fantastic. They were all really talented musicians. Thanks again, Allegra 🙂
On a warm weekend, we headed out to the pumpkin patch, because how would we know it's fall if we didn't trek into a muddy pumpkin patch and pick out pumpkins?!
We went back to Craven Farms, where we went last year (here's a post with my pictures from last year. I didn't take nearly as many this time around.)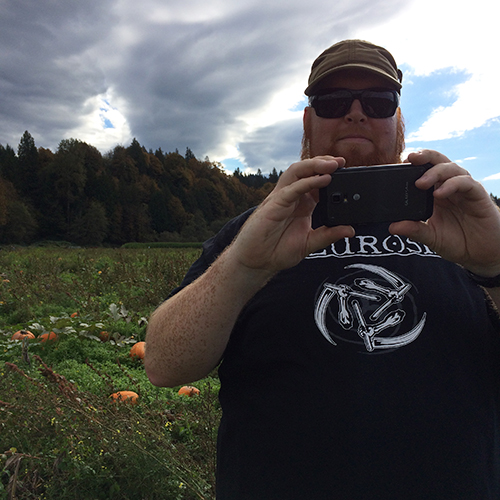 Instead of carving, I decided to paint my pumpkin this year. I meant to draw a face on top of the paint, but I couldn't decide what so instead, I have a VERY metallic gold pumpkin. It's adorbs.
We finished carving/painting just in time – right before our power went out!
Funny story – my parents live out in the boonies, and their house is usually one of the first to lose power and the last to have it turned back on whenever there's a wind or snowstorm. In 2006, when I was still living with them, we had a huge windstorm that knocked the power out for eight days. I remember waking up one morning after three days without power, under a pile of blankets, and the tip of my nose was numb.
When I moved into my condo, one of my neighbors was telling me about the building and complained that "when the power goes out, we're the first to lose power and the last to have it back on. Once it was out for more than a day!!"
Cityfolk, am I right?
Anyway, we had flashlights and candles and played cards to stay entertained for the few hours that we were without power.
Well, that's about it for October's highlights! I was hoping to come back this month and tell you how I made a skirt with the new sewing skillz I picked up from my class in September.
I started an online class to make a skirt, and I bought fabric and tools, and cut out all of my pattern pieces. I sat down at the machine a few weeks ago and started working, and the machine started smoking! It's out for repair now, but maybe I'll have a finished skirt to show you in my November recap post.
I was feeling pretty satisfied that I'd gotten a good start, but then I realized all I'd finished was a single seam, so … I've still got a ways to go.
Until next time!