I usually think it's the most boring thing in the world when bloggers go all meta and start talking about blogging. I am stooping so low as to talk about it today, but I'll try to keep it interesting.
But I have to start with a little background and this is definitely the boring part: I've used WordPress to blog since I started the gf-gf in 2011; before that I'd used Live Journal and Xanga and Blogger and I had a blog on my MySpace page. I never used any of them as long as I've used WordPress, but I never wanted to use those platforms for too long. The more I use WordPress, the more it impresses me.
In the last couple of weeks, I decided to update my layout (perhaps you noticed that it was constantly being rearranged – sorry about that. I think I'm done now.) In the past, I've used pre-made themes that someone else created- but if I wanted to customize it, I had to tweak the code. WordPress is popular enough now that someone's created a framework, so I can just pick some colors and check some buttons and make my site look just like I want in a matter of hours and not have to know any code.
So the reason I'm breaking my silence on the subject of blogging isn't just because I want you to click through from your email or feed reader to see my completely custom layout – it's also because of the injustice I feel that I'm finally writing a blog I love and looks good at a time when blogs are dying.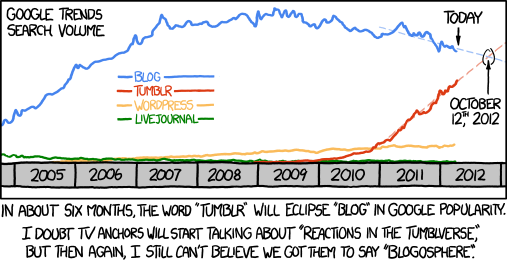 In April of 2012, XKCD published this web comic, and — as predicted — this time last year, "Tumblr" became a more popular search term than "blog." I didn't do any google searches as to whether or not more people are keeping tumblelogs than blogs. But let's go ahead and say that's probably the case.
And before you go telling me that people use Tumblr to keep blogs, I'll just tell you not to bother. I knew that already, duh!
The difference, to me, is long form v. short form content – something I've been thinking about since I attended MozCon this summer (mostly because I didn't really understand the difference until then, honestly.)
In the last year, WordPress has released several updates to keep relevant in a world where Tumblrs are (or are likely becoming) more popular than blogs. One such update was adding different post formats, so people who want to keep tumblelogs can do so with WordPress. Now, when I compose new posts, I have all these options: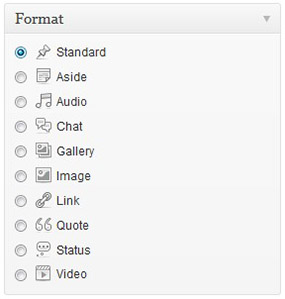 I'm intrigued by this and may try it in future posts, but I'm aware that I get a little wordy when I write — as long as I am posting a quote by someone famous, I will surely have commentary. As long as I am posting just a pretty picture, I will surely have commentary.
Blogging is a good fit for me.
But there's a but – I'm still enamored of Twitter, and tweet pretty often these days. I think of tweets (or status updates and the like) as microblogging – just that quick "what I'm doing now" snippet. But posts that short are generally best kept on Twitter, if you ask me.
Perfect example – I uploaded this screencap sometime in August intending to write a post about summer movies. But then I realized I'd already said everything I wanted to say about Pacific Rim in this tweet. A longer post was unnecessary.
Not saying there's anything wrong with microblogging or tumblelogging. It just makes me sad to see that short, even wordless posts are winning over the long blog posts of yore (i.e. 10 years ago.) Are people not interested in reading, or is it writing that's becoming a thing of the past?
Okay, I've got that off my chest. Sorry if I got a little long winded – just doing what I can to keep blogging alive.