I know, I know, I know. You don't have to tell me how long it's been since I posted. Ages. Last month, I started my new massage job, and am still working at my other job and teaching yoga, so my days are packed. I am hopeful that in the next few weeks as I settle in to the new routine, I'll be able to make more time to blog. But until then, bear with my sporadic postings.
So that's what I've been up to. What I've been eating? Well …
Joel and I have both been working a lot more, which means we get to spring for the high end steaks. What a difference, I tell you! I ate mine with steamed broccoli, blue tortilla chips and hummus. I wish that were the best hummus ever, but I haven't had time to make any for a while. Fortunately, the Sabra brand has filled that void.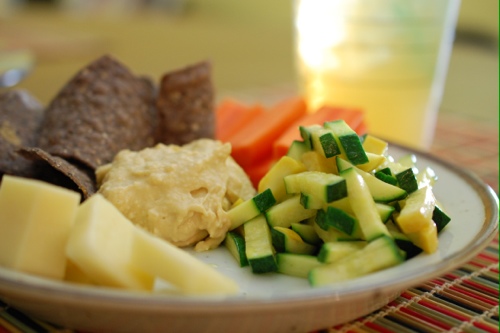 In fact, on a night last week when I was on my own for dinner, my dinner was themed "things I can eat with hummus." Sautéed zucchini and yellow squash, carrot sticks, blue tortilla chips. Also some cheese cubes.
Nights when I'm working late at the massage clinic look pretty different … The theme on those nights is "what can I eat right NOW?" What I came up with was leftover brown rice, scrambled eggs, tomatoes and olives.
Oh, and don't worry.
I have found time to eat ice cream sundaes.