Over the weekend, I sat down at my computer, opened a blank word document, and started writing about the wedding.
Thirteen pages later, I realized I had a lot to say!
I envisioned writing two, maybe three recap posts. But since I have so many details I want to remember and behind-the-scenes stories I want to share, even after paring down the less-interesting parts of the story, clearly I'll be posting more recaps than I originally intended!
So that you don't get too bored/overwhelmed with wedding posts, I'm going to post one every Wednesday for the next several (many) weeks. Fridays I'll post honeymoon recaps, and Mondays will be wildcards.
Enough boring stuff, let's talk about the wedding!
There's no better place to start than …
The Saga of the Dress
The week before our wedding was highly stressful and flew by in a rush of last minute to-dos. If I'm being totally honest, I had a few mini-meltdowns. Getting married suddenly seemed like the worst idea we'd ever had.
But one thing plagued me more than anything else … my wedding dress.
Not long after Joel and I got engaged, I read on theknot.com that brides should start dress shopping at least 9 months before the wedding. That seemed way too early to me (and my mom agreed) so I put it off for a while. And then, because I'd gotten so good at it, I put it off a little bit more.
Finally, in May, when I could put it off no longer, I made myself an appointment at the Wedding Suite at the downtown Seattle Nordstrom with the intention of going in and choosing a dress that day.
Crazy, I'm sure, but the clock was ticking. And actually, the dress I chose was the first one I tried on. I tried on others, of course, but I hoped for an ivory, tea-length dress that wasn't strapless, and even though this wasn't exactly what I'd envisioned, it was exactly what I wanted.
What it looked like in the Nordstrom fitting rooms, pre-alterations.
So here's what happened: the expected delivery date for the dress was eight weeks out, but we asked for a rush order of six weeks – the dress was to be completed on July 15th, leaving four weeks for alterations. No problem, the saleslady said. Four weeks is more than enough time, she said.
July 15th came and went. No dress.
August 1st came and went. Still no dress. This was when I started to worry, and started making daily phone calls to my saleslady: "is my dress here yet? No? How about now?"
To go back in time several months, on the night Joel proposed, he made me pinky promise that I would not turn into a bridezilla, and I held myself to that … except in the case of the dress. I tried, I really tried, not to be an enormous b!+ch to the saleslady, but when your wedding's in two weeks and your dress hasn't even shipped yet … you go a little crazy. In an ironic turn of events, Joel later said I was too nice and should have been more of a bridezilla in the case of the dress.
Exactly a week before the wedding, the dress finally arrived and I had my first fitting. And the dress that showed up was completely different from the sample dress that I'd tried on! It looked the same, but the bodice had boning and the skirt had more layers … it was a little strange, and meant that the alterations were much more complicated than any of us expected.
The seamstress who ended up working on my dress was amazing, though, and made the dress fit me perfectly. All in all, I ended up having three fittings, and didn't walk out of the store with my dress until 4:30 on August 22 – as in, two days before the wedding, 30 minutes before my bachelorette party started. It was insane.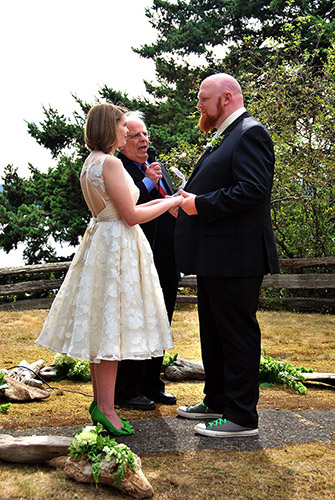 Here's the dress looking amazing post-alterations. Thanks Auntie Barb for sharing your photos with me!
It added much unnecessary stress, but I felt great in my dress and it looked awesome. I'm so glad it made it in time for the occasion!
I haven't quite decided what to do with the dress post-wedding. I'll have it cleaned for sure, then I'm considering donating or selling it. It's a little heartbreaking to think of parting with it, but it's even more heartbreaking to imagine the dress sitting untouched in my closet for years, because, really, am I ever going to wear it again?!
Plus, I don't feel the need to keep it as a memento as I have the shoes, sash, headband, and necklace that I wore during the wedding that I will definitely wear again. And one other thought – I have 8 or 10 inches of material that was cut from the hem of the dress, and those scraps could be made into a special wedding keepsake, say a little handbag or clutch purse for special occasions.
***
In next week's post: The Bachelorette Party …