1. The arcade machine is finally finished, meaning our spare bedroom has completed its transformation to Nerd Cave. It doesn't actually look much different than the last time you saw it – except that there are two desk chairs pulled up to the arcade machine now. Here's Stormy helping to finish the control panel.
2. Speaking of Stormy, last month we found out she has glaucoma 🙁 The good news is that it was diagnosed early enough and the eye drops successfully brought the pressure in her eyes down so at this point, she doesn't need surgery. The bad news is that she thinks the eye drops are little kitty torture and has been spending more time than usual hiding under the couch.
This is from before the diagnosis – you can see that her left eye is kind of off-kilter and bigger than the right. Poor kitty.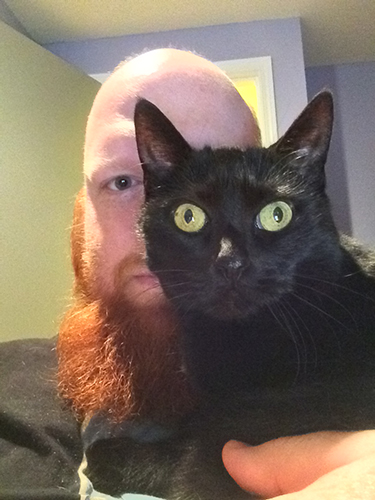 3. We made an impromptu trip to Southern Oregon last weekend to visit Joel's grandpa, who's in the hospital. We took a bit of a detour through Pasco to pick up Joel's dad, which amounted to four days in the car – almost 24 hours driving! We flew to South Africa in the same amount of time!
On the way back, we stopped by Crater Lake because Joel and I had never been before. It was beautiful and sunny, and there was snow on the ground.