As I said in my last post, I read a whopping ten books in January. I use Goodreads to track what I'm reading, and it tells me that I read 23 books in all of 2015, so I've read nearly half that number in just the first month of the year. If I go back even further, I read more in January than in all of 2014.
I say this not to brag (… okay, I'm bragging a little) but because I'm surprised that someone who claims to love reading could have done so little of it for so long. Also, I feel a bit vindicated that I knew I still had it in me to read as much and as quickly as I did in my teens and early 20s.
So originally, my reading goal for 2016 was the 48 that I set out to read in 2015 and totally failed. That's a tidy four books each month, but slightly more forgiving than 52 (a book a week.) Well, obviously either of those goals would be easy at this point. Too easy. I needed a stretch.
So my updated reading goal is 75. Goodreads tells me that I'm 4 books ahead of schedule, so it's looking very realistic, but still gives me a little slack if I lose steam as the year progresses.
Now that I've gotten my humblebrags out of the way, what I really set out to write about today is two important lessons I've learned about reading.
First, I have to like what I'm reading.
I get too hung up on finishing every book I start, and have a really hard time putting down books that I'm not enjoying, or reading books simultaneously. This is part of what stopped me up in 2015, and the problem wasn't that I read bad or boring books, but that nearly everything I read and wanted to read was non-fiction.
That's what kept me flipping on the TV instead of flipping open a book: sometimes, I just need to be entertained. Particularly if I'm doing something else (i.e. eating) or in those 15 minutes after I get home from work and need to turn my brain off for a little while.
I still like non-fiction, and intend to read plenty of it and even finish a couple of those books I started last year. Especially reading about marketing and massage and personal development. Those are subjects I legitimately like reading about, but get more out of if I read in smaller doses.
And lest you think I'll be padding out my number with short, mindless, easy reads (ahem, graphic novels) I assure you that is not my intention. I enjoy GNs, as well as the occasional romance or mystery novel, but I also want to read those classic novels that I meant to read in 2013 (another failed reading challenge!) and re-read several of my favorite books.
Second, reading has to be convenient.
I held out on digital books for a long time. It wasn't so much that I preferred reading a physical book as the shelves full of unread books I already had! Well, that changed after the Great Condo Cleaning of 2014 – I kept a small number of books I hadn't yet read but wanted to, and the favorites I couldn't bear to part with.
With the excess books out of my life, I switched to buying ebooks and quickly realized that I'd been missing out. I can read on my phone during my lunch break or if I have a longer break between massage clients – I always have my phone, but couldn't always remember to pack a book to take with me! At home, I prefer to read on my iPad, and that the book opens to the last page I read, regardless of which device I'm on, was the selling point for me.
One other thing – I feel a little silly including this because I'm sure it is old news to some of you, but I've mentioned it to a few people who had no idea: you can check out ebooks and audiobooks books from most libraries.
The King County Libraries actually had digital books available way back when I worked there (10 years ago, now!) but there wasn't an easy way to access them. Now, there's an app (called Overdrive) available for most phones and tablets, including Kindle and Nook readers. In my experience it isn't quite as quick to sync between devices as the iBooks or Kindle apps.
So … have you read any good books lately?
... Well, *without* TV is hyperbole, but a month into the new year, and I've stuck to my New Year's Resolution to not watch TV on weeknights. Truthfully, I slipped one time: Joel and I really wanted to watch The Martian but weren't able to spend … [Read More...]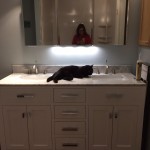 I'll just warn you at the outset - this is a very long story. Here's the short version: It took way longer than we thought. I shed many tears over things that went wrong. In the end, we have a lovely new bathroom. The long version: Way … [Read More...]
In 2009, Susannah Cahalan was working as a reporter for the New York Post when she got sick. What started out with apparent bug bites on her left arm and migraines turned into paranoia, hallucinations, and violet seizures. She was hospitalized for … [Read More...]
Hello!
I'm Jennie, and this is my blog. I write about food and TV shows and other things I like.