Our daughter, Ramona, has arrived! She was 8 pounds, 7 ounces, and 19 1/2 inches long.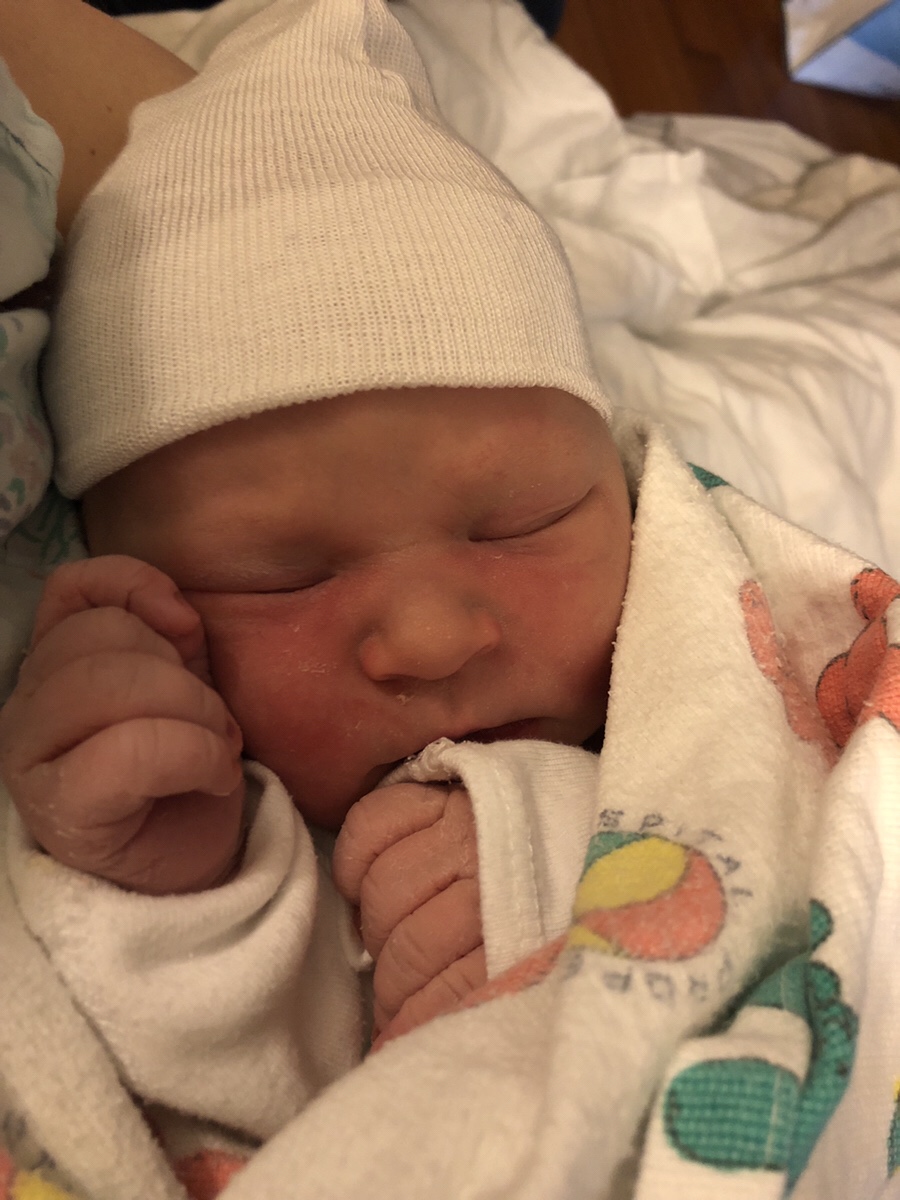 Her birth was a very positive experience, and I wrote it up in excruciating detail and wanted to share. This is without any gory details, but it's childbirth so there's a bit of TMI.
***
I'd been having Braxton-Hicks, the so-called practice contractions, for a week or two that had started to pick up in intensity. Every time, I'd think, "is this it? Will I know when real labor actually starts?" As it turns out, yes, I would. At 1am on my due date, I was woken up by a contraction that was obviously not just for practice, and they kept coming. "What a punctual baby!" I thought to myself. They were regular and about 10 minutes apart, so I knew it was just the very earliest stages but the excitement and anticipation, as well as the physical contractions, kept me awake until about 6am. At that point I finally was able to drift off and slept for about an hour.
I had an appointment with my OB that morning, so we got ready and headed out. The contractions had spaced out a bit, but I was having some other obvious symptoms that early labor was starting. The doctor checked me and confirmed that I had made some progress from my appointment the week previous and said, "I sincerely think you'll have your baby this week."
Joel had a class that morning, and I didn't want to drive so I hung out and had a cup of coffee. I made it about 90 minutes before the contractions started to pick up, so I went back to the car to wait. I sent a text to let him know where I was, and about 10 minutes later, he showed up after walking out in the middle of a lecture!
We went back home to let nature run its course. While waiting for Joel, I'd emailed our doulas to give them an update, and the plan that we'd discussed with them was to labor at home for as long as possible. So that's what we did. They'd given us some suggestions for comfort – I took warm baths and showers, ate and stayed hydrated as well as I could (which wasn't much, as I was nauseated by every contraction), and used the TENS unit they'd loaned us.
By about 2am, I was miserable. The contractions were getting more intense and I'd had an hour of sleep in the 25 hours previous. My pain was tolerable if I was up and moving around, but I was so exhausted and all I wanted to do was lie down which intensified the pain. I called the doula to check in, and she said it still sounded too early to head to the hospital. She offered to come sit with us if we needed the support, but we all acknowledged that I was in for a long ride and decided to wait until morning.
That gave me a little boost – just a few more hours until morning, surely I'd have made enough progress to head to the hospital by then. I watched some TV and listened to podcasts to distract myself and Joel got some sleep so that he'd be safe to drive us.
By morning, though, more of the same. It was like this all day long. I'd occasionally get a break of 10-15 minutes and I'd nod off, but the next one would wake me up. I repeated over and over in my head, "every contaction gets me a little closer to meeting my baby," and then, "every contraction gets me a little closer to getting my epidural!" Finally, in the early evening, the contractions were about a minute and a half long, four minutes apart, and that was consistent for over an hour. I called my doctor's office and checked in with the doctor on call, who told me I could head in to labor and delivery whenever I wanted to get checked out, but I'd need to be 4 centimeters dilated to be admitted.
So immediately after talking with the doctor, I started obsessing and second guessing myself, wondering how far along I was, and the contractions basically stopped. We checked in with our doula again, and she decided to just come over and sit with us for a while to give her opinion.
By that point, I could talk and breathe pretty normally through the few contractions I was having. I was pacing around our living room, as I'd been doing basically all day. She said, "this is a tough call. We don't see early labors this prolonged very often, and it sucks, and you're obviously exhausted." We ultimately decided to go to the hospital to find out where I was in the process, knowing we were very likely to be sent home, but that I'd be able to get some pain relief to let me sleep.
On the car ride over, I had four excruciating contractions. I was so mad that I was going through all of this when we were just going to have to turn around and go home again. Joel was optimistic and had brought our packed bags along, and I was really upset that he'd jinxed it.
Obvious foreshadowing aside, we got to triage and got strapped in to monitor the contractions and Ramona's heart rate to make sure she was tolerating them well (which she was.) The nurse checked me and said, "you're 3-4 centimeters, I'll go ahead and admit you."
What a relief!! At about 11pm, the on call doctor came in to introduce herself and said, "your baby will be born tomorrow." Now that I knew we'd be staying and that there was a light at the end of the tunnel, I relaxed and the contractions picked up again. We waited in triage for about 3 hours — apparently it was a popular night to be in labor! I was undressed from the waist down but needed to pee every half hour, so I'd get unstrapped from the monitors, wrap up in a sheet, waddle down to the bathroom, have a contraction on the toilet, waddle back to the room to get strapped back in, repeat ad nauseum.
Finally at about 12:30, my room was ready and my L&D nurse came to get me. I knew long before my labor started that I wanted an epidural – the only question was when. But at that point, knocking on the door of 48 hours of early labor and almost no sleep, there was no question. We got into the room, my nurse hooked me up to an IV, and the anesthesiology team was there within minutes.
The anesthesiologist placed my epidural, and then my nurse and doula helped me get set up on my side with a peanut ball between my knees so I could get some rest. Hilariously, before the anesthesiologist left, he explained how the booster button worked and accidentally pushed the button, so my epidural worked pretty much instantaneously. The doctor came in to check on me and was pretty skeptical that I was already so numb! By that point I'd dilated to 5, so we all settled in for some sleep.
Not that I could get much actual sleep – the blood pressure cuff on my arm went off periodically, the baby monitor went off because it ran out of paper, and at 3, the doctor came in again to check me as my contractions had slowed down due to the epidural. And … I was still at 5. The doctor broke my bag of waters to see if that would pick up the pace again, and when it didn't, started an IV drip of Pitocin.
I know I finally got some sleep because next thing I knew, it was 7:30am and doctors would be changing shifts for the day. The on call doctor realized I hadn't been checked since 3am, so she did that before the changing of the guard – I had dilated to 10 and baby's head had dropped into the birth canal! I had zero pressure or urge to push, so they decided to let me labor down and the next doctor on call was my primary OB at the practice who I saw throughout my pregnancy so it was perfect timing that she'd be the one to deliver my baby.
She came in to check on me and explained that she had to go perform a C-section. I was awake but still totally numb and contentedly munching on gummy bears (I was restricted to a liquid diet, but apparently gummy bears are liquid. Who knew!) so I ended up waiting another 90 minutes or so.
We got set up with my doula and Joel each holding a leg, the two nurses setting up the baby warmer and keeping an eye on the baby heart rate monitor, and my doctor using her hand to help guide me where to push. I still couldn't feel a thing but everyone in the room kept encouraging me and telling me I was doing great. My doctor assured me that my body was working hard and I'd be sore the next day – it didn't actually set in until 2 days later, but by then I felt like I'd been hit by a truck.
I ended up pushing for about 50 minutes, and then in one surreal moment, everyone in the room stopped chanting "one last big push" or "you're doing so great" and instead started oohing and aahing, and this slimy alien creature was placed on my chest.
I don't know that I can describe my reaction in the moment – I was elated and exhausted and amazed. After all the heartbreak and worry, she was here. After the months spent daydreaming about her, she was both exactly like what I'd expected and completely not what I'd expected.
Her APGAR scores at 1 and 5 minutes were 9 and 9, but then one nurse suddenly whisked her off my chest and rushed her to the baby warming table and the other was calling a NICU team to our room. Later, when everything settled down, my doctor and the NICU team explained that because her delivery had been quite fast, she hadn't been able to clear all the amniotic fluid from her lungs so she couldn't breathe well and her heart rate suddenly dropped. They suctioned a ton of fluid out of her and watched her for a bit to make sure she cried and was breathing well. I was still totally numb on the table, my doctor stitching me up, and Joel went to Ramona to talk to her. This was the point I most needed my doula and was so glad she could stay with me and report what was going on. It was very scary and I'm tearing up writing it out, but I'm so grateful for modern medicine and that in the end Ramona is fine.
We were in our L&D room for about 2 hours after the delivery but it felt like 15 minutes. I know that after I held her a while, I was finally allowed solid food and I ate while Joel held her, then he ate and I held her again. Then the nurses helped me get out of the bed and into a wheelchair and hauled us up to the postpartum floor.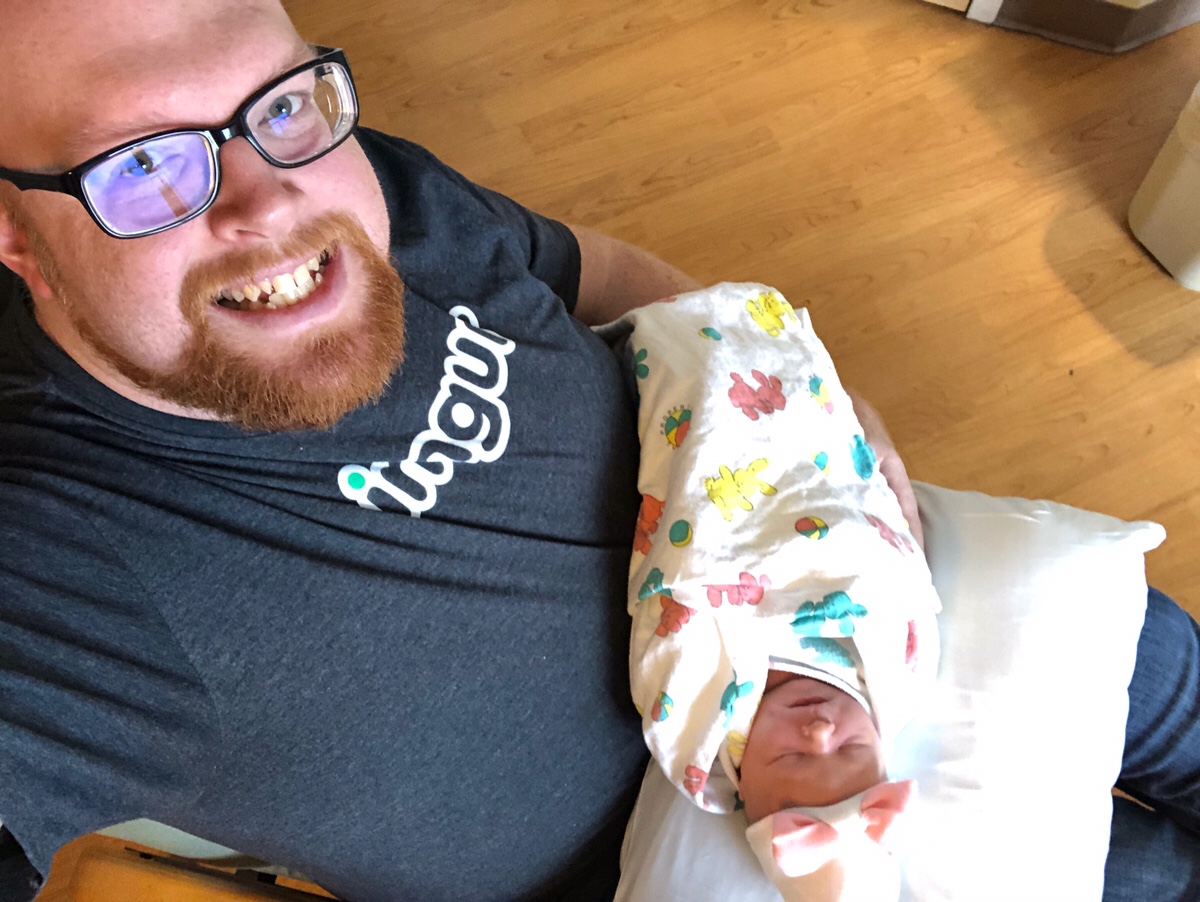 Ramona slept for the first several hours we were there. My dad stopped by with smoked salmon for me – after not being able to eat it during my whole pregnancy, it tasted so good! After my dad, my mom visited, then later Joel's brother and family came by.
The postpartum room was a tiny little box just big enough for my hospital bed, a fold out bed for Joel, and Ramona's bassinet. We were due to be discharged the next day, which meant we needed ALL THE TESTS before they'd let us go home. There were people in and out of our room every 10-15 minutes all day long. It was exceedingly frustrating and made me all the more excited to get out of there!
Life right now is lots of nursing and baby snuggles and very little sleep. No complaints. (Okay, that's not true. I have some complaints. But baby Ramona is totally worth it.)