It started at the end of 2014, when I got an email from Goodreads, "congratulating" me on my reading accomplishments of the year.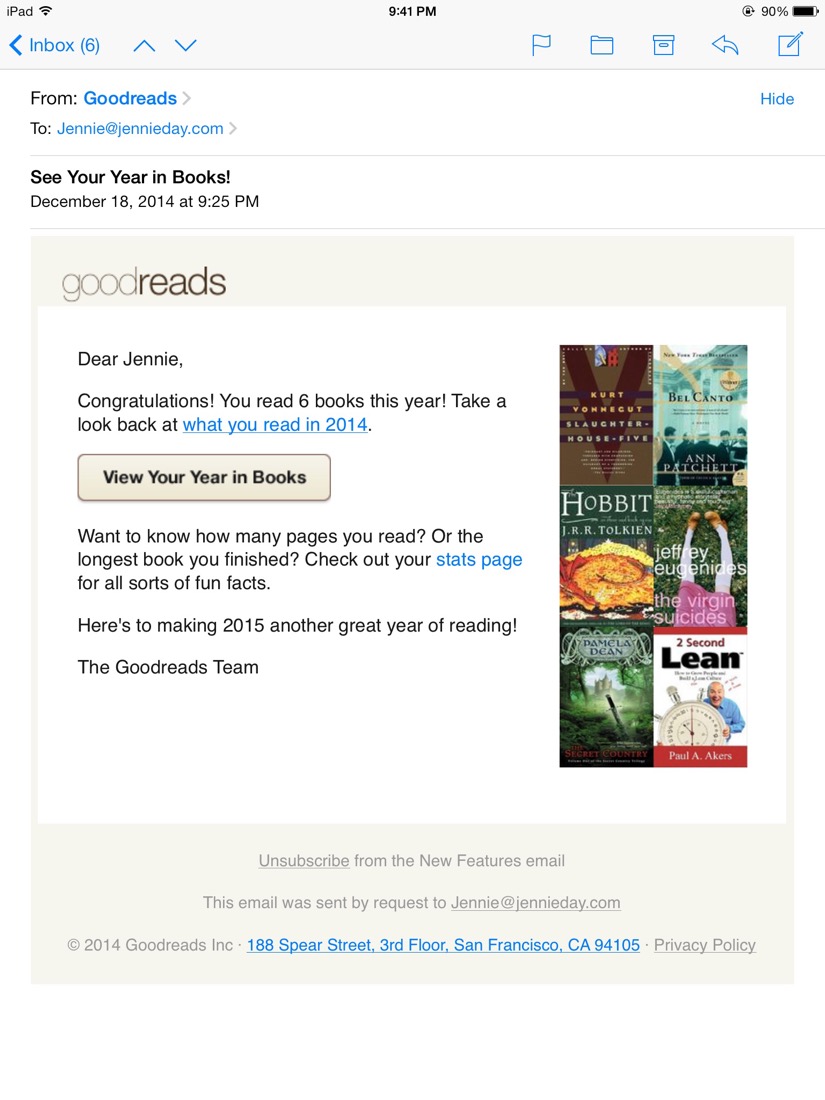 "6?! There's no way that's right!" I thought. Actually, it wasn't – there were two that I'd forgotten to log, and I was in the middle of one book that I finished before midnight on New Year's Eve. So … 9 in total. I'd spent what would have been quality reading time scrolling around on forums, playing 2048, and watching Buffy the Vampire Slayer in its entirety.
I resolved to do better in 2015, and set a goal of 48 books (4 per month) but ended up at less than half of that number. That was when I started to really examine where my free time was going. Again, it was mostly TV. So in 2016, I made the resolution to stop watching TV on weeknights, and suddenly, I was a reader again. My "to-read" list is still long, but that's because I find more I want to read as quickly as I check them off the list. Walking into bookstores is more fun now that I recognize and have read so many of the books out on display.
As I mentioned in my post outlining my goals for 2018, I want to read 50 books this year. I don't really know how realistic that is with a baby due in less than 8 weeks – I've heard from some new moms that they didn't read at all after their babies were born because of the overwhelm and sleep deprivation. But others have told me that if reading is a priority for you, you find the time to make it happen.
So here's what's on my list for 2018:
In the past couple of years, I've tried to read 4 classic novels (one per quarter) which has been a good challenge and achievable number. I also love to go back and re-read old favorites, and plan to read one of those quarterly as well.
Classics:
Middlemarch by George Eliot (I started this in 2017, but am just finishing it!)
War and Peace by Leo Tolstoy (I'd hoped to read it last year, but it didn't happen.)
The Adventures of Sherlock Holmes by Arthur Conan Doyle
Ulysses by James Joyce
Favorites:
Letters to a Young Poet by Rainier Maria Rilke
The Frog Prince by Stephen Mitchell
Slouching Towards Bethlehem by Joan Didion
To Kill a Mockingbird by Harper Lee
I hope to finally get around to a few titles that have languished on my to-read list for too long: The Long Walk to Freedom by Nelson Mandela, Full Catastrophe Living by Jon Kabat-Zinn, and State of Wonder by Ann Patchett. I started re-reading The Hitchhiker's Guide to the Galaxy series in December, which I haven't read since high school, and plan to finish those in the first quarter of the year.
After re-reading the entire Harry Potter series last year, I've wanted to read more children's or young adult fiction; I'm thinking either A Wrinkle in Time by Madeline L'Engle or maybe Lemony Snickett's Series of Unfortunate Events (which I've never read but have been enjoying the Netflix adaptation.)
I'm sure I'll find plenty of books about babies and parenting that I want to read ?
Something that I want to be more conscious about is reading books by people of color. I read this article on Vox a few years ago that drew my attention to it, and the number of books written by non-white authors were an abysmal 6 and 4, respectively. I've been conscious about reading books written by women, and these days read a pretty equal split of male and female authors without trying. My hope is that bringing that same consciousness will have a similar result. On the list so far:
The Ministry of Utmost Happiness by Arundhati Roy
The Absolutely True Diary of a Part Time Indian by Sherman Alexie
Americanah by Chimamanda Ngozi Adichie
Swing Time by Zadie Smith
Kafka on the Shore by Haruki Murakami
In Other Words by Jhumpa Lahiri
The Buried Giant by Kazuo Ishiguro
My last reading-related goal is to spend more time reflecting on the books I read — instead of immediately diving into the next book in the pile — by blogging one book review each month.