I'm 28 today!
I've been working for the past month or so on a totally cliche list of 28 things I've learned in 28 years, but I couldn't come up with 28 items that are actually insightful and interesting. And my list of 28 obvious things like "how to use my legs to walk," and "how to hold a pen," was sadly, dull.
So instead, I'm going to tell you a little story about the #1 thing I learned and it's something that's become clear to me in only the past year. I'm also going to show you pictures of the inside of my closet.
If you are a bit of a looky-loo, like me, you might find this interesting. Or it might be my most boring blog post to date. But it's my birthday; I do what I want!
Ok, here's the lesson: for many years, I subscribed to the belief that more is better. In the past year however, I've learned that less is more.
Here's a little story about the contents of my closet …
Ten years ago, I dropped out of college and went to work at my dad's company. In school, I wore jeans and sweatshirts exclusively, mostly because of that thing called the freshman 15 – it was the only clothing that fit me after the first month of school.
At work, I was excepted to dress business casual. So I went to the junior's department at Macy's and I bought two pairs of slacks, a denim skirt, and a couple of button down shirts. I wore them on rotation for the first couple of weeks until I got my first paycheck, and then I went back to the mall and bought more stuff from the junior's section. I did this on repeat for the year and a half that I was working and ended up with a totally packed closet and tons of cheap clothes, and you know what I wore the most? Those two pairs of slacks, denim skirt, and button down shirts that I bought my first week.
When I moved into my first apartment, I chose it mostly for its large walk-in closet, without realizing that was the only useable closet in the apartment. When you have to store your clothes in the same space as your toilet paper and kitty litter, you learn the importance of regular closet clean outs.
I got rid of three giant garbage bags, stuffed with the cheap junior's department clothing that I had never really liked. From that point forward, I never let my closet get too packed — but only because I learned how easy it is to bundle up unworn clothes and drop them off at the Goodwill; not because I cut back on shopping.
I have only one "before" picture of my closet: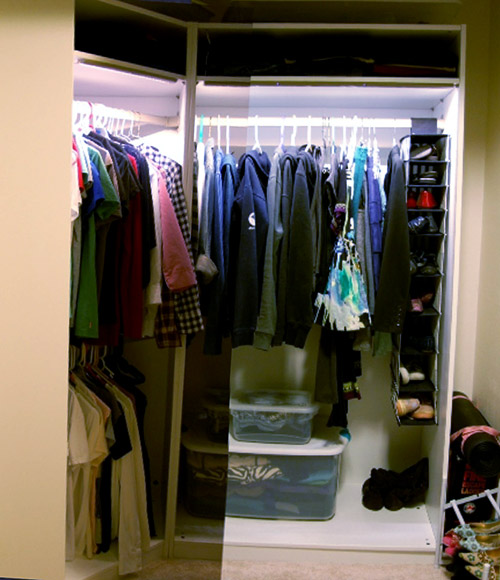 This is from 2012, when Joel and I cleaned out and converted a clunky closet with useless four-feet-deep shelves behind the clothing rack into a walk-in. This was about the usual state of my closet. It was organized, but the actual contents of it didn't really make much sense for my life.
I had, like, eight pairs of blue jeans, two pairs of khakis, two pairs of black jeans, and only one pair of nice slacks. I was constantly frustrated with myself for not dressing like an adult lady, but I didn't like many (or any) of my nice clothes and I had way more jeans and novelty tee-shirts … so I just wore jeans and novelty tee-shirts all the time.
This was my usual standard of dress — kind of like a teenaged boy, and I bought all of my novelty tees from the young men's section, natch.
So this year, when Joel and I were in the midst of what I affectionately dubbed the "Great Condo Cleaning," and I was reading up on minimalist blogs (this one's my favorite), I stumbled upon a couple of articles about dressing with less and wearing the same outfit for a year that inspired me to once again, pare down the stuff in my closet.
I didn't feel the need to get down to a particular, limited number of items hanging in my closet, but it dawned on me that if I want to be the kind of person who dresses nicely and doesn't live mostly in jeans, the clothes in my closet would actually need to fit with that outlook.
I started with a closet clean out, not dissimilar to those I've done before – getting rid of the items that didn't fit or that I didn't like anymore, and throwing away the things that were beyond repair. Then I got a little more ruthless and pulled out the things that I didn't wear much, the duplicates, the things that kind of fit but weren't quite right. I got rid of the dresses that I kept around for special occasions, because if I was really honest with myself, I didn't wear them even on special occasions.
I only kept the things that fit, flattered, and that I loved. Or at least really liked. And only two pairs of jeans.
I took everything out of my closet, deep cleaned, and reorganized. (I also added a few drawers – my closet is the Pax wardrobe from IKEA, so it was easy to add on to, even several years later.)
Here's the after photo: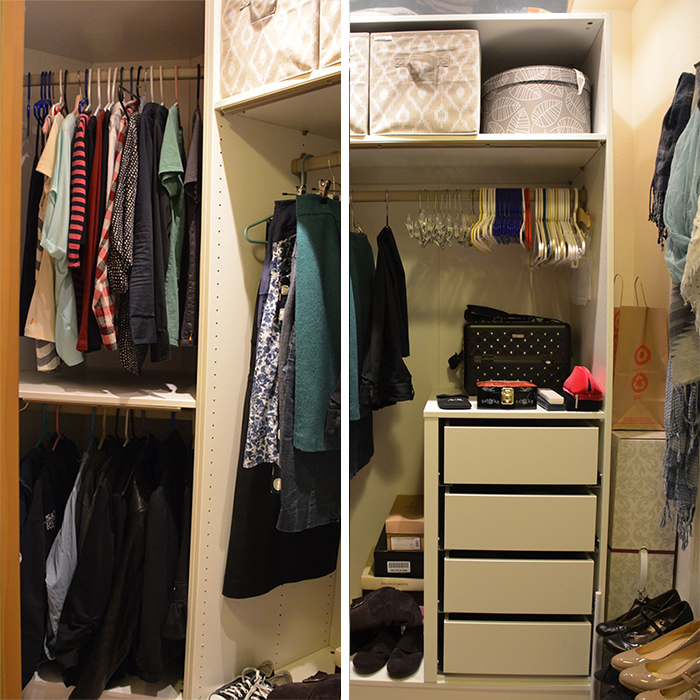 See all the empty hangers? That's how much stuff I got rid of!
There were a few things I needed to replace or add, like a black skirt. I can't tell you how many times I stood in front of my closet in a top I wanted to wear and thought "I have nothing that goes with this. If only I had a black skirt. Guess I'll just wear jeans." But I didn't go too crazy shopping.
And this is the other side of the coin, the part of living with less that had never clicked for me before. Getting rid of stuff isn't an invitation to buy new stuff and fill up the empty space. In the past, when I cleaned out my closet, I would go buy more stuff right away and fill it back up again. I have definitely bought more clothing since emptying out my closet, but I've been very deliberate about what I've bought and tried to buy nice things that I will actually wear.
There was a time when, if I needed a new dress, I would have gone to Old Navy or Target or somewhere similarly cheap and spent about $100 on several dresses, only one of which I would actually wear. Then I would covet nicer, more expensive dresses from Anthropologie or Banana Republic and be sad that I couldn't afford them.
This summer, when I needed a new dress, I spent over $100 on one perfect dress and having it altered to fit me perfectly. A little part of me still thinks this is crazy, but I love my new dress and already wear it approximately every other week, so it's actually much more reasonable than buying lots of cheap dresses that I'll never wear.
So that's my story. Thanks to the, probably, two of you who read it all the way to the end. Here's to more years of decluttering and less is more.