There is a font called Lobster. And I am sick of it.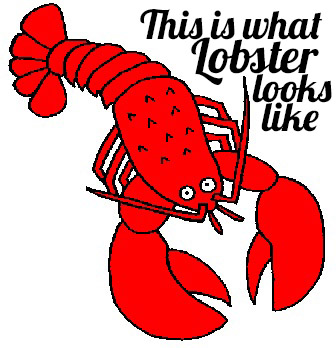 I made this handy little graphic, for those of you who aren't familiar with the font to get an idea. Now that you've seen it, you probably recognize it, right?
I understand the appeal. It's available free from Google Fonts, and it's a nice, legible cursive font. Which means it's approaching Comic Sans in terms of overuse (and maybe even inappropriate use.)
It's one thing to see Lobster on blogs where bloggers have been able to easily install and download the font to keep a consistent look. Hey, I did the same (my "accent" font is Ribeye (also a Google Font) and I know it's a little cheesy.) But it's better than Lobster (and at this point, I'm not inclined to redo every image on my site with a new font.)
It's a little worse when local tourist attractions are plastering the local buses with Lobster. (I won't name names, but I'm thinking of one mountain resort in particular.)
But the last straw came last week when I saw Lobster on a sign in a Starbucks. Are you really telling me that a major national chain who spends millions on interior decor can't do better than a cheesy, free Google font in their coffeehouses?
The Lobster days are coming to a close. Have a backup font.
***
On an unrelated note – I've changed my blog's settings to automatically close comments on posts after 30 days. This is in response to the amount of spam comments I've been getting, and also because the comment activity here is low. Most of you seem to be more inclined to interact with me via email or twitter – which is great, and I'm better at tweeting and emailing! – but it seemed silly to keep comments open indefinitely when it's just the spambots leaving responses.