… but you can make one at home.
Okay, all punning aside, you may have heard that Domino's recently started selling gluten-free pizza crust with a catch – it's not safe for Celiacs. Here's the official statement from the Center for Celiac Research.
People in the Celiac community are up in arms about this, and understandably so. Why would they sell a gluten-free pizza crust that isn't safe for those of us who can't eat gluten? Because they can charge extra for a pizza that probably costs little more to make. Now, if they were taking pains to ensure the crust was really gluten-free and educating their staff on cross-contamination, I think that charge would be justifiable and as it is, they're kind of exploiting the fact that people are willing to pay more for GF, but that's a whole post in and of itself.
But the real point I want to make here is that I'm okay with Domino's saying that their gluten-free pizza isn't safe for Celiacs. There are other restaurants (I have a grudge against a particular Italian chain restaurant) that while they offer gluten-free menus, are equally lax about cross contamination and aren't as up front about it.
Also, even if it was certifiably gluten-free, I doubt I would eat Domino's pizza because I never cared much for it, and the pizza I make at home is way better. And that's really the point I want to make with this post.
My favorite GF pizza crust is the mix from Bob's Red Mill (but honestly, I don't usually follow the instructions – I like to add a couple tablespoons of ground flax to the mix and halve the oil). One mix makes two individual sized pizzas, which works well in our house because we like different pizza toppings. And Hormel pepperonis, by the way, are gluten-free.
After digging through my photos, I only have a couple of delicious pizza photos to share (I guess most of the time, I'm so excited to eat that I forget to stop and take a photo.)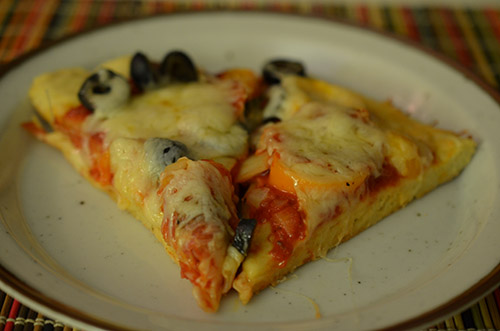 First up, red sauce, sweet peppers, onion, olives, and pepperoni.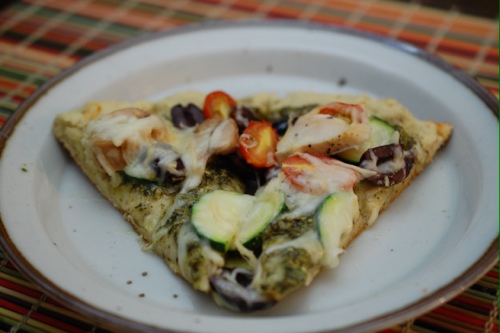 And this one with pesto, slices of leftover chicken, zucchini, tomatoes, and kalamata olives.
Anyone else out there totally okay with this Domino's thing? What are your favorite pizza toppings?