I wrote this in August, 2008, as my final paper for a literature class. I found a copy of it recently during the Great Condo Cleaning and really enjoyed reading it, so I thought you might, too.
***
"Who are you?" the little girl asks. I'm sitting in the library frantically trying to finish my paper to turn in before my next class starts, and she sits down next to me and stares. I'll give her a pass, since she's just a little kid, but seriously. I'm trying to work here.
"I'm Jennie." I look up and smile at her, but turn back to my computer. Still, she doesn't leave, and she's distracting me, so I ask "um, who are you?"
"You see, I'm not exactly sure," she says. "When I woke up this morning, I was Alice, but I'm sure I've changed many times since then."
"Oh, Alice! I do know you!" I say. "I'm sorry, I didn't recognize you at first. I thought you'd have blonde hair."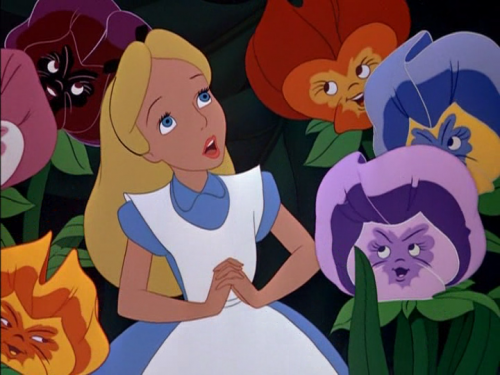 source
"I get that a lot." She touches her hair, the source of my confusion, as it is short and brown and not adorned with a blue headband.
"Anyway, Alice, it's good to meet you."
"Very much obliged," she says, as precociously as the young characters who have since been modeled after her precociousness. "Would you be so kind as to tell me where I am?"
"This is the Suzzallo Library at the University of Washington," I tell her. "We call it 'U-Dub' for short."
"The university, of course. What are we studying?"
"Well, this class is a survey of English literature. But I study creative writing here."
"But – if you don't mind my asking …" she trails off.
"Nope, ask away."
"You are writing this, aren't you?" she asks.
"Well, that's another story."
Alice nods, and is quiet for a moment. I try to get back to my writing.
"Who is that?" she asks. I look up to see whom Alice is asking about, and see Emily sitting a few tables away from us, writing by hand so furiously and intensely that her head almost touches the desk.
"That's Emily."
"Who is she?" Alice asks, dissatisfied with my answer.
"Emily Dickinson? Uh, she's a poet. I've met her a few times. She's a little … weird. Very possibly crazy," I lower my voice as I say this to Alice, and immediately feel bad for gossiping about her to a little girl.
"Is there a movie about her?"
I laugh. "Nah, I don't think so. An Emily Dickinson biopic would probably be really boring."
At this point, Emily hears us talking about her and stands up.
"Whoops, she's coming over here. I should go …" I start to get up, but Alice stops me.
"I want to meet her. Will you introduce me, please?"
I decide to introduce her, but only because she asked so politely.
"Hey, Emily, I'm Jennie. We've met before, I'm not sure if you remember."
"Jennie," she says, almost tersely. Actually, I don't blame her, I'd be terse, too, if I heard me saying to some strange little girl that a movie of my life would be boring.
"This is Alice. Emily, Alice, Alice, Emily." I gesticulate as I introduce them.
"Very nice to meet you, Emily," Alice says. I almost expect her to curtsey, and am disappointed when she doesn't.
"And who are you, Alice?" Emily asks.
"That does seem to be the question today, Emily. I'm not quite sure who I am. Jennie has helped me to establish that I'm Alice, but I don't feel much like myself. I guess I'm not really sure who I am."
"She remains unconvinced," I quip, but neither laughs. Emily gives me a more menacing look than I've ever imagined her having.
"This is not a matter to be taken lightly, Jennie," she tells me. "Alice here doesn't know who she is. I sympathize with her dilemma, and I'm sure that, your witty repartee aside, you can too."
"Um, yeah. Definitely I can," I say, having been thoroughly put in my place. But c'mon, I helped her figure out she's Alice. I deserve at least a little credit for that. And actually, I'm secretly kind of pissed that Emily butted in and undid that revelation.
"Unless you are sure you know who you are?" Emily asks me.
"I'm Jennie," I say. I'm tempted to add a snide remark, but considering how the last few have been received, I keep it to myself.
"But who are you?" she asks again.
"I'm Jennie! Isn't that enough?"
"Is it?" Emily asks.
I don't answer.
"Alice," Emily turns back to the little girl, now that she's shut me up, "who do you think you might be?"
"Well, I've ruled out Ada, and also Mabel. I know I'm neither of them."
"Who are Ada and Mabel?" Emily asks.
"They're my friends from school," Alice replies.
"You're ruling out everyone who you aren't?!" I say incredulously. "How is that a good strategy? What is you're someone you don't know?" I look to Emily to back me up.
"We already know that Alice is someone she doesn't know, Jennie, because she doesn't know who she is. I think this is a fine start, Alice. Now, how do you know you aren't Ada or Mabel?" she asks.
"Because I don't have ringlets like Ada, and I know I'm better with poetry than Mabel."
"Oh, now that's something," says Emily. "Do you know the one about the bee?"
"Yes!" Alice takes a deep breath, stands up straight, clasps her hands together and begins to recite:
"How doth the busy little bee –"
"No, that's not the one I meant," Emily interrupts. "Jennie, do you know the one about the bee?"
"No," I say, still resentful.
"Well, get your book, then," she tells me. "Please read for us number 155."
I read:
The Murmur of a Bee
A Witchcraft – yieldth me –
If any ask me why –
'Twere easier to die –
Than tell –
The Red upon the Hill
Taketh away my will –
If anybody sneer –
Take care – for God is here –
That's all.
The Breaking of the Day
Addeth to my Degree –
If any ask me how –
Artist – who drew me so –
Must tell!
"I liked my poem better," says Alice. "I understand what it meant."
"I wholeheartedly concur," I say, holding my hand up for a high five. She looks at me confusedly.
"The poem's meaning is not our focus today. Did you not hear those last two lines?" Emily asks.
Alice cocks her head, and I have to strangle the "huh?" that I almost let slip. I think I've made a big enough idiot of myself for one exchange.
"All right," Emily says, "Alice, tell me about Lewis Carroll."
I raise my hand and sit up straight in my chair. I totally know the answer to this.
"Well, that was the name Charles had my story published under."
"Yes, go on," Emily says.
I raise my hand even higher and squirm a little bit, just in case she hasn't noticed me yet.
"Oh, I don't know. I haven't talked to Charles since 1863. I don't really feel like talking about it," Alice says.
"That's perfectly all right. Jennie, what do you know?"
"Lewis Carroll was the penname of Charles Dodgson, a reverend from Oxford, England, who wrote Alice's Adventures in Wonderland for Alice Liddell and her sisters in 1862. It's controversial, coz now we know he also made kiddie porn with little girls."
"Jennie!" Emily scolds me, and then I realize I maybe shouldn't have said that last part in front of Alice. She's only seven-and-a-half, after all.
"Sorry," I whisper.
"Alice, could this maybe be why you don't know yourself today?" Emily returns to the topic.
"I'm not quite sure what you're asking," says Alice. "Could you please explain?"
"Charles Dodgson, your creator, was a reverend with an especial fondness for little girls like yourself. Lewis Carroll was his secret identity who wrote a whimsical fantasy story in which you, Alice, cannot determine who you are. But only temporarily," Emily explains.
I nod. I think I see where she's going with this.
"In other words, Alice, your confusion regarding your identity was an extension of Dodgson's own dual identity. The artist who made you what you are must tell you who to be."
"But now I'm in Jennie's story," Alice very aptly points out.
Emily regards me for a moment. I smile innocently.
"Jennie wouldn't have a story to write you into if it weren't for Dodgson. Let's focus on him," Emily finally retorts.
"So you think I will know who I am again soon? Maybe, when I wake up tomorrow and the stories are over, I'll feel like Alice again?"
"I think you already know the answer to that, Alice," Emily says.
"Emily," Alice starts, "how do you know who you are?"
"I can't say that I do," Emily says, which surprises both Alice and me. "I know that I am Emily Dickinson. I know that I am a poetess. I know who my friends are, and I know where I live, and I know when I was born.
"I don't know, though, who I am outside of myself. I don't know who I will be, when I have only my poems to speak for me. I don't know who I am when I am remembered."
"What do you suppose is the difference?" Alice asks.
"Alice, I suppose that the difference is that I can answer for myself if I come across a strange caterpillar who asks me who I am. But someone else, Jennie for instance, would answer quite differently if one of her professors were to ask her who Emily Dickinson is."
"But which do you suppose is right?" asks Alice.
"I don't suppose the two are very much different, Alice. They are merely different answers to the same question."
"Well, but that's exactly the point, isn't it?!" I say. I've gotten a little fed up with Emily's philosophical musings.
"What point are you talking about, Jennie?" Emily asks, excruciatingly patient.
"Well, I don't know exactly what I'm trying to say, but …" I stand up and pace back and forth in front of the desk we're all crowded around. "Okay, this isn't very eloquent, but it's like, Emily, you're a poet. We have this giant book –" I lift my copy to show her its size – "of all your poems, and we study them and decide that Emily was this person because her poems are like this. But Alice is the character, and someone else created her."
"This is ground we've already covered today, Jennie," Emily disdains.
"I know, I'm getting there. So, like, we read the books about Alice and something about the girl Dodgson wrote the books about, and we decide who Alice is. Okay, here's what I'm trying to say – you're both down on paper, in black and white. We read the words, and decide who you are, and even if I think you are someone totally different from even what my professor tells me you are, then as long as I can back it up with some of the stuff I read, you can be whoever I think you are. Or whoever I want you to be."
"What are you saying the difference is, Jennie?" Emily asks.
"Well, I'm a physical person. I'm aging and changing, so whoever I feel like I am today can be entirely the opposite of what I felt like yesterday, but I don't have something to back it up, coz I don't have a book of poems with all my thoughts and feelings written down to speak for me if I don't know who I am."
"And what are you doing just now, Jennie?" Emily asks, even though I can tell she already knows the answer.
"I'm writing it down," I reply.
We're all quiet for a moment.
"But am I not a physical person? What am I?" Alice says, obviously distressed by the new revelation.
"You used to be a physical person, but you died. Now you're in a book. You're characters and ideas and concepts. It's up to me to read them and decide what I want to take from the poems, or the story," I say.
I wait for Emily to argue with me, but suddenly, they're gone. And somehow, as if by magic, my paper is finished. I hurry to class to turn it in.