Usually around these parts, I post pictures of my food on Wednesdays …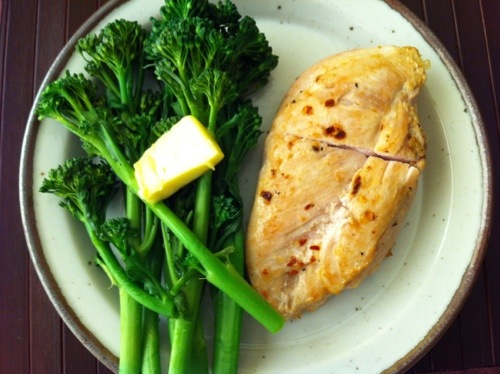 A brain fuel meal that Joel made for me – pan seared chicken with broccoli and butter.
… but today I have something else on my mind.
I tend to use the phrases "I have Celiac" and "I am gluten-intolerant" pretty interchangeably. Technically, both are true. Celiac Disease is an autoimmune disorder, and the autoimmune response is triggered by an intolerance to gluten.
But you will never hear me say "I am allergic to gluten," because that is not true.
I've been studying immune responses and allergies in my anatomy class, and now that I've learned a little bit about the differences, I'm glad that I make that clear.
Intolerances and allergies can have similar symptoms, and both lead to inflammation, but the processes are very different.
Allergies are characterized by a histamine response – histamine is a chemical released by our immune systems to clear our bodies of unwanted substances. In the case of food allergies, histamine is released in response to a specific protein. Histamine can be released in different parts of the body, which is why some people's lips, tongues, and throats swell, but some people experience stomach pain and bloating (swelling).
Intolerances are different in that they are specific to the digestive system. You've probably heard of one called lactose intolerance, in which certain people's bodies don't have (or lose) the enzyme lactase, which digests lactose. Also unlike an allergy, an intolerance can be to any compound of a food, not just a protein – in the case of lactose intolerance, lactose is a sugar.
Another similarity between the two – they range from not-so sensitive to very sensitive. This is why some people with peanut allergies can eat a small Reese's Peanut Butter Cup and deal with itchy skin for a couple of days, but some people carry EpiPens and don't like to be in the same room with peanuts.
Gluten, because it is a protein, can be the culprit behind both food intolerances and food allergies.
The takeaway message from all this is food allergies and food intolerances are different conditions. Most of this information came from my anatomy textbook, but if you're interested in learning more, here is a good article on WebMD about the differences.