One of the goals I made for 2012 was to get back into my yoga practice. It's been a little lackluster for approximately the past year, and when I started school in September, I all but stopped practicing. I have a weeklong yoga retreat planned for the fall, so I want to be in the habit of doing yoga before I go.
I've been practicing once a week, and I'm amazed at how quickly I feel a difference in my body. I can tell already that I'm much stronger than I was six weeks ago, even though I'm definitely less strong than I was in the heyday of my teacher training when I practiced 4-5 times a week!
Yesterday morning, my mom and my sister and I met for a yoga class at the studio where I did my training. My teacher, as she usually does, opened the class by asking for requests, and three different people asked for three different balance poses. So my teacher incorporated a balancing theme throughout the practice, starting by inviting us to think about how we can find balance in our lives outside of yoga.
It was one of those times that I knew I'd showed up for that practice on that day for a reason – I needed to hear that message, to finally admit how out of balance my life has been for these past few months. The perfectionist in me has kept up with school and my job and my personal life, as well as my blog. But next month, I'll add an externship to my already staggering workload. Something's got to give, and unfortunately, it's the gf-gf. Also my laundry, but we won't go into that.
I've got a few half written posts that I hope to finish, but over the next seven weeks, you probably won't be hearing from me too often.
Even though I'm not blogging it, you can safely assume that I'll be eating lots of meals like this …
Roasted broccoli, kabocha squash fries a la Heather Eats Almond Butter, and smoked salmon. One of my classmates works for a seafood processing company here in Seattle and gave me several pounds of frozen fish, including smoked salmon and halibut.
And lots my favorite turkey burger hash …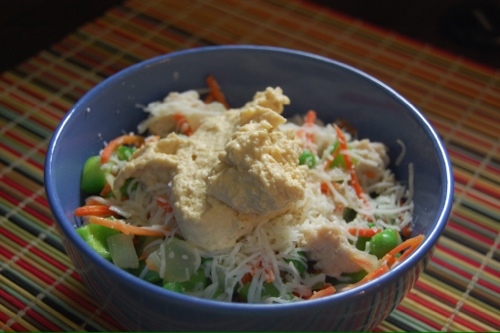 Just as soon as I restock my supply of turkey burgers. This bowl was topped with a little cheese and a lotta Deanna's Best Hummus Ever – I'm sure I'll be eating plenty of that over the next several weeks. I'm obsessed.
And as if I weren't already meeting my RDA of garbanzo beans (that's a thing, right?)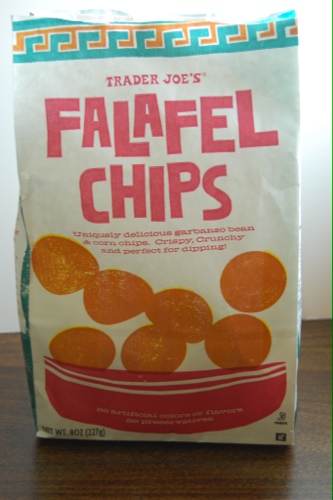 I just discovered these falafel chips at Trader Joes. So good!
Since I'll be posting irregularly, you might want to subscribe to my blog to stay updated via email (in the box at the top right of this page) or you can also follow me on twitter, where I'll be posting updates in 140 characters.
Can you believe it's almost spring?! We'll talk more in April 🙂