My busy schedule last week didn't allow for much celebrating, so my birthday festivities were delayed until this weekend. Saturday night, my parents took me and Joel to a burger restaurant in my Seattle neighborhood called Porterhouse, which is very good at accommodating us gluten-freebies. They have gluten-free hamburger buns from the nearby Great Harvest Bakery. Their fries are made in a dedicated fryer, so there's no chance of cross contamination. Plus, they have four gluten-free beers on the menu.
Also, all their beef is local and grass-fed, the bacon free of nitrates, and they have a cheeseburger topped with peanut butter on the menu. I wasn't sure if the peanut butter would be cross-contaminated, so I went with a burger+bacon. So tasty! The buns were okay – they didn't absorb the burger grease so it was pretty messy, and I ended up eating it layer by layer with a fork and knife (but that's usually how I eat burgers, anyway.) But for those of us who can't eat gluten, eating a burger on a bun in a restaurant is pretty exciting. I won't complain.
Actually, one minor complaint – Porterhouse used to offer avocado as a burger topper, but no longer does. 🙁
We skipped the birthday cake this year but seeing as it was ice cream Saturday (a Saturday tradition in our house) we walked over to the natural market for coconut milk ice cream, and I finally found So Delicious's new sugar-free ice cream! It was very tasty, but somehow I was under the impression that it was sweetened with stevia – actually, it's sweetened with Erythritol, a sugar alcohol. I'm not sure how I missed that.
Other birthday gifts included a jar of homemade pico de gallo salsa made by one of my coworkers. Now, this is highly sought after stuff. She'd left it on my desk for me to find on the morning of my birthday, and no sooner had I walked in the door to work that two vultures coworkers walked by and asked me to share. I had to hide it in order to get the jar home safely, and I've been incorporating it into as many meals and snacks as possible. For breakfast on Saturday, I made "frambled" eggs (fried whites, scrambled yolks) and ate them with a big scoop of pico de gallo, tortilla chips, and half an avocado.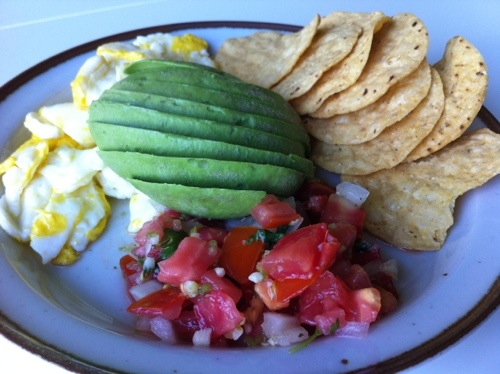 EDIT: Porterhouse went out of business in December 2011 🙁