Situated in the rainforest of Belize, just between San Ignacio and the Guatemalan border, is Black Rock Lodge. It's described as an eco-lodge, as it's fully off the grid, running on solar and hydro power from a nearby spring.
It's where my mom and I spent the first ten days of our Belize vacation. While we managed to get off the grounds for excursions several days, we spent a lot of our time at the lodge in the open air palapa, doing yoga.
Or lounging in hammocks on the deck of our cabin, reading.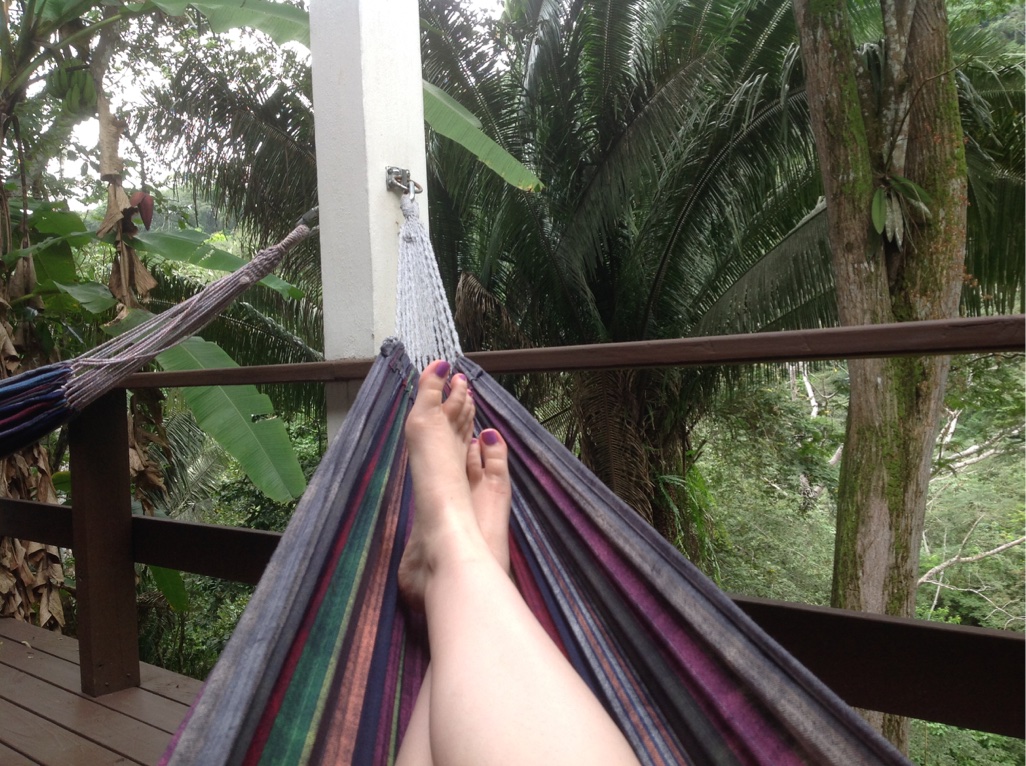 So instead of writing day-by-day recaps, as I've done for my previous travels, I'll write recaps of each of our excursions, and the subjects that deserve their own post (i.e., things of which I actually took pictures.) But I must tell you about the lodge, because it was indubitably what I'll remember most.
Black Rock Lodge is a hotspot in Belize (and maybe the world? it probably depends on who you ask) for bird watching. We saw plenty of other wildlife (monkeys! lizards! iguanas! turtles! an otter!) but mostly lots of birds.
They set fruit pieces outside of the restaurant for the birds every day – and if you google Black Rock Lodge, this is what you'll find the most pictures of. We saw this at a couple of other places we visited, and later on, it occurred to me that it's partly to reduce waste, but largely to keep the birds out of guests' food at the restaurants.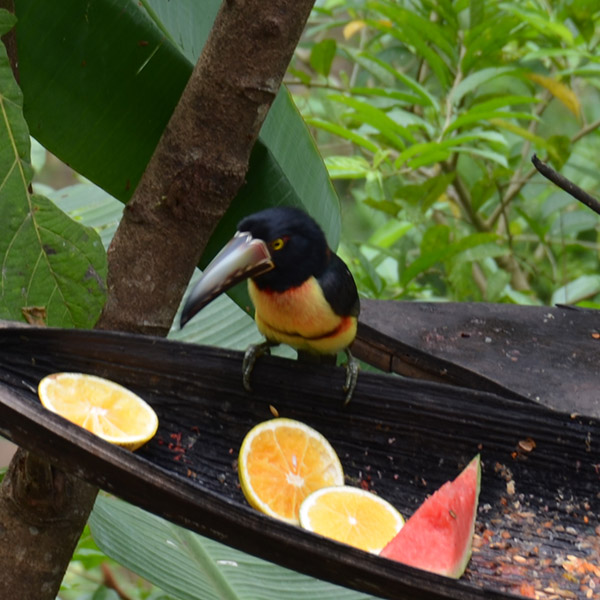 All of the cabins and the restaurant are set along the Macal river. Here's the view from our cabin: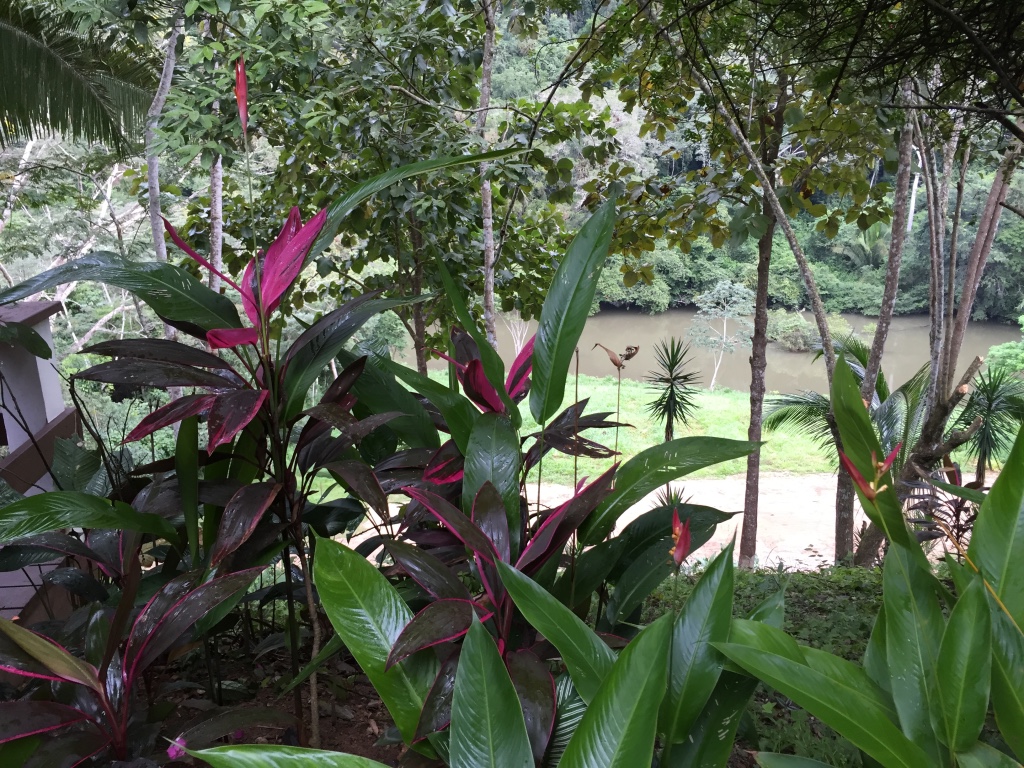 Scattered along the part of the river where the lodge sits are big slabs of slate, which are the black rocks for which the lodge is named. (Further upstream is granite; downstream is limestone.)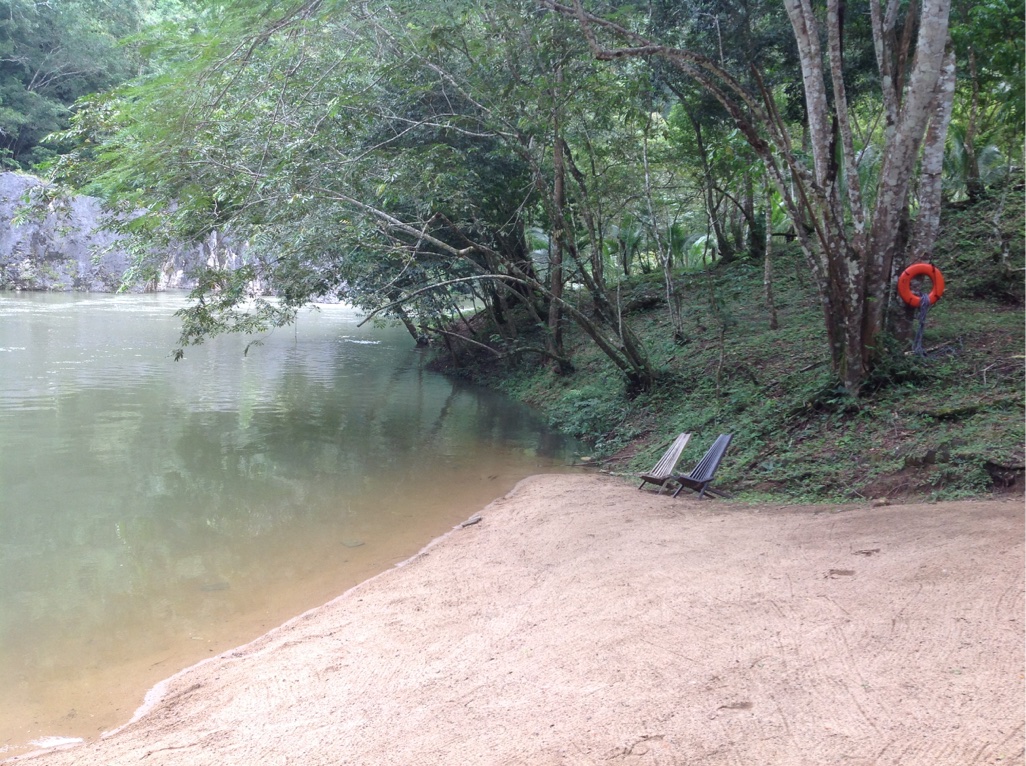 Many of the activities were centered around the river: tubing and swimming and canoeing. We passed on swimming and tubing, but did canoe one day … and by canoe, I mean, we luxuriated in a canoe while our guide did all the paddling 😉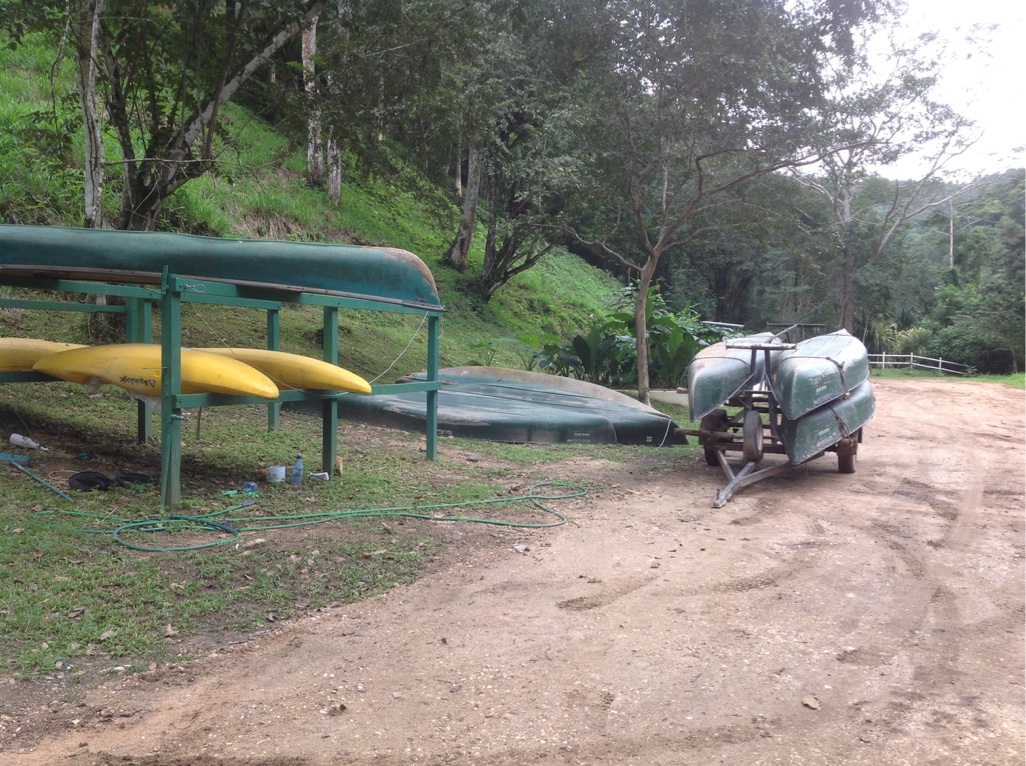 It was in the canoe that we saw the most birds, but I didn't have my phone or camera with me, so they wouldn't get wet. Oh, well.
Oh, and I swam in the mineral pool one day … for all of about five minutes. It was unheated, so it felt terrific to get in after a very sweaty hike, and equally terrific to get out and warm up again in the sun.
Speaking of hikes, we went on a couple of those around the grounds. The first was a leisurely stroll out to Vaca Falls (really more rapids than falls, but pretty nonetheless) …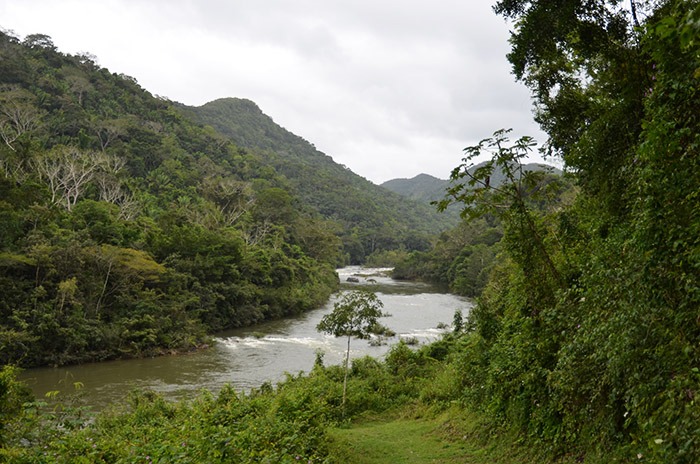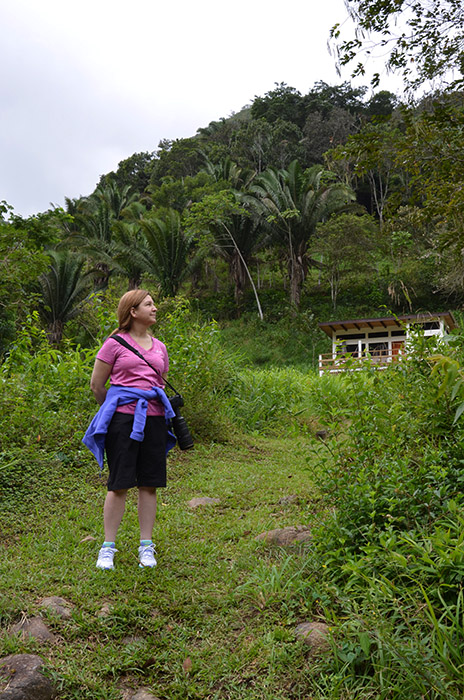 … the second was a grueling climb up to the summit of … well, I don't actually know, but it felt like Mt. Everest at the time. We'd been warned that it was a more challenging hike, but I don't think we knew quite what we'd signed ourselves up for! A couple of guides went with us, and packed our lunches along for the group so we could eat at the top. It was the best lunch I had all week, mostly because it was the hungriest I'd been all week!

And on the subject of food … well, I forgot to take any pictures, except for a couple of desserts. Most nights, the dessert was a cake or something that I couldn't eat, and I had a fruit plate. On our very last night, though, it was flan! I was so excited to have something other than fruit, I had to take a picture.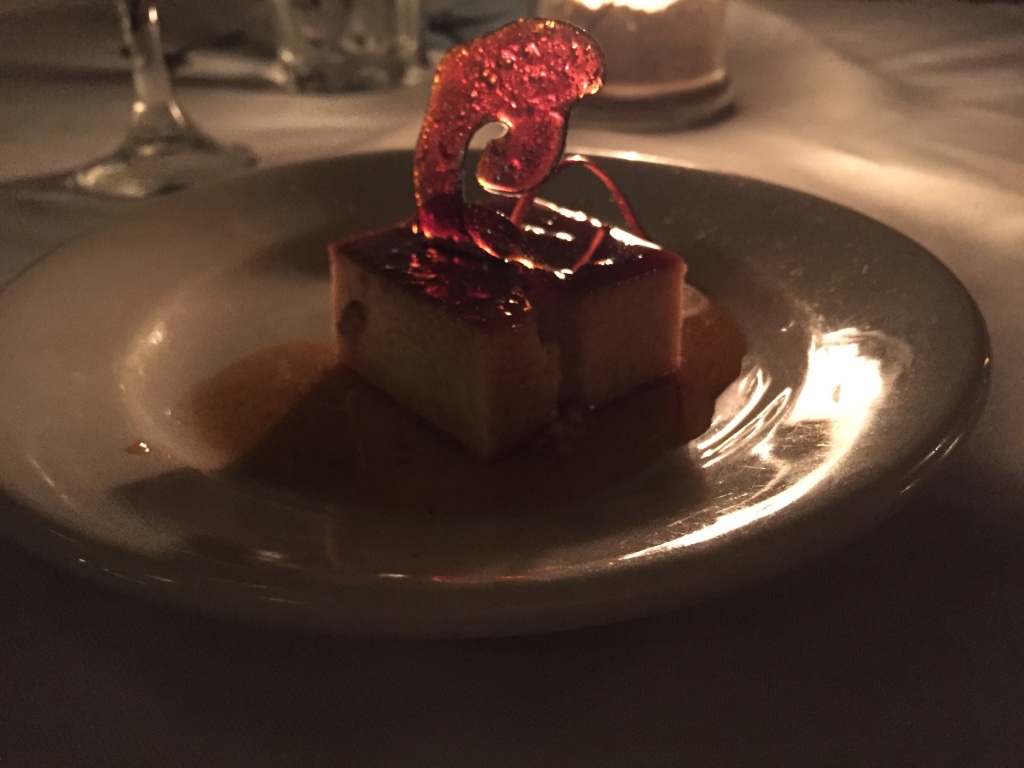 I also took a picture of mom's cobbler one night, because look how cute it was!
The lodge's restaurant is big and open air and communal seating. It's quite charming, lit by natural light during the day and candlelight at night.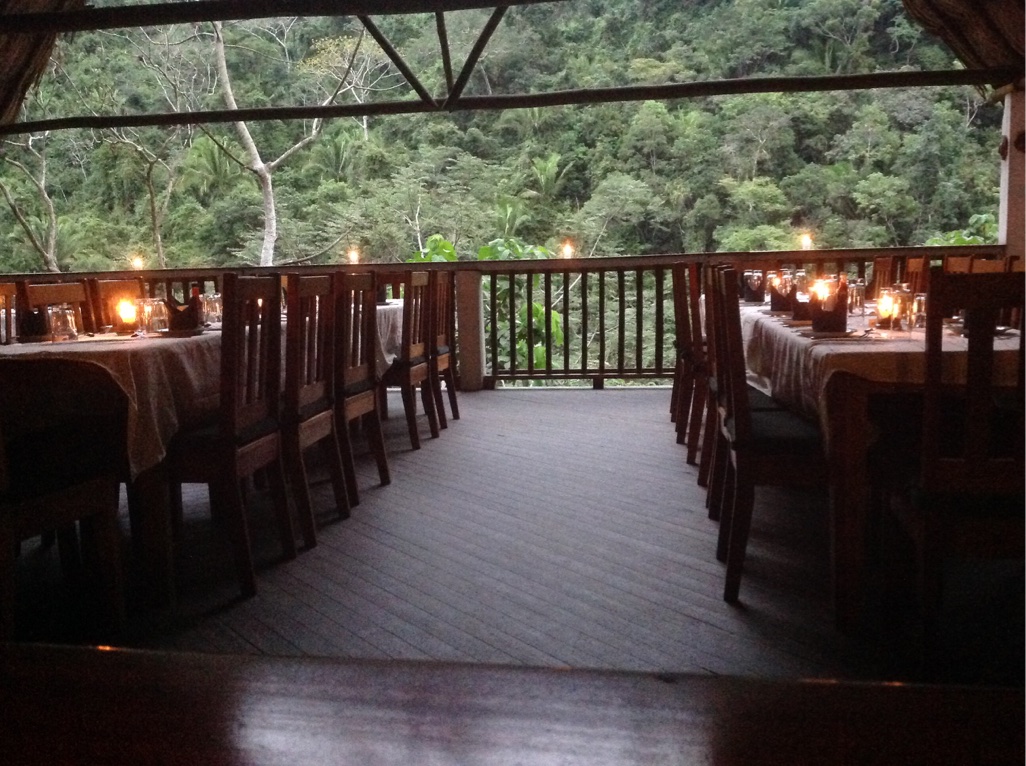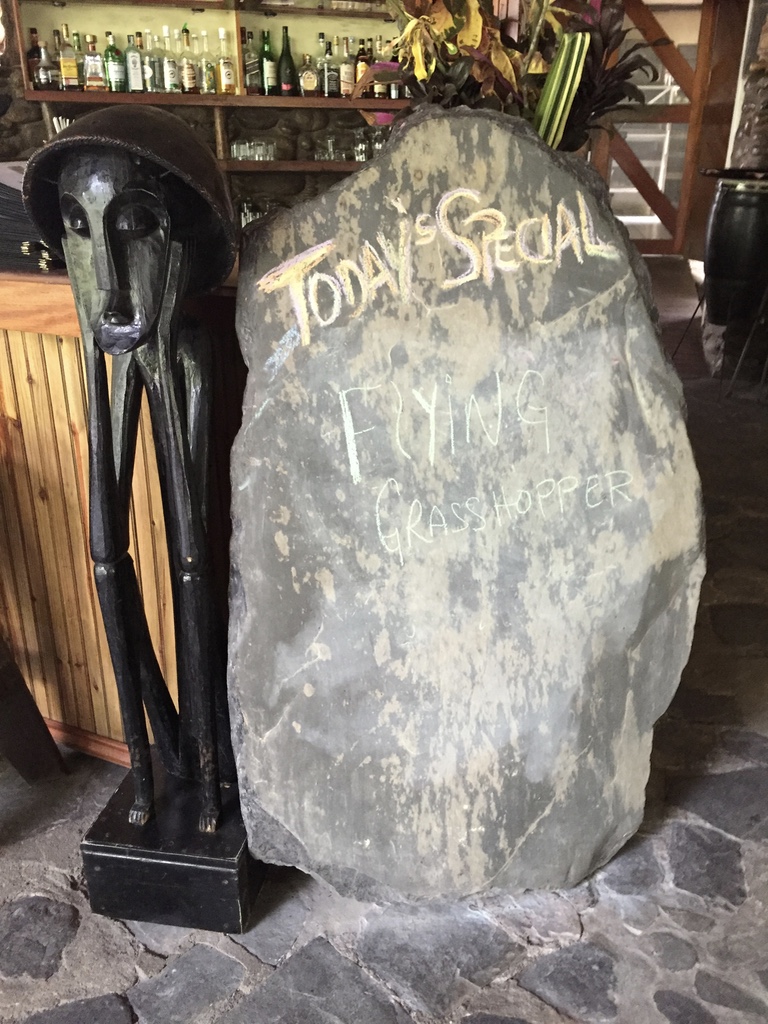 Most of the time, we sat with the other people in our yoga group, but occasionally with other guests from the lodge. My mom pointed out that this is probably the best advertising that the lodge does for the different activities and excursions that they offer, because inevitably when we sat with other people we'd end up talking about where we'd been and what we'd seen, or where we were off to next.
But I'll tell you more about our excursions starting next week 🙂