It's my blog's birthday! You can read the first post I published on this site, dated June 13th of 2013.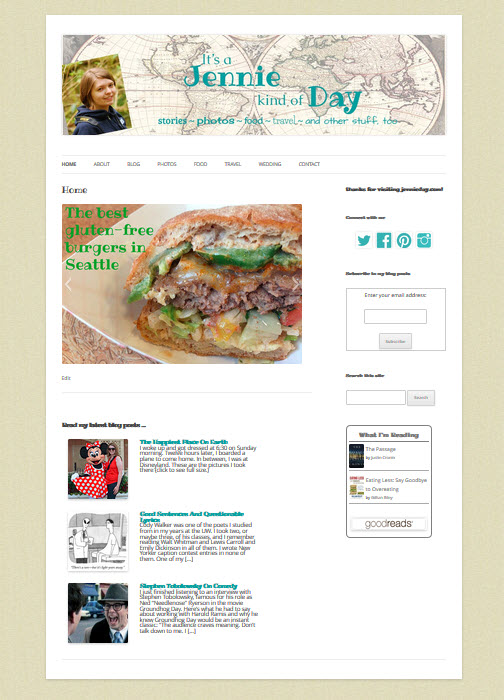 Flashback! A screenshot of jennieday.com from last June
I know this is an odd occasion to commemorate, especially because it's actually been about about three years since I originally started my former food blog. At that point, I'd been obsessively reading food blogs for a couple of years. Thinking about food was my #1 hobby.
I ran out of things to say after a couple of months, but I kept writing anyway. I wrote a total of 209 posts on that blog, about half of which now make me cringe when I re-read them.
Slowly and unintentionally, I tapered down my posting there, until I looked around and realized it had been three months since I last published a post.
This time last year, we were deep in the throes of wedding planning, and I created our wedding website with WordPress. I was so proud of that site and how much I'd learned about the platform. I remember several evenings when Joel had to stay late at the office, clicking around on the backend of the site and wishing I had more to do.
"Maybe I should start blogging again," I thought to myself. It surprised me – the last thing I needed was another project when I was starting a new position at work, doing massage on weekends, and (of course) wedding planning.
Officially ending my old food blog was cathartic and necessary. I wasn't quite sure what direction my new blog would take, but I remember feeling immense freedom and a little giddiness at finally giving myself a place to write about anything at all.
This was (and still is) the blog I'd always wanted to write. I write about frivolous things like makeup and TV shows, and heavier topics like Nelson Mandela's death and how mental illness affects art.
I'm unconcerned with growing my readership or making money from my blog. I don't care if you like every post, and I don't care if you agree with everything I post. (But I won't lie, I prefer it when everyone agrees with me)
But the grander purpose behind writing this blog is for me to have a place for output. I spend most of my days getting input – from the internet, TV, podcasts, books, blogs, radio, music. Stuff gets in, and I need to let my thoughts out.
When I started posting here, I aimed to post Mondays, Wednesdays, and Fridays, which was an easily manageable amount at first. My focus was more on quality of content than frequency of posting. I wanted to be proud of everything published here, and unlike my old blog, embarrassed by none of it. (Admittedly, this is a lofty goal.)
On New Year's Eve, when I was up until 1 in the morning because I *had* to finish the blog post I was working on and it *had* to be wise and witty, I realized it was time to reevaluate again. I still enjoy blogging, and it's an important creative outlet for me, but it should add to my life, not take away time from my other activities … like sleeping.
Another thing that's been on my mind is that while I don't announce it from the mountaintops, I'm an active reader and occasional participant on the site Get Off My Internets, where blog readers snark on the bloggers they love to hate. Getting involved on GOMI has made me painfully aware of my internet presence, which has made me a little gun-shy in regards to my posts.
(For the record, my blog is too tiny and my readership too small for me to be on GOMI's radar, and if they ever find my blog I will be ECSTATIC rather than offended.)
So one year later, I feel like I'm back where I started: a little unsure of where my blog goes from here. I'm still writing often, even though I'm sharing less. Posting three times a week might be more than I'm capable of at the moment, but I'd like to be more consistent.
Anyway, that's enough about me. Thanks for sticking with me for another year of my meandering posts – here's to another!
source