Nearly a year ago, I summarized my reading list from 2013 and mentioned that most of my favorite reads had been post-apocalyptic/dystopian novels. I included two titles from the genre that I hadn't yet read but planned to … then I promptly forgot about them.
In the lobby of my condo building is a take one/leave one communal bookshelf, which I rarely take from or contribute to as I don't seem to share the same taste in fiction as many of my neighbors. However, I was in the lobby checking my mailbox one day last month, and spotted a familiar-looking cover out of the corner of my eye – Never Let Me Go by Kazuo Ishiguro – one of the books I'd been meaning to read since last December!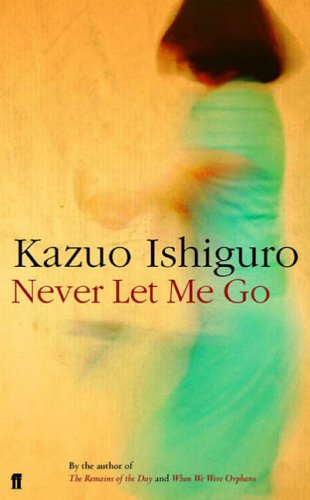 source
Never Let Me Go tells the story of a futuristic society that relies on clones for organ donations. One such clone, Kathy, has spent a number of years as a caretaker for other donors, but learns that her time as a "carer" is coming to an end. She reflects back on her life, particularly her memories of her closest friends, Tommy and Ruth.
The novel is split into three parts – in essence: childhood, adolescence, and adulthood. Kathy narrates the story from her adult perspective, so while the plot is mostly linear, the revelations about her place in the world are woven throughout the story.
What I Liked
First and foremost, I really liked Kathy. She's sweet and relatable, and a little naive, which makes her the perfect narrator to tell this story. Instead of relying on long winded exposition, which post-apocalyptic novels often fall prey to, most of the explanation of this novel's world comes through Kathy's interactions with the other characters.
Also, and this might be a weird thing to like about a novel, I really enjoyed the way it was organized. Every chapter contained a little revelation. Sometimes, it was a character confessing to their true feelings, but most of the time, Kathy and her friends learned something about their world that tested their beliefs. Ishiguro revealed just enough at just the right times, and I was torn between wanting to read slowly to savor it, and read quickly to learn what else would be divulged.
What I Didn't Like
I really didn't like Ruth. She was meant to play antagonist to Kathy, so I don't feel like I *should have* liked her, but I thought the contrast between the two characters was a little too stark. One of the major plot points centers around Ruth tracking down a woman she'd seen in the "real world." It was necessary to move the plot along, but I didn't feel like it was fitting of the other characters' (particularly Kathy's) behavior to 1. go along with it, and 2. not question Ruth. After this point, Kathy starts to distrust Ruth, so I as a reader, did too, which later made it hard to understand Kathy's motivation to reconnect with her.
Lastly, while I enjoyed the little chapter-by-chapter revelations throughout the book, every chapter ended with a rather obvious cliffhanger. It was frustrating, because while they worked to keep me reading and engaged, they were a little repetitive and kind of heavy-handed.
In Conclusion
I really enjoyed this book. It's a really poignant story of someone looking back on her life with a little regret, a little questioning the "what could've been"s, but a lot of contentment.
I haven't yet seen the movie (because I never watch a movie adapted from a book before I've read the book unless I'm 100% sure that I'm never going to read the book!) but I hope to, soon, mostly because I like the actors who played Kathy, Ruth, and Tommy.
I returned the copy back to the communal bookshelf in my building's lobby, and it disappeared after a day or two (unlike some of the cheesy mysteries that've languished for … probably as long as I've lived there!) But then I spotted on my own bookshelf a copy of Remains of the Day, an earlier novel by Ishiguro, that I plan to read next because I so enjoyed Never Let Me Go.
Here's the link to the starred review from Publisher's Weekly.