It's 2015. Gas costs $13 a gallon, and New Orleans is left destitute and mostly abandoned after Hurricane Katrina's follow up, Vanessa. This is the world of Justin Cronin's The Passage.
A paleovirologist who aims to cure disease and save the world teams up with the medical research branch of the Army, whose goal is to create a super soldier. After being infected with a mysterious virus, a scientist, twelve death row inmates, and our hero, six-year-old Amy Bellefonte, are transformed into vampires.
The book is split into eleven parts; starting in the not-too-distant future and explaining the origin of those first fourteen infected with the vampire virus; then moving through the next century as the last colony of humans struggles to endure. There are a few retrospective blurbs from the year 1003 A.V. (after virus) that I wish had gotten a little more airtime.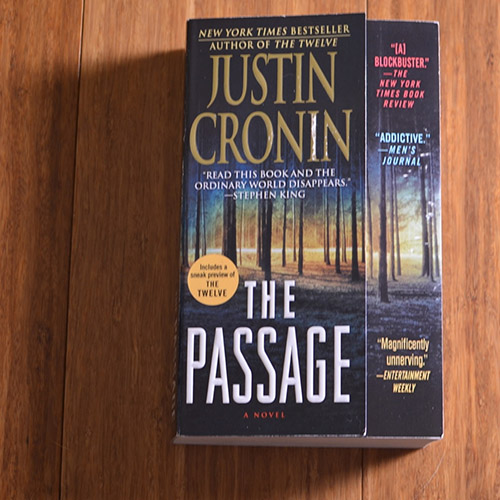 What I Liked
Cronin's writing style is … really effective. It's pretty and fun to read, and the book was well paced: there were moments when I was holding my breath and frantically turning pages to find out what would happen next, but those were dispersed between sections when I could get comfortable and read more deeply. And Cronin was smart enough to put the more complex plot points into those mellower parts of the book.
In addition, vampire/horror/post-apocalyptic novels are rife with tropes. The classic vampire mythology is present here, but with a twist (and it's not that the vampires sparkle or glow.) They're usually referred to as virals or smokes or jumps. They're attracted to, rather than repelled by, the scent of garlic. A bullet or an arrow through the heart works as well as a wooden stake to take one down (atom bombs prove effective, too.)
The cast of characters is pretty huge, which meant there were several I could relate to. There was also a really nice balance between male and female characters, and racial diversity, and religious beliefs, and across a range of ages. I'm not saying that good books need to have an assortment of characters with all these different backgrounds and world views, but in the case of The Passage, it enhanced the reading experience because there was this huge range of insights to the world as it was affected by the vampiric virus.
What I Didn't Like
Cronin's writing style is … verbose. Effusive. Dare I say it — over the top. My copy of the book is a mass-market paperback (the size that would fit on the little display in the grocery store) and it clocked in at 890 pages. The hardcover edition, according to Amazon, is 780 pages. This book is LONG, and could have been much shorter with some of those overly descriptive passages edited out. (I will give credit where credit is due – the plot driven sections were fast paced and without all those extra words. Again, I liked the pacing.)
The dark hair and speechlessness of our protagonist, Amy, reminded me a little too much of the creepy girl in The Ring. Who knows, maybe Cronin wanted it that way (who am I to comment on authorial intent?)
And one last thing – it's a major pet peeve of mine as a reader to be introduced to one cast of characters, spend a hundred (or in this case, three hundred) pages getting to know them, and then for them to disappear and a whole village full of new characters to be introduced. It *sort of* worked in this case, since the plot moved so far into the future, and since there were almost 900 pages to fill, but it's something that really bothers me. Especially when authors, as Cronin did here, bring one of those characters back at the very end of the novel, by which point I've completely forgotten who they were.
***
In Conclusion
OMG, I loved this book – don't put too much stock in my complaints about the length, it took me all of ten days to read it. I recommend it, but with a caveat: if you read this, don't go thinking (like I did) that it's merely a dystopian, post-apocalyptic novel. It is, but it's mostly a horror novel.
Here's the link to the Publisher's Weekly starred review.
The Passage is part one in a trilogy (part two, The Twelve, was released late last year, with part three due in 2014.)