And a Happy New Year!
I hope you had as much fun ringing in 2014 as we did – we keep things pretty low key on December 31, and this year was no different. We made giant plates of nachos and had an X-Men movie marathon.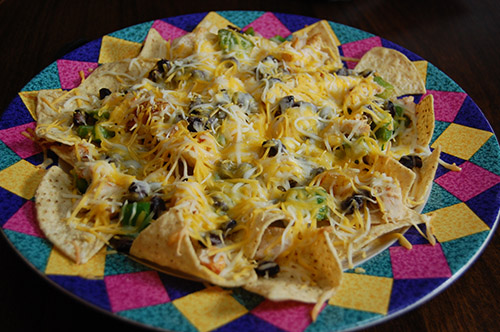 Nachos!
I am going to say this, even though it's totally cliche and goes without saying, but how can it be 2014 already? As of this year, it will have been ten years since I finished high school, five years since I finished college, and two years since I finished massage school … and I just don't feel old enough for any of those things to be true.
I've talked your ear off already about how I didn't do so hot on the goals I made at the beginning of 2013. The only one of those goals I completed 100% was planning our wedding.
Still counts!
In all seriousness, though, I made some small but much-needed changes to my habits last year. 2013 was the year that I started taking better care of my skin and teeth, and I started writing here on my new blog. I somewhat unexpectedly started another yoga teacher training, which has me doing regular practices and I'm actually keeping up(!) on my homework.
So instead of making New Year's Resolutions for this year, my goals are to continue to build on that success.
Daily Habits
I want need to start going to bed earlier so I don't snooze my alarm for 30 minutes every morning.
My friends have made it their goal to start going to the gym more regularly, so I'll end up doing that, too.
Blog
I want to get better at sharing my blog posts – right now they're automatically tweeted, but don't go up on Google+ or Facebook unless I take the time to post the links … which I don't, most of the time.
And instead of making a goal to read x number of books, I'm making it my goal to write a book review post every month, because those are some of my favorite posts to write. I want to reread several of my favorite books that I haven't read in several years, so I'm contemplating the idea of writing some "Favorite Books" posts.
Yoga
I want to keep up with my yoga homework and teach a little more than I did (so, more than five times.)
***
Ok, I think that's enough talking about me for one blog post. I'm off to start preparation of tonight's meal: the same thing I made on NYE 2011, meant to bring lots of luck in the new year! Ham steaks, cornbread, collard greens, and my New Year's Eve black eyed peas.
Wishing all of you luck in the new year 🙂