I've decided that for the sake of consistency, I'll keep recapping my South Africa trip by day. It's a little odd, because unlike our time in Cape Town where we did something different every day, our days at Bushman's Kloof were all pretty similar. In the mornings, we went to see cave paintings, then had a fun after-breakfast activity, and in the evenings, went for a game drive. But there's a huge chunk of time in the middle of the day that goes unaccounted for — that was when we hung out in the pool, or took a long nap, or got massages in the spa. Or all of the above.
I'm not saying this to make you jealous — although, I'm getting a little jealous, myself — but to give you an idea of how we spent our time. And also so that I can remember how amazing the kloof was.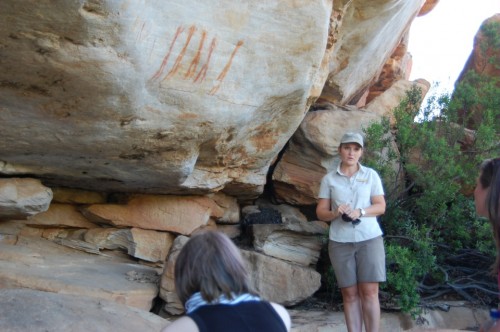 One of the awesome features of the kloof? The rock art. The paintings date back to the native Bushmen (between 6000-2000 years old.) This is Simone, one of our guides during our stay, telling us a little about the history and how the paintings were made. This one is orange ochre.
And this is our other guide, Roman, who is a descendant of the Bushmen and told us a bit about the cultural significance.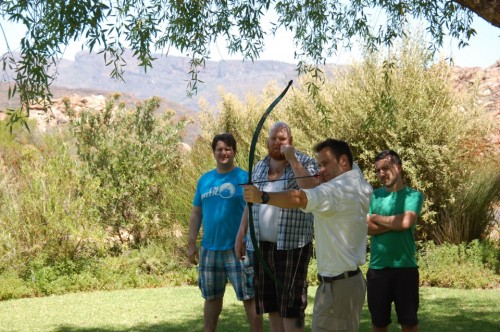 After breakfast, the boys had a little archery practice out in the yard. Here's Malcolm teaching Joel how to hold the bow.
And here's Joel letting an arrow fly.
After tea, we headed out for a game drive. Remember how I told you to look at the stripe pattern on the zebras we saw on safari? See any differences? The zebras at Bushman's Kloof are Cape Mountain Zebras – the only zebras with black and white stripes (rather than brown and white.)
They are endangered (it seems like most of the animals we saw in South Africa are endangered. Except for the baboons.)
A bontebok, another type of antelope native to South Africa (we didn't eat any of these.)
Halfway through our game drive each night, just as the sun was starting to set, we'd stop for drinks — aptly named "sundowners." On this particular night, we stopped by one of the dams. Here are the ladies doing lady things (gossiping.) The gentlemen were just out of the frame, doing gentlemanly things (having a rock skipping competition.)