Remember how I mentioned in my post a couple of days ago that during our stay at Bushman's Kloof, we made our own schedule? Not only that, we could pretty much do whatever we wanted. Our requests got a little more outrageous every day, from "can we have vegetables with breakfast?" to "can we swim in the lake?" to "hey, we dared Phil to make espresso. Can he use (and potentially break) the coffee maker in the kitchen?"
Also, "can we get out of the car and sneak up on animals?"
The answers were, "we'll make sure to have some at breakfast tomorrow," "of course," "sure, why not," and "yes, in fact, I'll go with you!" You see, unlike the Aquila Game Reserve that had the "big 5," Bushman's Kloof is a predator free park, so we were allowed – nay, encouraged – to roam the property freely.
And that's how the theme of our last, most adventurous, day at the kloof became sneaking up on animals.
But it started, first, with another cave painting site.

This is one in a line of Bush-ladies. Women were always painted with large hips and legs, but Roman told us it's rare to see painted women with breasts, as these women have.
And the space where the knee should go isn't unpainted – the women would have been painted with jewelery, a black band with white beads, but black and white were the first colors to fade.
Most of the group went canoeing at the lake before breakfast, but Simone offered to take those who didn't want to canoe on a morning game drive. We quickly discovered why the game drives were usually in the evenings when it was cooler – there weren't many animals to see! Most were out in the hills eating, so they could spend the day lying around and ruminating.
We did find this herd of bontebok. Simone explained that they're used to seeing the vans, so they were pretty disinterested in us. One thing led to another, and pretty soon, Simone, Joel, and Rand got out of the van to see how close they could get to the bontebok.
Short answer: not very. The bontebok, as soon as they saw humans coming, moved over and went back to eating. Feel free to joke about how imposing this trio looks.
After breakfast, Joel and I decided to walk down to the smaller lake near our lodge. It was about noon and exceedingly hot, so we did not use the canoe that was set out for us.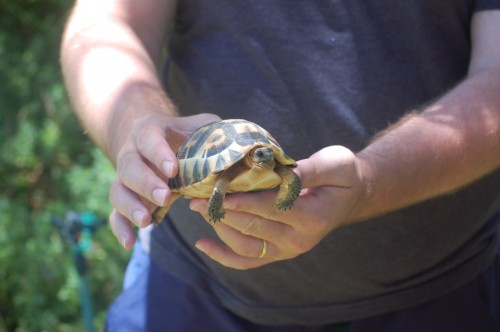 And walking back to the lodge, we found this tortoise. Joel was very excited – he'd been waiting to see a tortoise since that first day when we went to Table Mountain!
The tortoise was much faster than we thought – we moved him to a sunny spot to try to get a picture and he scampered away. Phil had to hold him still for pictures (and then we put him right back in the shady spot where we found him — the tortoise, I mean.)
Later in the afternoon, we went on another game drive; this one much more successful. Here's a mom and baby zebra. Simone told us that the zebras are the most skittish of all the animals they have at the kloof – they ran every time they saw a van coming.
Here's the other half of the group on their game drive (I suspect Geraldine has the compliment to this picture, of our group in the van and me taking a picture.)
That's Rand hanging out of the back of the van, challenging Phil to sneak up on some animals, which led to …
This.
Simone advised us not to try sneaking up on this guy – an oryx, or gemsbok. Their horns are about 3 feet long!
And we enjoyed our last night at the kloof by another beautiful lake, under another beautiful sunset, drinking more tasty sundowners. And wearing our matching safari t-shirts 🙂