On a lovely Saturday in South Africa, Joel and I set out on our own for a little adventure. Most of the group of his coworkers went shark diving, and later told us that it was incredible and how could we have missed it?! But I wasn't too keen on getting in the water with sharks, and we decided instead to have a free day in Cape Town. There were a couple of museums we wanted to visit, and plenty of trouble to get into.
First stop: the greenmarket.
Greenmarket square is an enormous square in the middle of Cape Town, famous now for selling souvenirs. Historically, it's been used as a slave market and place for political protests during Apartheid.
I was a little put off by the greenmarket because it was very high pressure (the sellers would call out after us "today I will give it to you almost for free!") and they notoriously barter, which, as it turns out, I'm terrible at.
We walked all the way through, which was just enough time to buy a few souvenirs and donate a few rands to the groups of kid street performers.
Then we headed over to what might be the strangest museum I've ever visited – the Slave Lodge.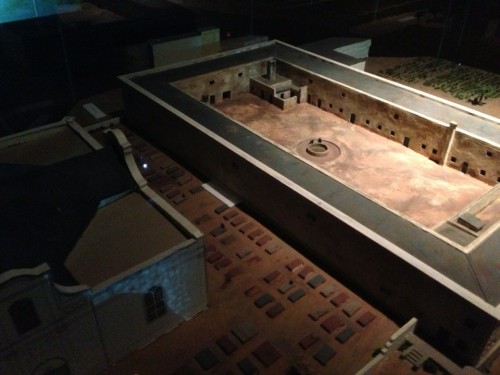 Our hotel concierge recommended a visit to the Slave Lodge, and his description piqued our interest. The building was used, well, as slave lodging. (That's a scale model of the lodge in the 1700s, above.) Over the years, it served various purposes (mostly, a government building) but in the 1990s, it was turned into a museum after an archeologist unearthed things like servingware and bones from the days of the slave lodge.
We learned a bit about the history of slavery in South Africa, such as, when Dutch first colonized the Cape, they did not enslave natives. Instead, slaves were brought in from India and Indonesia, which is how the Islam tradition first spread to South Africa.
We also learned some interesting information about the end of the Apartheid era and the formation of South Africa's first democratic government. (We weren't allowed to take pictures in that section of the museum, but check out the ballot from the first free election in 1994. I love that there are pictures of each candidate on the ballot!)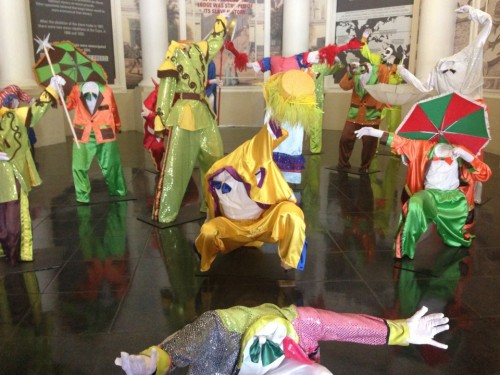 But most of the exhibits were a random collection of old stuff. Here's a display of Carnival costumes.
Why there was this reconstructed apothecary shop in the Slave Lodge, I'm not sure. It's pretty neat, but quite creepy.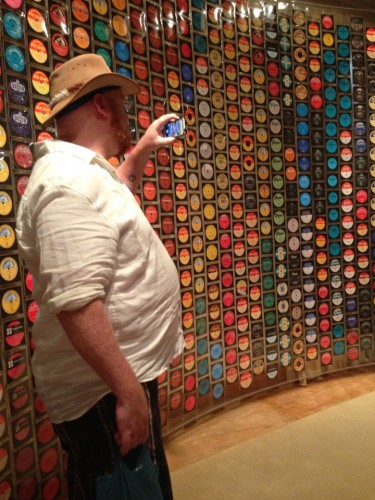 And this was the room labeled "Musical Instruments." An art display of every record or CD produced in South Africa, and an old record player. It's an awesome art installation (the panels wrap around the room in a horseshoe shape) but it was not the musical instruments we were expecting.
Next to the Slade Lodge are the Company Gardens, and we were there just in time for lunch. South African families bring picnic or fast food lunches to hang out and enjoy lunch in the botanical garden, in the middle of which is the House of Parliament. A "refugee" saw us there taking pictures and came over to ask for money. We'd read warnings on the internet before our trip not to carry big dSLR cameras around town because we'd be sitting ducks for pickpockets and beggars, so I just used my phone to snap photos as we walked around the gardens. It seems even that was too obvious.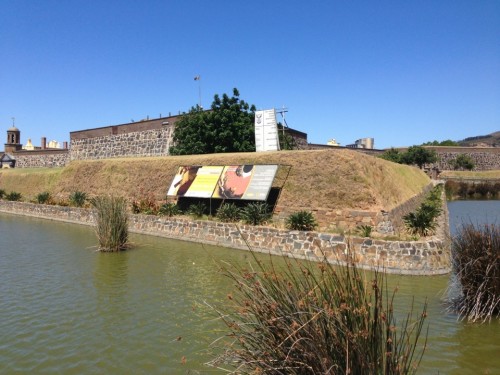 After a quick lunch, we set off in search of the Castle of Good Hope. We got a little turned around on the walk there, and found ourselves in front of an old building with a line of people forming in front of it.
"Is that the castle?" we asked each other. Not sure, we decided to line up anyway. Finally, we asked the people behind us what they were lined up for. A tattoo convention. Oh.
About a block down the road, we came to the moat, pictured above. It was, unmistakably, the castle.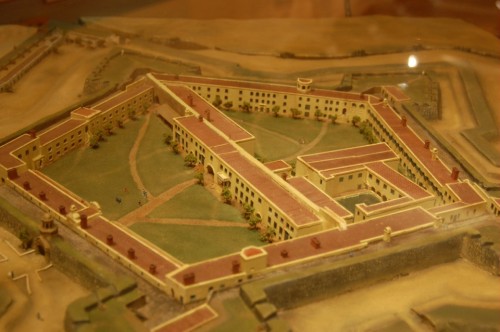 The castle was built by Dutch Colonials in the 1600s, and like any good castle, has been turned into a museum.
We arrived about ten minutes too late for the guided tour, so instead, we bought a map (5 rands, or about 50 cents) and started our own, self guided tour.
The museum exhibits were massive, full of old military uniforms and weapons and information on the nine(!) Frontier Wars fought between the Dutch Colonials and the native Africans. It was a little more than we could take in – in retrospect, we probably would have gotten more out of the guided tour.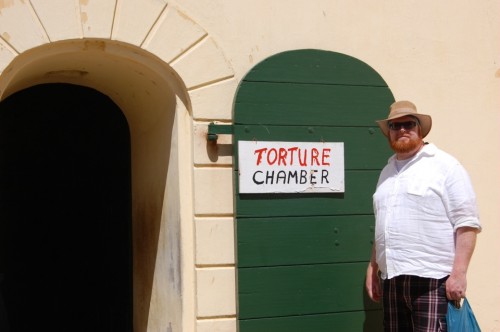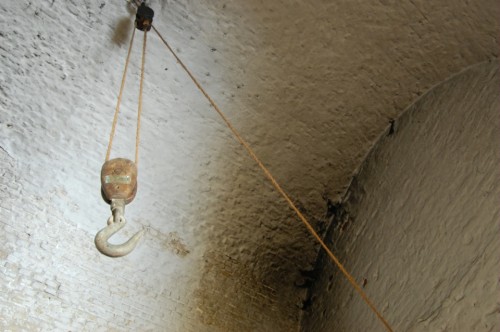 Joel led the way to the torture chamber. It consisted of a dungeon, and a hook in the ceiling. Without a tour guide, we were left to our own devices to figure out what might have gone down in there.
Then we found a staircase leading to roof, offering this view of the busy city streets, graffiti, and Table Mountain. Unlike the (admittedly few) other castles I've visited, this one is in the middle of a busy, modern city. It an interesting contrast to stand on the roof of a castle, watching traffic whip by.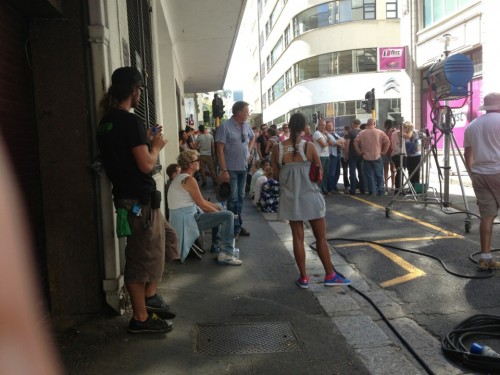 After that, we headed off to Cape Town's most highly rated guitar store (in the 3 o'clock heat) only to find that they closed early on Saturdays. So, we set off in the direction of our hotel, until we came to a road that was closed off and this massive throng of people.
"What's going on here?" we asked another couple, but they were also tourists and knew as much as we did. But that gentleman standing in the left of this picture knew: he was the casting agent, and the hiply dressed people are extras. They were shooting a German car commercial that day.
Someone made kind of a snide remark about how we ought to know that tons of movies and commercials are filmed in Cape Town because it's a cheap place to do so. And in fact, the 2012 movie The Chronicles was set in Seattle and filmed in Cape Town, which makes me laugh uproariously. They are both waterfront towns, I'll give you that, and I guess winters in South Africa are gray and rainy, but that's where the similarities end.
Joel wanted to stick around to see if we could maybe walk through the back of the commercial, or at least get some free food, but I was tired and my feet were hurting, so we headed off towards the hotel again.
But just in case anyone asks, you can tell them that I'm famous now. I was totally in a German car commercial!