I'm racing against some looming deadlines this month: getting a continuing ed class finished before my massage license renews, and finishing up some yoga homework before we take our summer break. So naturally, I decided this would be the perfect time to pick up some new projects.
Perhaps after too much time perusing Pinterest, I decided it was high time I start a new crafting project. But if I may admit to being a bit of a snob: most of the pinned crafts look like garbage to me. I would not be hot gluing anything to anything or making seasonally inspired home decorations. No. I will only make things that require *actual* skillz.
So I decided to start knitting again.
… At this point, I really shouldn't pretend like I have any actual skill in knitting. The only reason I still know how is because I learned when I was 7 or 8 – it's in my muscle memory. I've only ever made simple scarves and hats, nothing complex.
When we cleaned up the condo, I found a little stash of knitting accouterments, so I picked up some yarn and needles and started making a scarf for Joel. Why for Joel? When we first started dating, Joel said he wanted a scarf with a swear word on it, but hadn't ever seen anything like that and implored me to make one for him. I said I would. I didn't say that it would take me four years and a ring on my finger before I'd get around to it, but here we are.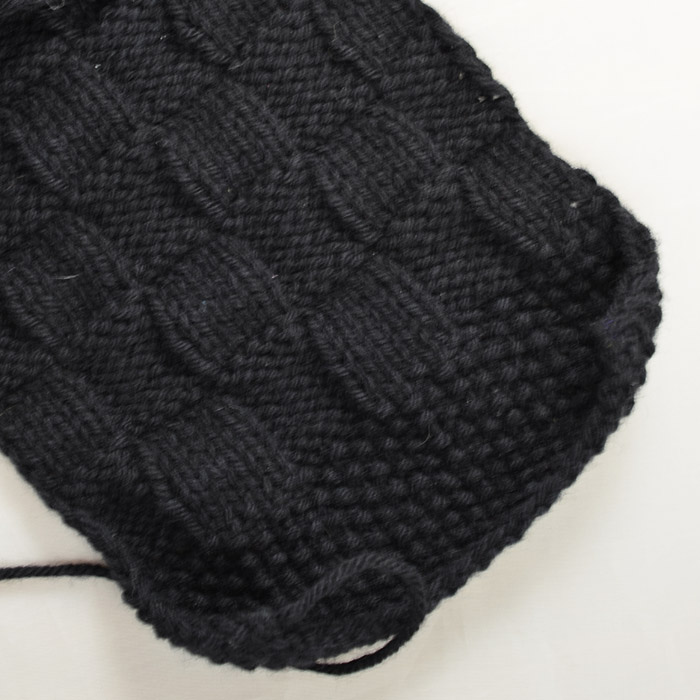 ANYway, I started this checkerboard scarf and knit about four feet before I remembered why I stopped knitting scarves: it's SO BORING.
One day last week, while taking a boredom break from the scarf, I happened to head down to my parents' house for lunch. As most young adults do, I left a sizeable pile of stuff I don't want to deal with in my old closet when I moved out, so now each time I stop by, I try to take home or throw away a few more things.
And what should I unearth on this most recent visit? A half-knit Huggable Hedgehog.
The Huggable Hedgehog was a popular pattern back in the day when my mom sold yarn on the internet. She had a shop sample at one point that I was enamored of and asked to knit one for myself. Here's what it looked like when my mom blogged on her old site in 2006 (which is just about exactly what it looked like when I found it last week.)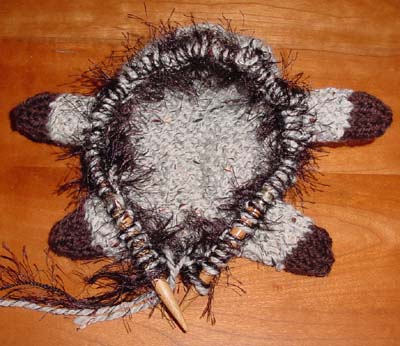 I remember it being much more advanced than I was really capable of when I was working on it all those years ago, so I'm sure I put it away because I'd gotten frustrated with the project. But I guess the hard part was already done, because once I figured out where I'd left off, I finished it in a matter of hours.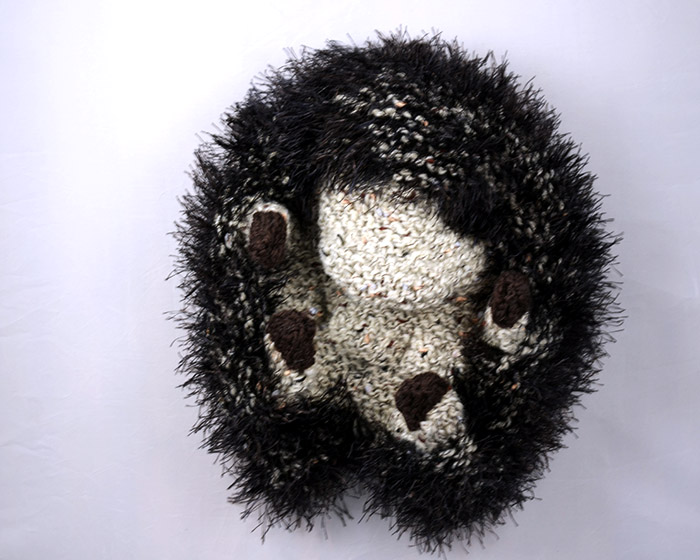 The finished shell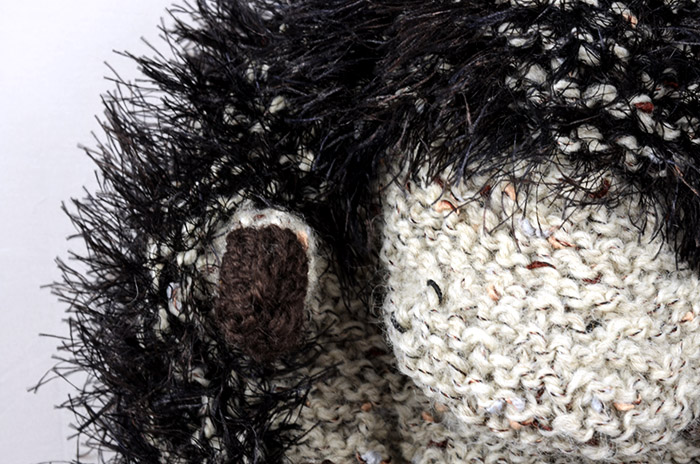 Close up!
While I was poking around the archives of my mom's old site, I found all these adorable photos of Stormy, back when she was the resident shop cat, and I thought "oh, I'll finish up the hedgehog and put a little baggie of catnip in the stuffing so it can be a cat toy."
On a related note, between the heat and their various medications, both of our cats have been pretty pathetic for a few weeks and we've bought them new toys and treats out of pity. Being cats, Stormy and Eggs are totally disinterested.
"This will be different, though," I thought to myself. Stormy's favorite toy is a tiny stuffed hedgehog that my mom found at Woolworth's when she was in the UK, which I determined by (again) poking around her old site's archives, was in 2008.
The hedgehog is totally disgusting – saturated with kitty spit, and I'm convinced that it no longer smells like catnip. But Stormy loves the thing. It's still a pretty regular occurrence that we hear her me-yowl from across the condo, and she trots over to one of us with the hedgehog in her teeth to drop it at our feet.
So thoughtful.
But when I brought home the half knit hedgehog, Joel proclaimed "oh, you're making that for me."
If this keeps up, I will never get to make anything for myself.
Addendum: I finished the hedgehog about a month after I published this post. Here's a picture of the finished product: