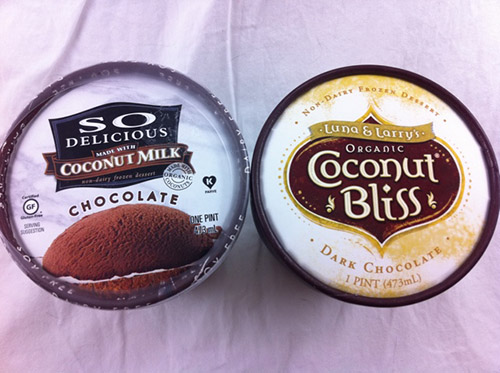 Perhaps, like me, you have had the burning question "which dairy free ice cream is the best?" We've already established that coconut milk ice cream is in every way superior to other non dairy ice creams, but still – so many brands, so many flavors – it's hard to know what to choose. You will be relieved to know that Joel and I set out to test it for you, sacrificing our time, money, and perfect figures. I present for you here our stunning results.
I picked up two pints of coconut milk ice cream: So Delicious chocolate, and Larry and Luna's Coconut Bliss dark chocolate. (As an aside – I wanted to include the Trader Joe's chocolate coconut milk ice cream, but couldn't find it at any of the four stores I went to. What happened?! Did it get discontinued?)
First up, So Delicious Coconut Milk Ice Cream.
Texture: Creamy, spoonable.
Flavor: More coconut than chocolate
Price: $3.99 (it was on sale)
So Delicious also has a GF cookie dough ice cream (made with rice flour) that's quite good – not Ben and Jerry's, but I never thought I'd eat cookie dough ice cream again and I'm glad to be proven wrong.
Next, Larry and Luna's Coconut Bliss.
Texture: Icy
Flavor: Rich and chocolatey.
Price: $5.49
All the flavors of Larry and Luna's are GF, including the chocolate walnut brownie. They also have a coffee flavor that's pretty awesome.
I liked the flavor of the Larry and Luna's way better – so much so that I would be willing to pay more! But So Delicious is, in fact, quite delicious! Definitely worth it for the lower price and the creamier texture, but I'd go for the coconut or vanilla flavors that don't compete as much as the chocolate does with the coconut milk.
Joel preferred the So Delicious ice cream as well, but that could be because he doesn't like dark chocolate as much as I do. He said: "It may be ice cream, but you'll scream … it's So Delicious©!"
At the end of the day, I'm just glad that our hard ice cream eating work paid off, and we can finally come to a definitive conclusion. Well, not definitive. But I still got to eat ice cream in the name of the blog 🙂
Edited to add: Trader Joe's brought back their chocolate coconut milk ice cream, which I reviewed about two years after this post was published. Read the post here.