The weird thing about dragging out my trip recaps posts as I've been doing is that I'm now wearing cardigans and wool socks everyday, and just now getting around to posting about the hottest day of our honeymoon. It was much hotter in D.C. than NYC; but we were in luck – our hotel had a swimming pool!
Actually, there's a full day of our trip that isn't getting its own recap post. The train ride in to D.C. was pretty short, and we'd planned to get a head start on our sightseeing, but when the hotel staff told us about the pool we opted to hit the Target across the street for swimsuits and relax around the pool rather than head in to the city (we ended up staying in Fairfax, VA, which was a nice change of pace after five days in Times Square.)
For the record, this was my second swimsuit purchase this year. I also bought one in South Africa! Maybe someday I will learn to pack a swimsuit every time we go somewhere warm.
Oh, but I was talking about our first day in "the other Washington." The weathermanapp predicted a high of about 90 degrees, so we decided it would be a good day to be indoors at the Smithsonian. We made it to three of the museums – the American History Museum, the Natural History Museum, and the Air and Space Museum.
Some of us were cranky, what with the heat and poor selection of gluten-free-friendly lunch options at the Smithsonian Museum, so I'm keeping today's post picture-heavy and story-sparse.
The American History Museum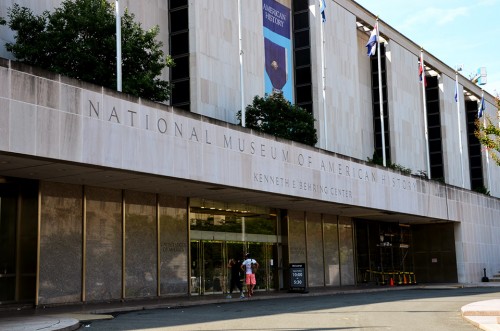 Julia Childs' kitchen
World War II propaganda.
Natural History Museum
Joel is taller than an elephant's leg
Air and Space Museum
After a late lunch, we hit a couple of Labor Day sales, then headed back out to Fairfax to eat ice cream and cool off in the pool.