If you wake up on the first morning of your honeymoon in New York City and the sky is clear, you decide immediately to check the Empire State Building off your vacation to-do list.
That's what we did, anyway.
The Empire States Back
Here's the thing: it was Joel's first trip to New York, but I've been several times and done most of the touristy things. I wasn't super excited about going to the Empire State Building AGAIN, because the first time it was cloudy and quite underwhelming.
So I will deign to admit this … on a clear day when you can actually see the city – the Empire State Building is really cool 🙂
Before our trip, we bought New York Passes, which included admission to most of the major sights. At the Empire State Building, it got us in to the 86th floor observation deck, but not the 102nd (which is open, now.) It also got us in to the Skyride, which we would never have done if we didn't have the passes. It was a cheesy faux-roller coaster (faux-ller coaster!) but we learned a little history about the construction of the Empire State Building and got a tour of the skyline, so we knew what we were looking at once we made it up to the deck.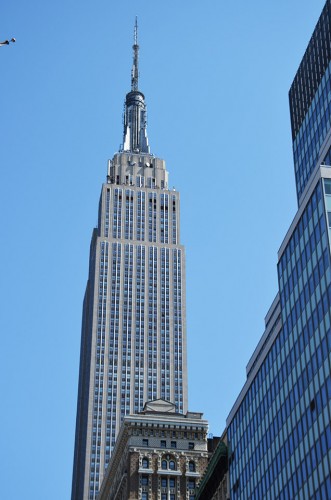 Looking east – the Chrystler Building and Queensboro Bridge in the distance.
Looking south – the tallest building is the new One World Trade Center (a.k.a. Freedom Tower), Statue of Liberty Island is in the distance.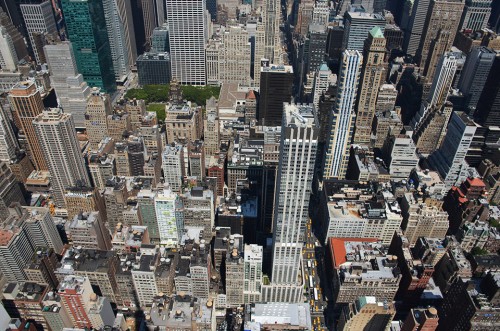 Romantic Honeymoon Activities
We spent most of the afternoon wandering around the city.
We saw Bryant Park, home of NYC Fashion Week, and its neighbor, the New York Public Library. I wanted to go in and check it out, but Joel wasn't interested. I think he would have been, had he realized it was the same library from the opening scene of Ghostbusters. Actually, I know he would have, because we just watched Ghostbusters a few night ago, and he said "wait, that's that library?! You should've told me! We could've recreated this scene!"
And then we moved on to the obvious honeymoon activity that every couple does … seeing the Body Worlds exhibit at the Discovery Museum in Times Square (wait, what did you think I was going to say?!)
This was the only part of the exhibition where photos were allowed – a horse and rider.
I kind of laughed at us for doing this on our honeymoon – actually, I kind of laughed at us for having this super high-octane sight-seeing honeymoon. After all the stress of wedding planning, I have a new understanding of why so many couples go on tropical vacations and lie around on the beach for a week. But not us!
That Time We Didn't Go to The Book of Mormon
Funny story about our trip to New York: before we looked into plane tickets or thought about booking our hotel or even chose the dates we'd be traveling and requested time off from work — the very first thing we did was buy tickets to see The Book of Mormon on Broadway on Tuesday night.
Obviously, after we bought those tickets, we did firm up the dates and buy plane tickets and book hotel rooms. Before we left, we printed tickets and confirmation codes and double checked all of the dates and times. Except for the date and time of the play. It was the first thing we booked, why would we have mixed up the date and or time?!
Ha!
Ha ha.
So at about 6:30 on Tuesday night, we're in a restaurant in our fancy-theatre-going clothes. I'd shoved the Broadway tickets in my purse, and realized I hadn't double checked the show time (we were pretty sure it started at 7:30.)
"Uh oh. The show starts at 7:00!" I saw when I looked at the tickets. "Wait … On Thursday?"
Well, I guess it's better to figure on Tuesday that we had tickets to the Thursday night show than figure out Thursday that we had tickets to the Tuesday night show!
With our night suddenly freed up, Joel remembered that one of our favorite comedians, Kurt Braunohler, was having a CD release party at a popular comedy club in Brooklyn. We hadn't bought tickets ahead of time (since, you know, we thought we had tickets to see a Broadway show) and it was sold out, but we decided to catch the subway over to Brooklyn and try our luck. Worst case, we could check out the trendy Brooklyn neighborhood and have a drink.
Due to a little confusion navigating the subway system, we showed up at the club a few minutes after the show was scheduled to start, and the street in front was empty. I was sure there was no way we'd be getting in, but Joel was determined.
"We're here on our honeymoon and the only thing we want to do is see the comedy show and we didn't buy our tickets ahead of time because we thought we had Book of Mormon tickets but they're actually for Thursday, and I know it's sold out but can we please see the show?" he asked that two times and boom! We were in!
If you're wondering what a CD release party for Kurt Braunohler is like, it's Kurt Braunohler himself doing some stand-up comedy, and a slew of equally funny comedians (including our fave, Eugene Mirman) doing stand-up/roasting him. And Ted Leo sang some new songs. Our hipster friends must be so jealous!
After the show, we lined up to buy some merch and meet Kurt Braunohler. We were super pumped up about getting in to the show and laughing at jokes and buzzed up about being newly wed, so I'm pretty sure we sounded like this:
"OMG, Kurt Braunohler, we love you! We came all the way from Seattle! Just to see your show! Actually, that's not true! We're here on our honeymoon! And we thought we had tickets to see Book of Mormon tonight! But they're for Thursday, hahahahaha! But we showed up here anyway, and the people at the door were awesome and sold us tickets anyway! And you're so funny! It was so great! We saw you tell some of the same jokes in Seattle two years ago, but they're still funny!"
Something like that.
ANYways, he was awesome, and signed the hand towel we bought: "never buy tickets in advance again!" and the copy of the CD (of course we bought one, it's the CD release party, after all) "I love your city! Happy marriage."