On our second day in New York, we left the isle of Manhattan behind us …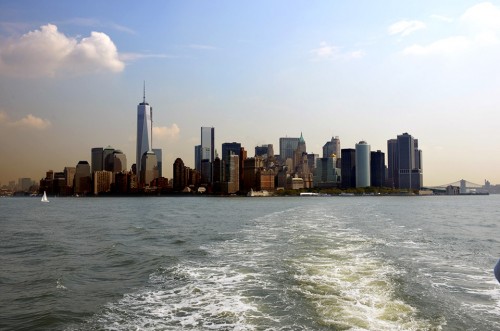 and headed out to Statue of Liberty island!
Here's the glimpse of Ellis Island we could see from the cruise – Ellis Island has not reopened since last year's Hurricane Sandy. Actually, the Statue only opened a month or two before our trip, and even the crown is open for tourists. Turns out, if you want to go up to the crown, you have to buy tickets way farther in advance than we thought to (which was, you know, that morning) so we just headed out to the island, walked all the way around the Statue, and headed back.
Some photos:
Selfie!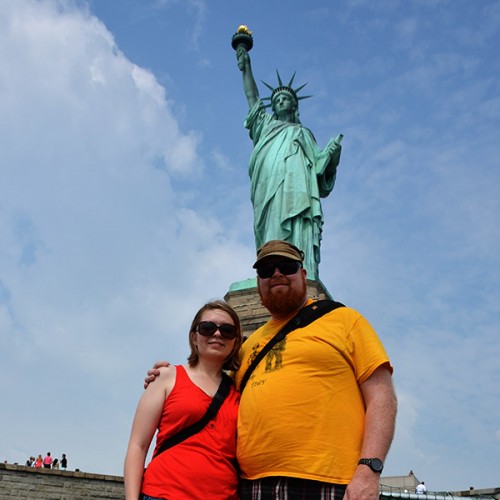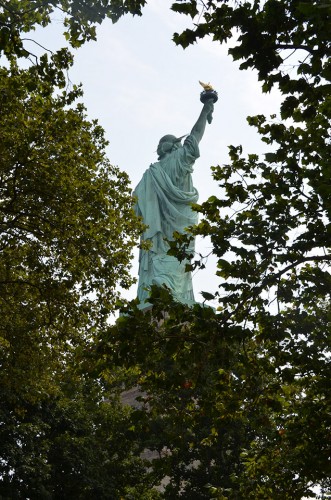 Joel takes Manhattan.
You might not guess it from these pictures (especially if my photo editing is improving, which I hope is the case) but just as we finished our circuit of the island, a storm moved in to rain all over our honeymoon. We had to wait for a boat back to the mainland, and what started as a drizzle turned into a full-on downpour just as we made it onto the boat.
Needless to say, these are all the pictures from day 2 – the rest of the day was spent indoors. We did a little shopping, then went for dinner and a movie with our friends Morgana and Grahme.