Token 30 Rock reference, because day 3 in NYC was the day we visited Rockefeller Center 🙂
You may recall that the day previous was a little rainy … the morning of day 3 started off gray and drizzly, so we started with some breakfast and shopping.
Okay, so we didn't really have Breakfast at Tiffany's, but we walked by in the morning, so, close enough.
What we did do was head over to the Museum of Modern "Art." Later on, our New Yorker friends told us that MoMA is much weirder than other museums in the city. It was weird, indeed. We saw toenail clippings on display.
Joel inspected this art installation.
The weather perked up after lunch, so we decided to head over to 30 Rock. We had a couple of things on our agenda there, starting with the NBC Studio Tour! Just like on 30 Rock, it was led by participants of the NBC Page Program; unlike on 30 Rock the tour goes no where near areas of the studio where the actors/writers are actually working.
We couldn't take pictures, so I have none to share with you, but here's what we saw: Studio 6B, where Jimmy Fallon's late night talk show is recorded. 6B is currently set up in studio 6A because his new studio is being constructed for when he takes over Late Night. The studio was alarmingly tiny – it's filmed kind of from an angle so it looks bigger than it really is.
Then, up to studio 8H, home of Saturday Night Live. What I thought was most interesting about this studio was that, again, it's really small, so the pages explained that the sets are constructed like a puzzle. People in the audience can really only see 40-60% of the action! The best seat for the show, they explained, is on your couch at home.
The last leg of the tour took us to the fake studio where we had our pictures taken – I paid the exorbitant fee to have these printed because they are so hilarious.
Then, the part we'd been waiting for – the top of The Rock! I took a ton of pictures and this post is getting a little long already, so they're small, but you can click to see them full size.
I loved the Top of The Rock – maybe even a little more than the Empire State Building.
We made it back to ground level a little later than we'd planned – we had to book it back across town to our hotel to change into our theatre-going clothes, because tonight was the night we went to see The Book of Mormon (for real this time!)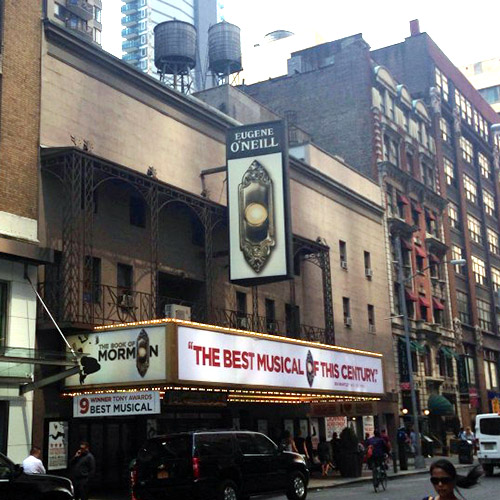 This will probably surprise no one, but Joel is a big fan of South Park, so he's wanted to see the musical created by Trey Parker and Matt Stone for … well, pretty much since it opened in 2011.
We tried to see the show when the tour came through Seattle last winter, but weren't able to get tickets. Joel even stood in the lobby of the Paramount Theater for a few hours one Thursday hoping to get lucky in the lottery, but with about 500 people entered in that lottery, he did not win big.
In case you find yourself in a similar scenario, here's the best course of action for dealing with the disappointment:
A) Buy tickets to see the show on Broadway (take that, Paramount Theater!)
B) Become enamored of the soundtrack
C) Sing songs from the soundtrack while on vacation in South Africa, because you are culturally sensitive
D) Buy tickets to see the show when the tour comes back to Seattle in summer 2014 (ok, we take that back, Paramount Theater)
Yeah, in conclusion, The Book of Mormon was one of our top reasons for visiting New York, and it did not disappoint. There's a lot of the story that goes missing when you just listen to the soundtrack, it turns out, so a lot of it was new to us. It was a blast.