You remember our black walking shoes?
Day four in New York was the day we needed them. We walked everywhere!
It started in Brooklyn …
That's not true. It started in Manhattan with an early lunch and some comic book shopping and THEN a subway ride to Brooklyn. Then we walked back to Manhattan across the Brooklyn Bridge.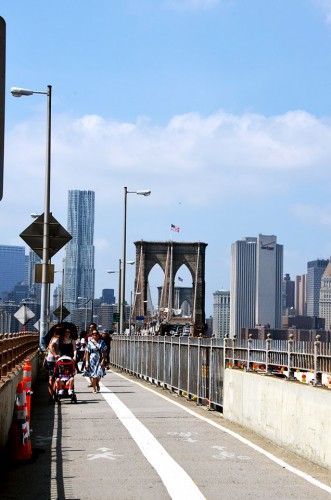 Such a neat looking bridge.
Speaking of neat looking bridges, here's the view of the Manhattan Bridge.
It took us about an hour to walk the bridge (just over a mile.)  We stopped often to take pictures, and once to buy a $4 bottle of water that we emptied in less than a minute.  It was so hot (but we were just glad it wasn't raining!)
On the Manhattan side, we met up with Morgana so we could set off on our next walk!
The High Line.  It's an old railroad track that's been converted to a park.
I was really excited to walk the High Line – I'd never walked it before, because it hadn't yet opened the last time I was in New York 🙂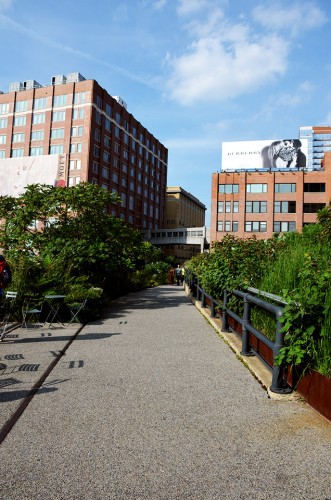 We walked most of park – just shy of a mile.
Thankfully, you can't see it in this photo, but we were sweating bullets.  So hot that day.
After that, we were ready to sit. Anywhere.
Okay, that's a lie. What I should say is "we were ready to sit … through another comedy show."
We saw "Big Long Sets," a stand-up comedy show at the UCB Theater (that's the Upright Citizen's Brigade.) Joel has been a fan of the Upright Citizens Brigade for longer than I've known him, so seeing a show at their NY Theater was #2 on his list of things to do in the city. He bought some UCB swag, and we enjoyed some comedy.
We ended the night with some Mexican food – but I'll tell you all about our New York eats in a separate post.