Joel and I have been together for about a year and a half now. In case I haven't said it before, he's an awesome boyfriend, and has been a hugely positive influence on my relationship with food. Before we were together, I pretty much lived on oatmeal and salads. It was not uncommon for me to do something like eat half a pound of steamed asparagus with lemon juice for dinner and "save" my calories to attack a pan of gluten-free brownies later.
Even on nights when I'm eating dinner for one, I try to eat a regular sized dinner … and still eat dessert, if I want one. Here are some recent solo meals …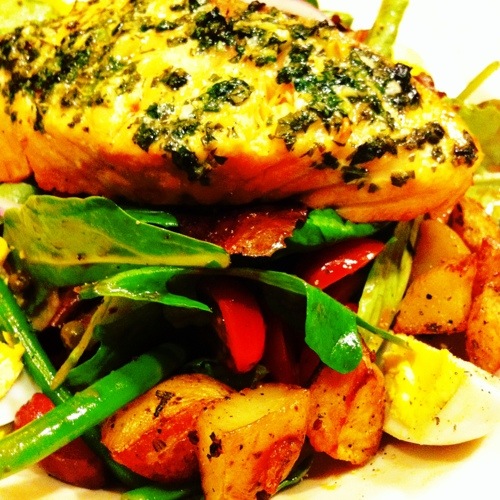 Last week, I met up with my sister for a prescreening of the movie The Five Year Engagement. I didn't have much time to eat, and I thought about just getting a huge bag of popcorn to eat during the movie. But instead I had this Nicoise salad at the Nordstrom Cafe, and some M&Ms during the movie.
And over the weekend, Joel went out to Eastern Washington to visit his parents. I stayed home to study for my licensing exam, and when I didn't feel like cooking, I picked up some take-out Thai food and braised a head of broccoli to go with it, and afterwards, took myself out for fro-yo.
I've always meant to talk more on my blog about intuitive eating and my relationship with food, but as more of you started reading, it became scarier to talk about. Let me be upfront here: I am very much a work in progress. There are days when I eat jelly beans for breakfast and tortilla chips for lunch. But there are also days when I choose to eat a real dinner, and eat it before I eat dessert. It's a small step, but it's something.