***I wrote this in December 2008 after completing the last of the literature class requirements for my college degree. It was originally published on my myspace blog, and I found a copy of it recently and thought it was a fun piece of writing, so I wanted to share again.***
I've always loved to read. Admittedly, a number of materials that I enjoy(ed) reading throughout my lifetime have not always been the most scholarly of pursuits (see this, this, and these), but I have always found enjoyment in the act of reading.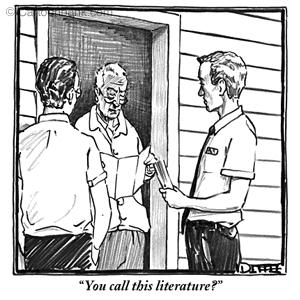 source
So once I got to college, I decided to major in English. Seemed like a pretty logical choice. But majoring in English for the most part, beat that love of reading out of me.
At the UW, there is a track for creative writing, which, thankfully, I am on. I'm was a bit bewildered this summer when a fellow English student asked what the difference was, and I never did come up with a polite way of saying "I'll be writing all the shit that you'll be writing about." But one way that I think pretty accurately describes the difference is that writing classes are concerned with the methodologies of a text, and literature classes are concerned with the ideologies. Or, one is super-fun and the other (often) unbearable.
The creative writing classes are taught as a kind of a series, wherein (basically) one must take a poetry and prose writing class at the 200, 300, and 400 levels. These classes have been phenomenal. We've read and discussed compelling pieces, and the classes built on one another seamlessly. But then there are the literature classes.
Now, there have been three literature classes that I took in the time of my college career that were not only bearable, but that I loved and actually learned something from: one called "The Comic Book as Literature," one called "The Culture of You," and the last called "'Twas Here My Summer Paused." The common denominators in these three classes was that they all incorporated contemporary literature, writings were concentrated around my personal experience of the texts, and the workloads were all reasonable.
The problem is, in the English major, I am required to take (and pass, obviously) three courses focusing on pre-1900 literature. Shakespeare, Dickens, etc. No, that's not the problem, the problem is that in these classes I was expected to plough through a book every week, paying attention to the most insignificant details, try to find the underlying messages that may not even actually be there, and then regurgitate a few hours of lecture into a 4-6 page paper. And often, I was juggling two of these classes at once. This is not to say that I misunderestimate the power of reading in my study of writing. I just think that the balance of these classes is way, way off.
So by now, you either A). think I'm crazy for titling this blog after Isaac Asimov, B). haven't the foggiest why I did so, or C). totally forgot about that. Here's a little anecdote:
Isaac Asimov was auditing a literature class at a local college in which they happened to be studying one of his books. The professor was lecturing on the themes conveyed and what the author's intent was, when Asimov stood up and said "excuse me, but, I'm Isaac Asimov, and when I wrote this book I wasn't thinking about any of this. I was just trying to write a book."
What ever possessed any professor to pick apart Asimov's book like that? Who was he to try and comment on authorial intentions? And why can't someone just read it and say, "hey, I liked this book. Here's why …" When did that stop being enough? I could easily write a paper about why a book I read for a class, say, I don't know, Uncle Tom's Cabin left me totally cold, like I couldn't keep the characters straight and the book was too long and drawn out. But picking apart the minutia of Africanisms in the text was dreadful and tedious. Too many English classes have left me feeling dreadful and made me associate reading with tedium.
The real travesty in all this (besides my lost love of reading) is that with the impending educational budget cuts, the English classes that will make the cut are the Shakespeares and the Dickenses. Even though any sane college kid would a thousand times rather take "The Comic Book as Literature," and (in my opinion) that class would do more to stretch his or her thinking about the definition of literature and implications of language.
The good news in all of this nonsense is that, as of Monday, my last literature paper is turned in and I will take no more!