I know T.S. Eliot said April is the cruelest month, but man, in my experience it's always been February. In Februaries past, I've dropped out of school, been dumped, and probably worst of all, returned home from an amazing vacation.
But this year, February was tolerable, if not actually pleasant. Some highlights: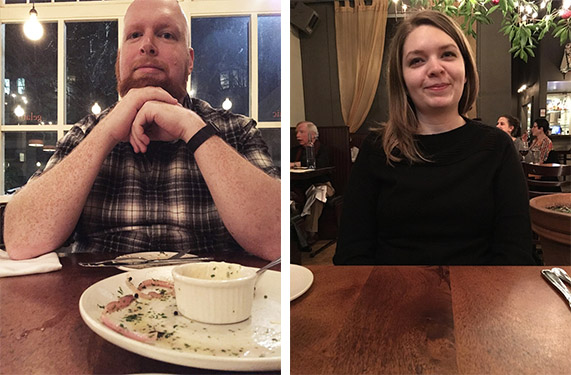 Our Valentine's date at Agrodolce. Afterwards, we went home to watch So I Married an Axe Murderer, which has been my Valentine's Day tradition since I was 16.
Since we knew we'd be having a nice dinner the night before (and because I had to work in the morning), Valentine's Day was very simple. We went out for pho, and then went to see Deadpool. (Neither of us are really into doing gifts for Valentine's Day.)
We learned how to make Thai food!
Our bathroom was put back together – just in time for me to go on vacation 😉
And I finished another 10 books, bringing me to 20 for the year and 27% of the way to my goal of 75. (Granted, three of them were graphic novels, one I started in 2015, one I started in January, and two I'd read before!) I'm still delighted with my newly rediscovered love of reading.
A few standout titles:
–The Boys in the Boat by Daniel James Brown – it's enjoying a moment of popularity, so I assume those of you who haven't yet read it have heard of it, but it's one of the best books I've read this year. It's the story of the University of Washington crew team who won gold in the 1932 Olympics.
–Cat's Eye by Margaret Atwood – Another beautifully written Atwood novel, this one about an artist who visits her childhood hometown and upon returning to the city, is flooded with memories from her coming of age.
–The Passage by Justin Cronin – I reread the first book from this post-apocalyptic vampire trilogy in preparation for the third book, which comes out in June! Read my original review here.
In case you're wondering, the no-TV-on-weeknights thing is still going really well. While it was easy in January, on several occasions in February I had to talk myself out of turning on the TV. I was really busy (mostly getting ready for the vacation I'm going on) which you'd think would would keep me away from the TV remote because there wasn't time for it – actually, it made me want to watch more because I was tired and wanted to turn my brain off. I ended up mindlessly cruising the internet instead. I'm not sure that's an improvement.
And the last week of the month, my mom and I have spent on vacation! But I'll tell you more about that later.
Happy Leap Day! Real life is for March.