Back in March, I blogged about my friend Meredith's perfume subscription service (The SA List) and self-deprecatingly described my (non) knowledge of perfume. After four seasons and a dozen scents, me with my library of perfumes looks a little something like this:
Ok, not really, but I'm totally perfume expert.
Ok, not really.
What I said in that very first post was that I wanted to try lots of different perfumes and figure out what I like and don't like, and I can say that was successful.
Really.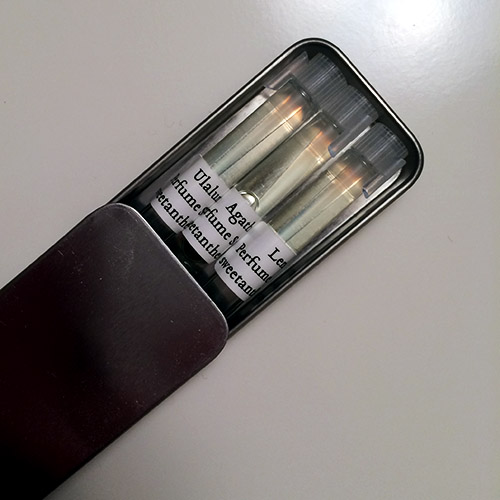 The final Sweet Anthem subscription box included three new perfumes.
Ulalume is the standout in this box, for me. It's light and crisp, and I personally love the ylang ylang note – I used to use a ylang ylang shampoo and the familiar note in this perfume sparks some happy memories.
I also really like Lenore, which is sweet and citrusy. I wish it were a bit stronger – in the eau de parfum concentration, it disappears on my skin after just a few minutes.
The third sample, Agatha, didn't do much for me.
I loved receiving the samples throughout the year, and trying many different scents – like I said, I wanted to figure out what I like when it comes to perfume, and I definitely did.
I probably would have figured out that I love Alice (my favorite of all the Sweet Anthem perfumes I tried this year) just by trying a tester. Others though, notably Walden from the summer box and Ulalume from this box, I felt very ambivalent about until I actually wore them for a full day.
Then there's Poppy, from the spring box, that I was dismissive of at first smell – this summer, I switched the lotion I use and found that I actually really like Poppy, it just smelled off when worn on top of the old lotion.
Sadly, Meredith has decided to end her subscription box service, but as always, sample sizes are available on her website. You can also now purchase several of her perfumes online from Anthropologie.