Well, hello. I am, as promised, trying to get back into the habit of blogging 3-4x per week, but work and … life kept me away for the last few days. I have about a week's worth of posts left recapping my trip to South Africa. Then maybe I'll get back to talking about food.
Anyways, we left off a couple of days in to our stay at Bushman's Kloof.
The day started with another visit to cave paintings (unfortunately, I missed this one as I wasn't feeling well.) Here's Joel's picture:
This is the only known buffalo painting at the Kloof. Black was painted with charcoal, so it was the first to fade. A black lichen grew over this one, preserving the painting. Pretty cool, huh?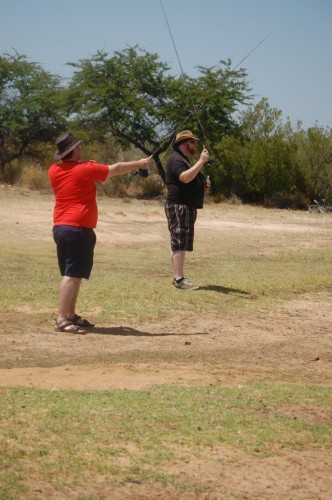 After breakfast, we headed out with Phil and Meredith for some fly fishing. Here's Roman, one of our guides, teaching the boys how to cast. They did not catch anything – Roman said the fish weren't out that day, and didn't blame it on their fly fishing skills. It was very kind of him.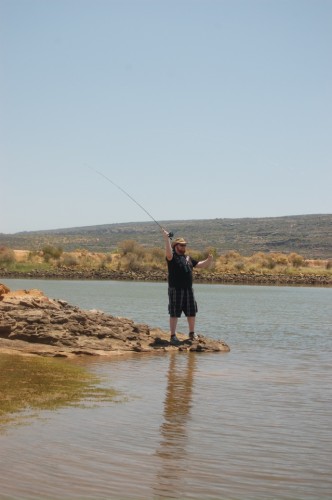 Here Joel, looking like a pro.
Twins! Er, I mean, doppelgangers.
Us ladies skipped out on the fishing – we took pictures and drank instead. Here's Meredith, enjoying an adult beverage. It was about 11 in the morning 🙂
Since there weren't any fish to be caught, we got bored and headed down to the main lodge for a swim. This is not the swimming pool, it's the lily pond nearby. I didn't want to swim in it, for fear I would ruin it. So pretty.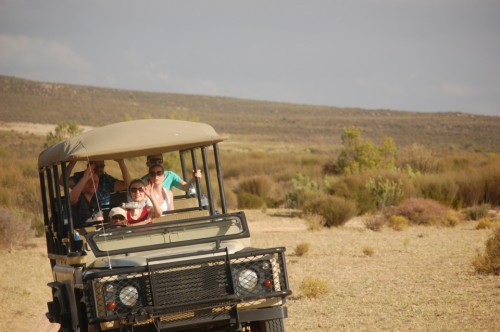 Later on in the night, we headed out for another game drive.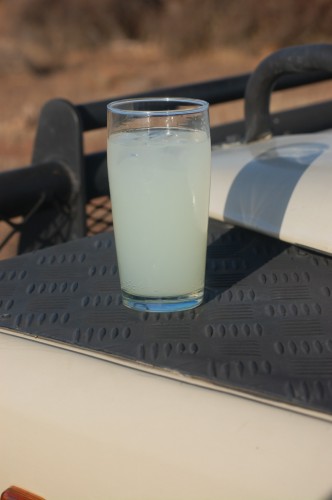 I was finally feeling well enough to enjoy a sundowner that evening: a vodka and dry lemon (kind of like lemonade, but very tart and not sweet).
Our guide Roman, you may recall, is a descendant of the Bushmen, and speaks a couple of native dialects. Here's Geraldine trying to learn a sentence (and Courtney laughing at her attempt.) the dialects were very complicated – think lots of glottal shock and tongue clicking.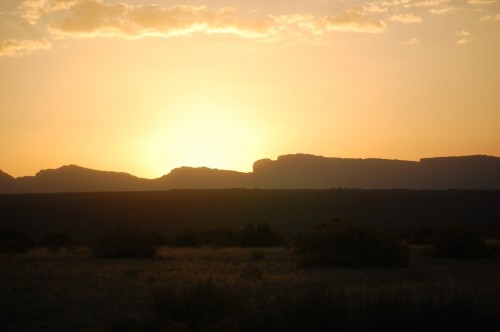 Another beautiful sunset over the Kloof.