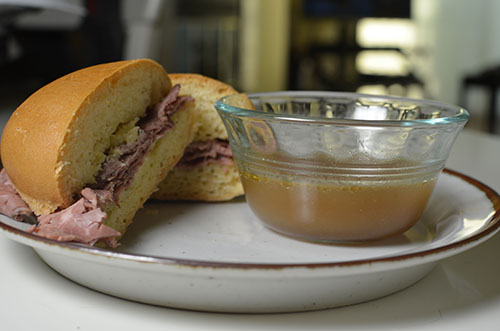 Gluten-Free Au Jus
Here's what you'll need:
2 Tbs butter
Half of a small onion, or a quarter of a large onion, minced
4 cups beef broth, divided
1 tsp garlic powder
Splash of white wine (approx. a scant quarter cup)
2 Tbs Worcestershire sauce
1 Tbs cornstarch (or other GF starch – I used tapioca)
Here's what you'll do:
Heat butter in a saucepan over medium-high heat. Add minced onion and caramelize (about 15 minutes.)
Add 3 cups beef broth, garlic powder, wine, Worcestershire sauce, and whisk thoroughly.
In a small bowl, combine remaining 1 cup broth and starch to make a slurry.
Add slurry to saucepan, whisking quickly. Allow to simmer for about 15 minutes. Liquid will thicken slightly.
Strain, if you'd like to remove caramelized onion bits, or serve them up. Use as dip for roast beef sandwich.Enjoy.