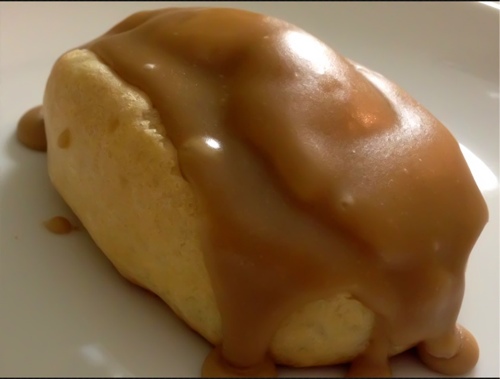 Caramel Eclairs
Here's what you'll need:
Custard
4 large egg yolks
1/2 cup granulated sugar
1/4 cup cornstarch
2 cups whole milk
1 teaspoon vanilla extract
Choux Pastry
1/4 cup sweet rice flour
1/4 cup cornstarch
1/2 cup water
1/4 cup butter
1 1/2 tsp granulated sugar
A pinch of salt
2 large eggs
Caramel Sauce
1/2 cup dark brown sugar
1/4 cup whipping cream
1 1/2 teaspoons butter
1/2 teaspoon vanilla extract
1 cup confectioners' sugar
And what you'll do:
First, make the custard
Place egg yolks and sugar in a large bowl and whisk together.
Add starch and milk and whisk in to the mixture.
Strain mixture into a medium sauce pan. Whisk constantly over medium heat until the custard becomes thick.
Remove from heat, then stir in vanilla extract.
Transfer to a bowl and refrigerate until you are ready to assemble the eclairs (at least one hour.)
Now for the choux pastry
Preheat oven to 400 degrees.
Measure flour and starch into a small bowl. Whisk thoroughly to combine. Set aside.
Combine water, butter, sugar, and salt in a medium saucepan. Bring to a boil, then immediately remove from heat and stir in flour/starch mixture. Using a wooden spoon, beat the mixture until it forms a big ball. These flours are sticky, so this shouldn't take long.
This is where you'll want to use an electric mixer or stand mixer: transfer the dough ball to a bowl (or the bowl of your stand mixer) and beat for a few minutes. This is to cool the mixture down so we don't scramble the eggs in the next step. If your dough ball separates into a bunch of tiny dough balls, you're doing it right.
Break eggs into a bowl and beat. Pour half in to the dough, and incorporate with the mixer. Wait to add the second half of the egg unto the first half is fully incorporated. Let the mixer run until the dough has transformed into a shiny, sticky paste.
Transfer the paste into a ziplock bag and cut a hole in the corner (you could use a pastry bag for this if you have one. I don't). Squeeze the pastry dough into logs on a greased cookie sheet.
Bake 10 minutes at 400 degrees, then increase heat to 425 and bake for a further 10-15 minutes. Whatever you do, don't open the oven door!
When the pastries are tall and fluffy and golden brown, remove from oven and use a paring knife to cut a slit in the side of each. This is so steam can escape and the pastries don't collapse. Then cool on cookie sheet and (this is the important part) DON'T TOUCH!
When the pastries have cooled and you're ready to assemble the eclairs, make the caramel sauce
In a double boiler, combine brown sugar, cream, and butter. Stir constantly, until the sugar has melted completely.
Remove from heat, stir in vanilla and powdered sugar. Allow to cool for about 10 minutes.
While the caramel sauce cools, stuff the pastries with the custard. Use a pastry bag, if you have one – as we've established, I don't – I cut the pastries open and spooned the custard in.
Spoon the caramel sauce on top of the pastries.
Eat.
Makes 8, plus a couple extra spoonfuls of custard.