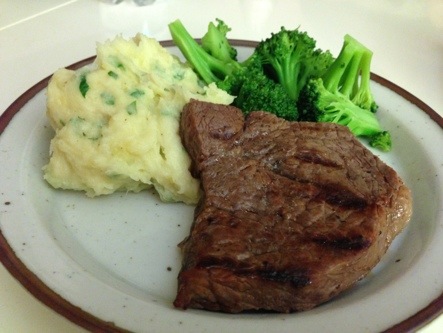 Garlic Mashed Potatoes
Here's what you'll need:
1 bulb garlic
1 lb potatoes (yukon golds are my favorite)
3 Tbs butter
Shredded Parmesan cheese
Parsley
Salt and pepper, to taste
And here's what you'll do:
Preheat oven to 375 degrees.
Break apart garlic bulb and peel every individual clove of garlic. Place peeled cloves on a square of aluminum foil. Bring the edges of the foil together and make a little packet. Place in oven and bake for one hour.
Peel potatoes and cut into cubes, about 2″.
Place potatoes into a medium sized pot, cover with cold water, and bring to a boil. Boil until tender, 20-30 minutes. Drain, reserving about 1/2 cup of the starchy cooking water.
When the garlic has finished roasting, place in a large bowl with butter and use your potato masher to cream the two together. Add the potatoes and mash. Add the reserved cooking water, a few tablespoons at a time, until the potatoes reach desired consistency.
Stir in a handful of shredded Parmesan, a few tablespoons of chopped parsley, and salt and pepper.
Shown here with sirloin steak and steamed broccoli. Enjoy!